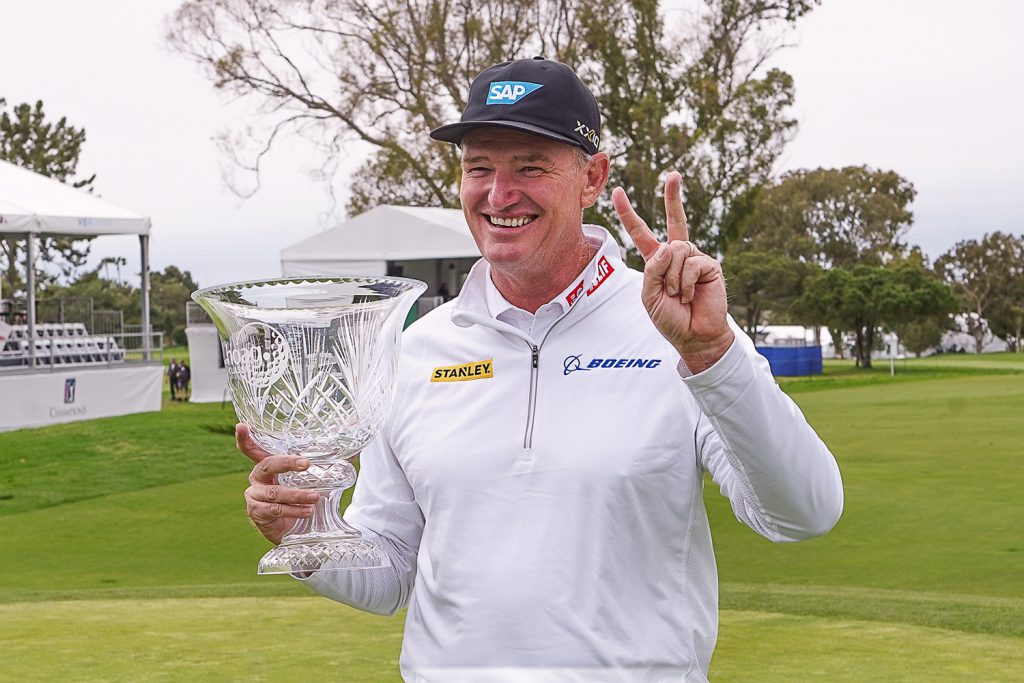 With birdies on two of his last three holes, Ernie Els overcame a five-stroke deficit beginning with the final round to claim his second Hoag Classic title (his last was in 2020) on Sunday, March 19 at the Newport Beach Country Club. It was his third career PGA TOUR Champions title.
Els finished at 13 under for the tournament, one stroke better than Steve Stricker and Doug Barron, who were tied for second at minus 12.
The victory, his third on PGA TOUR Champions, comes in his 62nd start at the age of 53. For the week, Els played Newport Beach Country Club's front nine in 11-under par, as opposed to 2-under on Nos. 10-18.
With the win, Els becomes the fourth player to win the Hoag Classic on multiple occasions; he joins Hale Irwin (1998, 2002), Jay Haas (2007, 2016) and Fred Couples (2010, 2014).
According to Els, he looked at the weather report for Sunday, which said gusty and rainy, so he was determined to get off to a decent start and get himself established on the course.
"That's exactly what happened," said Els. "I almost played a perfect round. If I didn't miss that short little putt on 15, it would have been fantastic, but it's still fantastic obviously winning. You know, the last five, six holes were tougher than we normally get it. I didn't quite exactly see Doug Barron's putt, but it sounded like it was pretty close. Just excited to win again. I haven't won too many times out here. You've got to start somewhere."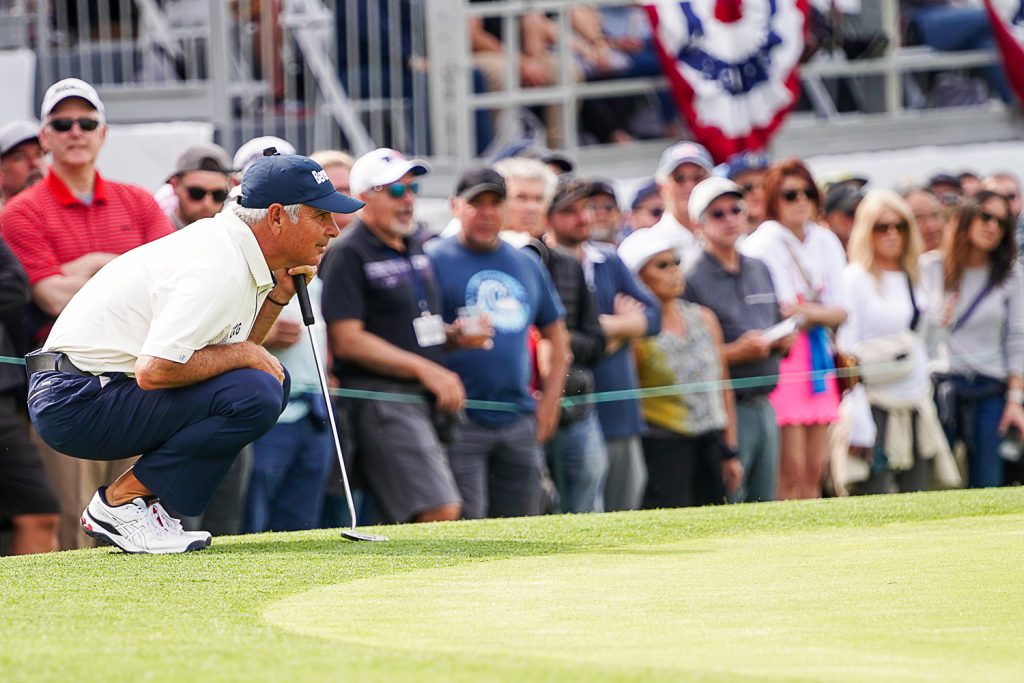 On 18 Els hit what he called the "shot of the tournament" after hitting his second shot into a bunker.
"I had a 63 yard shot, which is not a very nice yardage to have, but luckily the greenskeeping's great, it was a nice firm lie. I hit the shot out to about 12, 15 feet and made the putt. That shot, we don't really practice those shots, we're kind of going on instinct there. I just played the ball off the back foot and got it up on the green and then made the putt for once."
Els noted that he's played good golf, especially last year when he finished in the top 10 several times and a couple of second place finishes, so it was nice to win this time.
"I just love this place," said Els of the Newport Beach Country Club course. "It fits my eye. The grass, the weather, the whole place, it just feel at home here. I've always played well over here in California. Hopefully they keep this tournament going."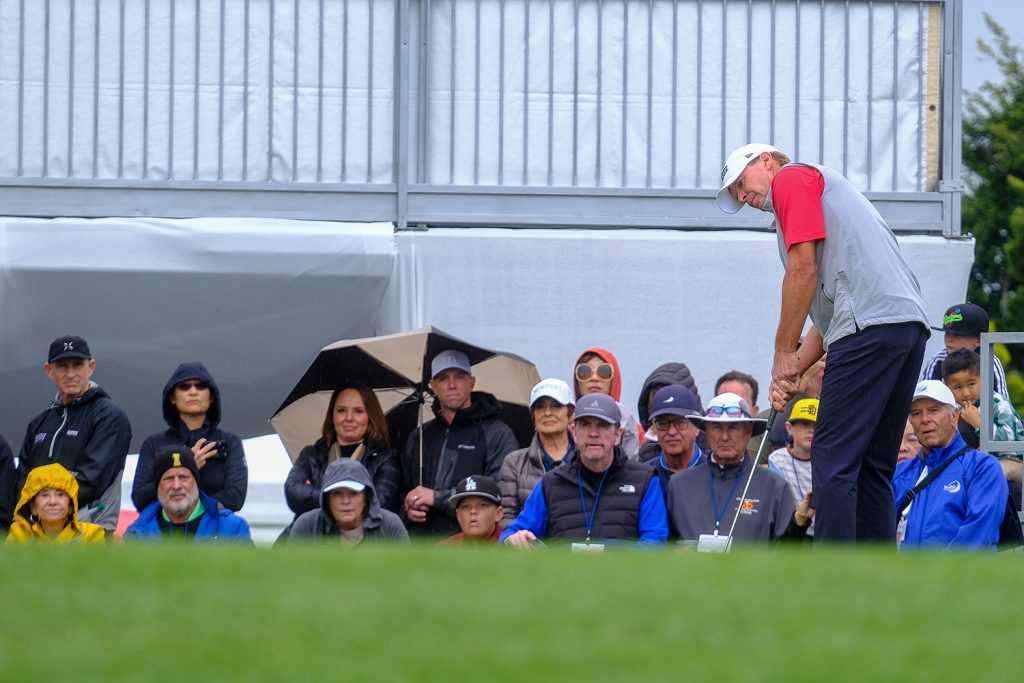 For one week each year, the international spotlight shines brightly on Orange County's only official PGA TOUR Champions event. Hosted at Newport Beach Country Club, the Hoag Classic, with Hoag as the title sponsor and presenting partners Konica Minolta and City National Bank, showcases golf legends such as Fred Couples, John Daly and Ernie Els as well as tournament newcomers including Justin Leonard, Notah Begay and Steve Stricker as they compete with more than 80 players for the title.
As one of the largest philanthropic events in PGA TOUR Champions history, the Hoag Classic has raised more than $20 million in total proceeds for Hoag's programs and services, as well as other local charities.
For more information visit www.HoagClassic.com.
PGA TOUR Champions is a membership organization of professional golfers age 50 and older, including 34 members of the World Golf Hall of Fame. The Tour's mission is to provide financial opportunities for its players, entertain and inspire its fans, deliver substantial value to its partners, create outlets for volunteers to give back and generate significant charitable and economic impact in tournament communities.
Perched above Pacific Coast Highway, Newport Beach Country Club has captured the spirit of the Southern California lifestyle for more than 65 years. Spanning nearly 56,000 square feet and boasting panoramic views, the Clubhouse makes an architectural statement on coastal California Craftsman design. With a course originally designed by world-renowned designer William "Billy" Bell, NBCC has been one of the most popular stops on the PGA Champions Tour for more than 25 years and is the home of the annual Hoag Classic.