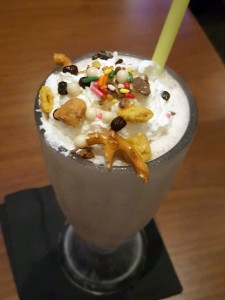 By Christopher Trela & Catherine Del Casale | NB Indy
Christmastime is "Nutcracker" time on local stages. Seems like every amateur, pre-professional and professional dance company is staging "The Nutcracker" this year, but Segerstrom Center managed to snag American Ballet Theatre this year for the west coast premiere of a new production of "The Nutcracker" that runs through Dec. 20.
We attended "The Nutcracker" opening night, and instead of dining at our usual pre-theatre spot (Leatherby's Café Rouge), which was closed for a private party, we opted to try Holstein's Shakes and Buns in South Coast Plaza that opened a few weeks ago in the space formerly occupied by Charlie Palmer.
The flagship Holstein's is at the Cosmopolitan casino and hotel in Las Vegas; the owners took a gamble and opened another location in the midst of a plethora of restaurants, yet the concept is novel enough that it should work just fine.
At least that was our impression when we entered Holstein's. The look was not much different than the old Charlie Palmer setup, just a refreshed décor. The menu however is vastly different.
We decided to share an appetizer and ordered one that sounded unusual: a Korean 'Bulgogi" quesadilla with marinated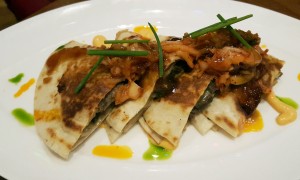 steak, kimchi, asadero cheese, chili aioli and kalbi glaze. We almost ordered the poutine (French fries with cheese curds and shredded short rib) but thought it might be too much food. Next time.
"I loved the quesadilla, it was a great appetizer to share before the entrée and was a nice fusion of Korean and Mexican food," said Catherine. "The two layered tortillas were stuffed with ingredients, and the mix of salty and sweet with a slight kick is a great combination."
Since this was out first time at Holstein's, we opted for their signature burger: the Gold Standard with dry aged beef sirloin, smoked bacon, aged goat cheese, tomato confit, arugula and garlic aioli. It was a handful, and mouthful. A fine burger.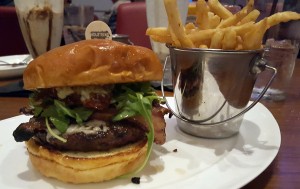 For us, the adult milkshakes stole the show. The ingredients are fun and creative (and tasty), and all include signature brands of alcohol in them.
Catherine had the Campfire S'mores with Smirnoff marshmallow vodka, chocolate, marshmallow, and graham cracker crumble. Christopher had the Fat Boy with UV Candy Bar vodka, Reese's, pretzels, sprinkles, Cap'n Crunch, Orea cookies, and butterfinger.
"You have to be careful with these as they are so delicious you may forget they are alcoholic," said Catherine.
Segerstrom Center is across the street from Holstein's, so we arrived in plenty of time for "The Nutcracker."
This new ABT production takes the familiar ballet and adds a few new elements—the show starts in the kitchen with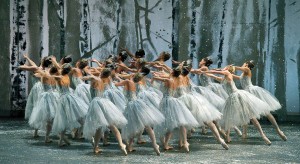 mice scrounging for crumbs of food among the cooks and staff, and then transitions into the traditional party scene. We don't want to give away too many details, but let's just say this is a well-paced and choreographed production with incredible dancing.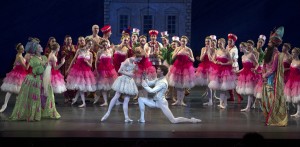 "This isn't the age old classic you remember," agreed Catherine. "The scenes flow in a different manner so you see both old and new elements, but the beautiful dancing and story will keep you as enchanted as you were the first time you saw 'The Nutcracker.'"
For tickets and more information, call (714) 556-2121 or visit SCFTA.org.