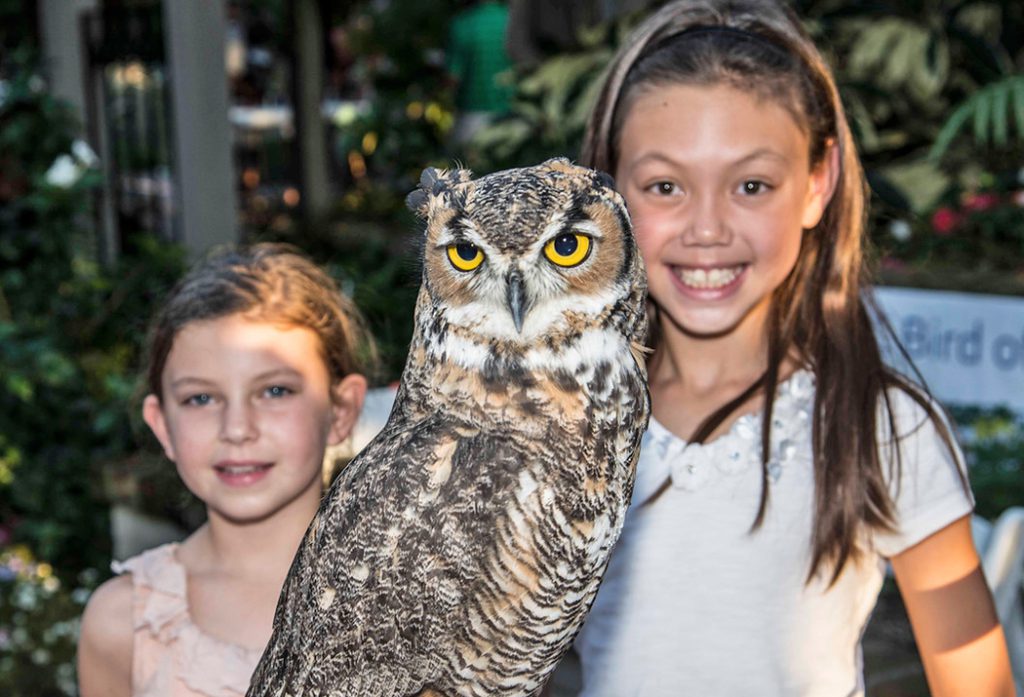 By day, Sherman Library & Gardens in Corona del Mar is a paradise of colorful flowers and blooming plants—not to mention superb dining (608 Dahlia – a garden to table restaurant).
But on the evenings of February 24 and 25, Sherman Gardens will offer a glimpse into a different world when it presents "Creatures of the Night."
Sounds like the title of a horror film, but it's a unique educational opportunity for families who can explore Sherman Gardens after dark and visit interactive stations that delve into the nocturnal world and its inhabitants.
Get up close to birds of prey, tortoises, and creepy crawly bugs. Scorpions, tarantulas, lizards, snakes, and other nocturnal animals will all be in the gardens. Hair-raising horticulture, night-blooming botanicals, Dr. Tim's Apothecary, and the Toxic Tropics await you!
"Creatures of the Night is a unique mixture of entertainment and education," explained Scott LaFleur, Executive Director of Sherman Library & Gardens. "Families can come and have fun while learning about the habits of nocturnal plants and animals. Educators from OC Birds of Prey, Santa Ana Zoo, Adventures in Living Science, and our horticulture staff will be here sharing their knowledge with our guests."
Grab an adventurous partner, or the whole family, and discover what plants and creatures do after dark.
Advance ticket sales only—No tickets will be sold at the gate.
Tickets are $15 for Members, $25 for Non-Members. Children 3 and under are free. This rain or shine event will sell out so get your tickets now.
For tickets, visit www.thesherman.org  or call (949) 673-2261.
Sherman Library & Gardens is at 2647 E. Coast Hwy. in Corona del Mar.