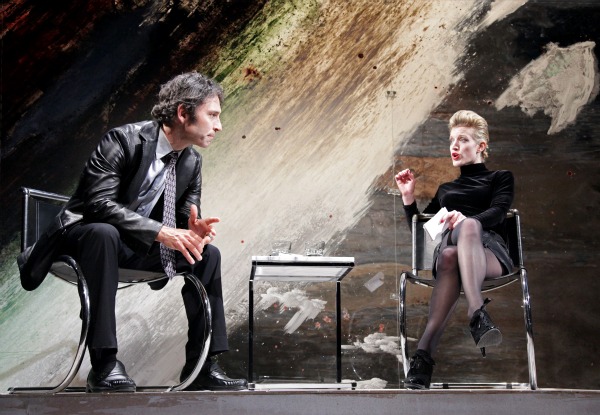 They say you can't go home again, but for playwright Donald Margulies, apparently you can.  This week at South Coast Repertory has been a homecoming of sorts for Margulies as he returned to usher in the 20th anniversary production of "Sight Unseen."
Originally commissioned by SCR in 1992, "Sight Unseen" played a huge part in putting Margulies on the map and helping to launch his career.
Recalls Founding Artistic Director, and director of this production David Emmes, "When we first commissioned Donald, his career was just taking off, and 'Sight Unseen' was the catalyst.  Today, it's considered a modern classic. We are thrilled to bring this wonderful play back for its 20th anniversary production."
Set in the early 1990s, the OBIE award-winning play follows Jonathan Waxman, the art scene's newest visionary.  Waxman has a waiting list for paintings he has yet to paint, and as his first European show approaches, he feels the pressure.
He could be spurned, causing American art circles to reevaluate his work, or he could be a hit, causing an even greater demand.  On an impulse, he decides to retreat to the country in search of the woman who was his first love, and an early muse, in an attempt to get in touch with the past, and rediscover the feelings that made him an artist in the first place.
Jumping back and forth in time to explore the couple's past, the play reveals how time and memory transform feelings, relationships and our perceptions of the past.
"Sight Unseen" boasts a stellar cast.  Playing Waxman is Gregory Sims, who recently appeared in the motion picture "Real Steel," in his SCR debut.  Alongside Sims are Nancy Bell (SCR's "Noises Off", "What They Have", and "All My Sons") as Patricia; Andrew Borba (SCR's "In the Next Room") as Patricia's husband, Nick; and Erin Anderson (The Actor's Gang's "Cymbeline and the Puppet Queen") as Greta, a journalist who puts Waxman through a grueling interview.
Director David Emmes co-founded SCR in 1964, and has directed scores of productions for them prior to this one.  He is a recipient of the Margo Jones award for his lifetime commitment to theatre excellence.
"Sight Unseen's" talented artistic team is made up of Cameron Anderson – set design, Fred Kinney – costume design, Geoff Korf – lighting design, Cricket S. Myers – sound design, and Kathryn Davies – stage manager.
"Sight Unseen" will paly through April 1, with nightly shows Tuesday through Sunday at 7:45 p.m., and matinees on Saturdays and Sundays at 2:00 p.m.
Tickets can be purchased at www.scr.org, by phone at 714-708-5555, or by visiting the box office.  Ticket prices range from $20-$68.
Additionally, if you are planning to check out the show tomorrow, Saturday, March 24, why not show up a little early and take advantage of "Inside the Season," a two-hour interactive session featuring set tours and Q&As with creative personnel. Tickets for this event are $12, and it runs from 10:30 a.m. to 12:30 p.m., which leaves you just enough time to pop out and get lunch before the matinee showing.
For more information about "Sight Unseen" and other upcoming productions at South Coast Repertory, visit www.scr.org.