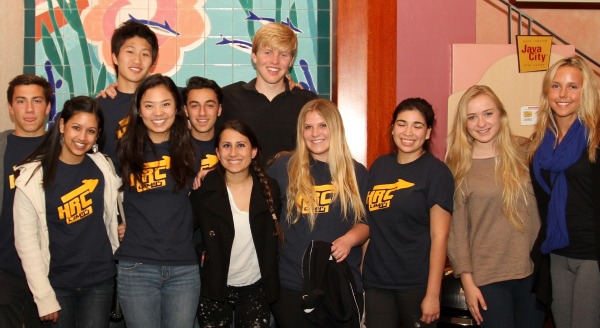 Bullying was the hot topic at Lido Theater on Tuesday.
The Orange County Film Society presented an advance screening of Weinstein Co.'s documentary film, "Bully."
The film follows several students and families over the course of a year, showing bullying occurring in schools, how kids, school staff and parents attempt to deal with or ignore the issue and the tragic outcome for some bullying victims.
The film also urges kids, parents and school staff to step forward and join the bully project in an attempt to end bullying.
The OCFS event also included a panel discussion that featured Dr. Jerry Weichman, Kevin O'Grady from The Center in Orange County, and Corona del Mar High School Human Relations Council student members Oren Shaolian and Kiefer Cohen, both seniors, and Katie Steinberg and Mason Lyle, both juniors.
"I feel like if every single high school (student) saw it, it would really make a difference," Steinberg said.
About 20 students from the HRC attended the event, including junior Sally Evans.
"Everyone needs to see this (film)," Evans said.
The parents of the bullying victims stood up, she said, but the teachers, school administration and other adults involved didn't help like they should have.
"I was appalled with the parents and the adults in the situation," she said. "The administration is more worried about them getting a bad image than showing that bullying is at their school, but they need to address the problem, they keep trying to say that there is no problem and that they're taking care of it, but they're clearly not."
There is no such thing as an innocent bystander, Steinberg said, which is also an idea Dr. Weichman has talked about before. The panel discussed this "someone else will help" attitude, Steinberg said.
"If everyone thinks that, nothing will get done," she said.
The film has also been the center of recent controversy over the "R" rating it received for profanity, which may prevent it from being seen by its target audience.
Steinberg and Evans both agreed that they and several of her classmates disagreed with the "R" rating and felt everyone, kids and adults, should see the film.
The documentary also shows violent physical abuse occurring among kids.
"It was very eye-opening," Steinberg said. "I had never really seen anything like that before."
Most of the bullying that occurs here, she said, is verbal or online, it doesn't usually get as physical as it did in the movie.
"It was kind of shocking," she said.
The film evoked strong emotions from both Steinberg and Evans, as well as the rest of the audience.
Both girls said they are interested in getting the film to be shown at their school and are already looking into it.
The film hit's the public big screen March 30. Visit www.thebullyproject.com for more information.