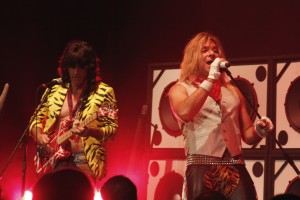 Summertime must be tribute time, as Lido Live has booked a handful of tribute band shows that appeal to a variety of audiences.
Last weekend, one of those shows featured tributes to Van Halen and Billy Idol. Of course, any fan of Van Halen knows that they are currently on tour, having just played the Irvine Meadows Amphitheater on July 14 (they're also coming to the Hollywood Bowl in October).
And any fan also knows these shows have been getting less than stellar reviews, not due to any fault of guitar virtuoso and namesake of the band, Eddie Van Halen.
Instead, it is singer David Lee Roth's shot voice and his inability to remember lyrics that has made his reunion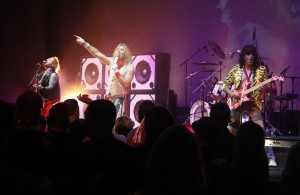 with one of the biggest rock bands of the 70s and 80s an ill-fated one.
Van Halen fans need not despair. For Roth in his prime, look no further than the tribute band Fan Halen, which performed last Saturday night at Lido Live.
After minor technical difficulties with an introductory video, the band recovered well, burning through hits like "Panama," "Runnin' With the Devil," and "Feel Your Love Tonight."
By song four, the crowd was eating out of Ernie Berru's hands, whose impersonation of Diamond Dave is uncanny. With his high kicks, signature screeches and wails, and dirty quips like "Newport Beach I can get it up for you all night," this is the Roth that fans want to remember, animal print spandex and all.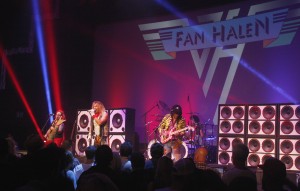 The hits kept coming with "Jamie's Crying," "No Good," and truly excellent renditions of "Dance the Night Away," and "Beautiful Girls," which had Berru snaking through the enthusiastic crowd.
Songs like "Pretty Woman" and "Hot for Teacher" provided an extra treat for fans, as the band played accompaniment to the classic Van Halen music videos playing on the large screen behind them.
Filling the shoes of Eddie Van Halen is a tall order for anyone, and Derek Fuller showed his capable chops on the guitar judgement day that is "Eruption." Rising to each solo and classic lick on a recreation of Van Halen's iconic "Frankenstein" Fender Strat, Fuller's playing was more than satisfactory, and the crowd loved him.
The band, rounded out by an impressive doppelganger in both looks and thundering bass sound, George DuBose as Michael Anthony, and a skilled Michael Thompson as drummer Alex Van Halen, played on past midnight, to a dwindling but mighty crowd. "Ice Cream Man" was a late highlight, with Berru starting on the stage alone with a glittery acoustic guitar. The show closed with the biggest hit of Van Halen's career, "Jump," which left the crowd asking for more.
When the band returned to the stage, Fuller explained "We only do this for the hardcore Van Halen fans," before launching into the deeper cut, "D.O.A.," which ended an impressive 20-song set.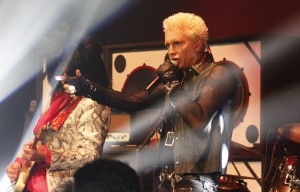 Generation Idol, a Billy Idol tribute band, opened the show. The crowd was initially sparse, but the high-energy group quickly drew in an audience, playing Idol classics like "White Wedding," the infectious "Dancing with Myself," a well-received "Rebel Yell," and an impressive rendition of "LA Woman."
With the signature bleached hair and cocky sneer, the frontman made a nice Idol, while the guitarist playing Steve Stevens had enough skill to provide the perfect lead-in to the guitar-centric music of Fan Halen.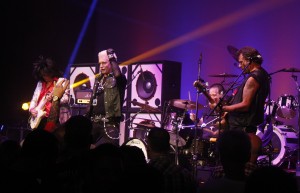 Upcoming shows at Lido Live this summer include Blasphemous Rumours and Rio performing the music of Depeche Mode and Duran Duran on July 25, Cubensis (a tribute to the Grateful Dead) on August 1, Asleep at the Wheel (the kings of Western swing music) on August 19, An Evening with Bill Medley (benefit concert for Lupus International) on August 20, and the return of Bee Gees Gold playing music of the Bee Gees on August 22.
Visit LidoLive.com for more information.