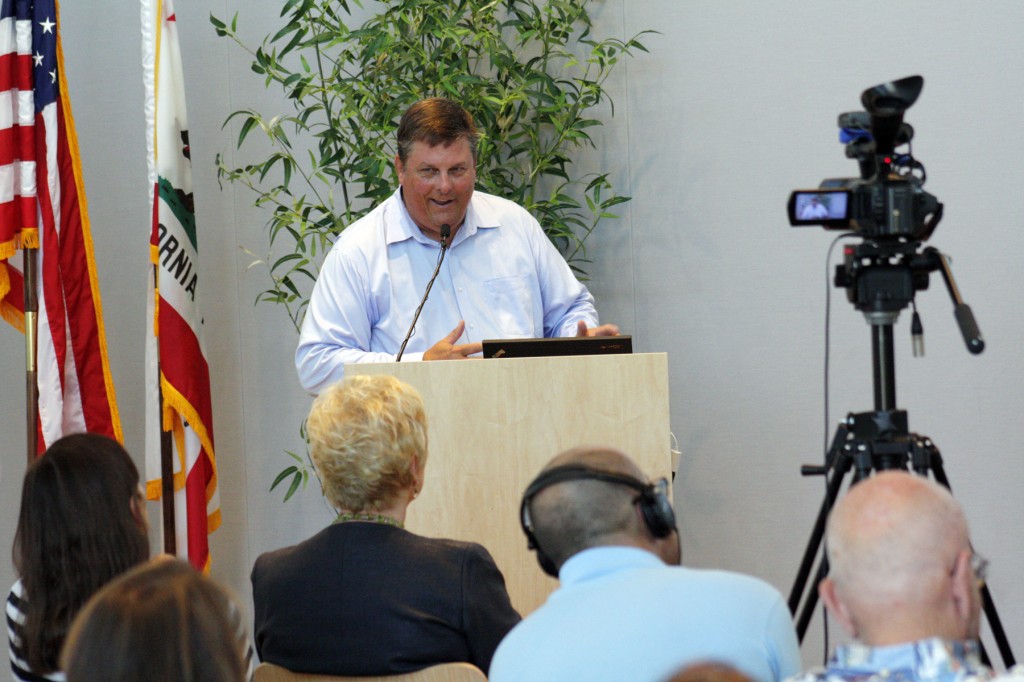 What is happening in the historic Balboa Village on the Balboa Peninsula, and what changes and improvements can we expect to see in the future?
Those were some of the questions posed to a panel of guest speakers who provided an update on the revitalization of Balboa Village at Wednesday night's Speak Up Newport meeting, held at the Newport Beach Civic Center and attended by around 60 people, including Mayor Pro-Tem Ed Selich, Councilmember Mike Henn, and other community members.
Panelists Craig Batley, President of the Balboa Village Merchant's Association, Dr. Steven Beazley, President and CEO of Balboa Village Theatre, and Tom Pollack, CEO of ExplorOcean, provided a broad perspective on what each of their organizations is doing as part of the ongoing revitalization of Balboa Village.
Batley, who owns Burr White Realty and serves on the board of directors for the Newport Beach Chamber of Commerce, said that the Balboa Village Merchants Association consists of 75 businesses divided between restaurants, leisure activities and retail shops.
He noted that the area's official slogan is "Home of the Fun Zone," and he named a handful of activities the area has become known for, from the Catalina Flyer, sport fishing and whale watching to boat rentals, harbor cruises, and bike rentals.
"The Association sponsors two events a year—Christmas at the Beach and the Newport to Ensenada kickoff event," he told the audience.
"We have a Balboa Village Master Plan that was developed by the Balboa Village Advisory Committee," he noted, which covers everything from improved signage to updating the streetscapes in the area. He urged residents to read the master plan, which can be found on the city's website on the Balboa Village Advisory Committee page.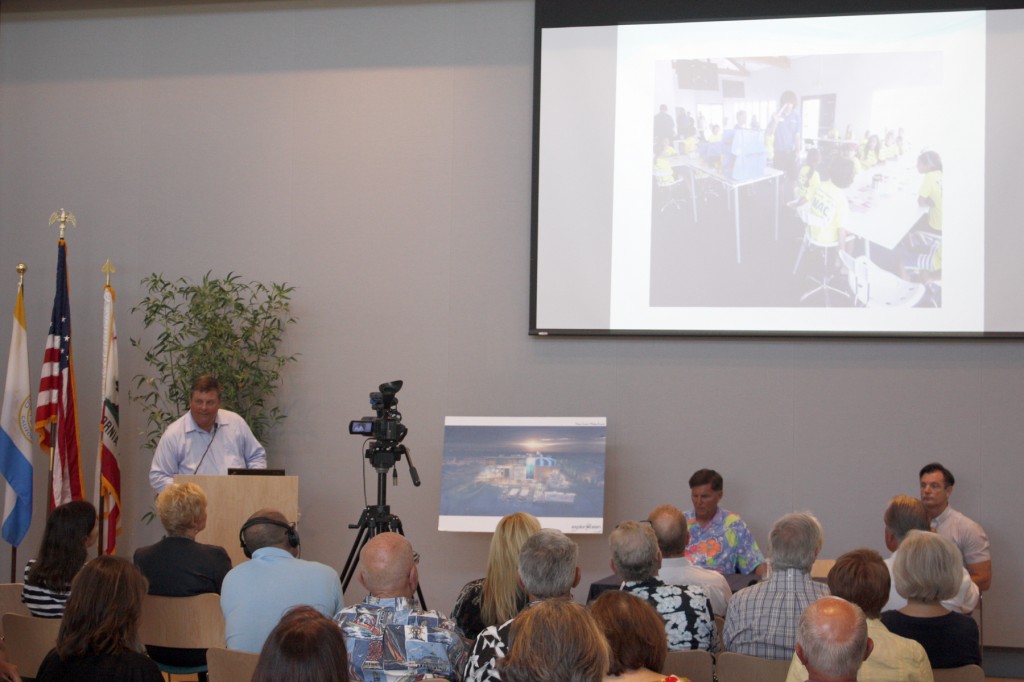 He also encouraged residents to visit the Balboa Village website at BalboaVillage.com to see a complete list of businesses in the village.
Pollack discussed ExplorOcean's education programs, which are based on STEM principles and serve children from throughout southern California. The organization has a director of education and is open seven days a week for tours and hands-on activities. While ExplorOcean has made some changes to the Fun Zone including removing the carousel and adding other attractions, he stated that the iconic Ferris wheel at the base of the Balboa Ferry "is staying forever."
"The area needs to be polished, it's gotten a little run down over the years," Pollack said. "You need someplace that's clean, safe, and well lit. It's important to have a place that everyone wants to go to, and that's what cultural centers are to a certain extent. They are places you want to go to. In Newport Beach how many cultural institutions do we have? Not many. Cultural institutions tend to be a catalyst for revitalization."
Pollack said ExplorOcean has plans to revitalize the black along the front of the facility, although it will take up to two years to get the plans past the city and the Coastal Commission before that can be implemented.
Beazley, the former President and CEO of the OC Fair, said it was a year ago that day when he submitted his resume to the Balboa Village Theater.
"One year later, it's been a wild ride," he said. "There have been so many good days with the project. One of the best days was when I sat down with Ed Selich and he asked me questions about the theater, very intelligent questions, and I don't think I had a single answer. It sent me away from the meeting thinking about what he asked me, and I knew this project cannot be fully realized until I can answer those questions. One of the first initiatives I looked at was the master plan for the theater—an articulated business plan and a facility plan that says what the theater it will look."
Beazley said the business plan has been submitted to the city, and "has legs, it can work. Some will say it's just numbers on paper. Yes, but without them you cannot articulate where you're going, you need a road map."
The theater's design has been scaled back, said Beazley, into something more modest that does not compromise quality and is manageable for funding purposes.
"I know we have a lot of skeptics out there," admitted Beazley, referring to the theater's long running efforts to fundraise and open the facility, "but scratch the surface of a skeptic and you see a frustrated optimist. Remember how you used to feel about this theater? We want you to feel that way again."
Beazley also referenced the Balboa Village Master Plan, calling it "a solid document, well thought out. Of course, a plan is a plan until its implemented. I encourage residents to understand the plan, how it can be implemented, and encourage the city to bring it to fruition."
Beazley noted that the city is also working on a cultural arts master plan.
"If you like the arts, theater, culture, get involved in that plan. There will be community meetings. To me, this says we need culture as a quality of life. The city has a great vision to lead the way. It's not due until November so we have a chance to have a say on it. And with the theater, the village and the culture arts master plan all working as one thing, we can realize the dream of quality of life being better for all of us in Newport Beach."
For more information about Speak Up Newport, visit SpeakUpNewport.org.