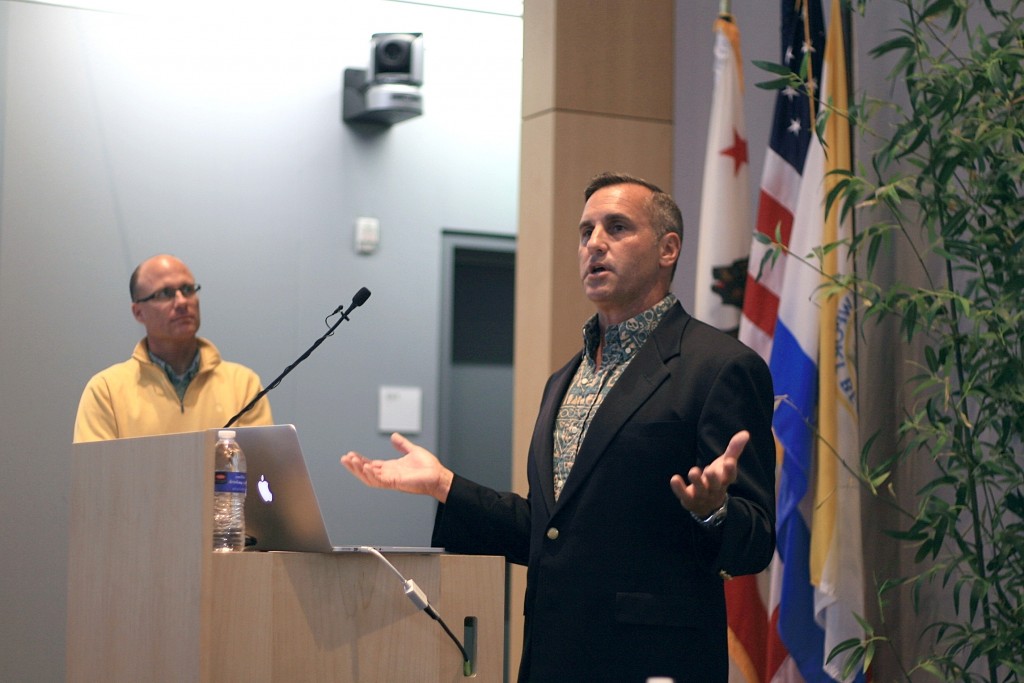 What's Up in Newport Harbor?
That's what several dozen residents wanted to find out when they attended Speak Up Newport's monthly meeting on Wednesday in the community room at the Civic Center.
The March discussion was titled "What's Up in the Harbor?"
Harbor Commissioner and SUN member Joe Stapleton was the moderator for the event, which featured his fellow Harbor Commissioner Paul Blank and city Harbor Resources Manager Chris Miller as the speakers.
The two went over a commission meeting that was held on one of the Balboa ferries in November. The group toured the harbor and went over current issues and projects. The 7.1 mile tour lasted about three hours.
"It was a great event and an opportunity for the harbor commissioners to show off what they know about the harbor and hopefully impart some of that passion and some of that knowledge with the community," Blank said.
Blank and Miller went over the same topics they covered during the ferry tour, including derelict vessels, Marina Park, Lido Marina Village, and more.
Miller and the commission get a lot of questions and comments about derelict boats, he said.
The city is trying to address those boats "one by one," Miller said.
"It's a topic where I'm not sure if we'll ever catch up to it," he noted.
And a derelict boat is not the same in everyone's eyes, Miller added. The owner may have a vision of eventually fixing up the boat, but oftentimes in reality, it doesn't go that way, Miller said.
There is a new program in Harbor Resources that is working on the problem, Miller said. Together with Harbor Patrol, they jointly go out and identify certain boats, he explained.
"We target the worst of them," Miller said.
We focus on those for a number of months
With all the back and forth communication, trying to get people to clean up or remove their vessel, that takes time, he said.
"So we just work in small chunks," Miller said.
A recent positive development on the issue is a $125,000 grant with the California Department of Boating and Waterways.
"If you have a derelict boat, you can actually turn it into the city and we'll use those grant funds to dispose of your boat," Miller said. "We would rather help you get rid of your boat instead of have it become derelict or have it sink."
That program recently started and they are excited about it, he added.
"Derelict vessels is an issue in our harbor and we're continuing to chew away at it in small bite-size chunks," Miller said.
Another topic of the night was Lido Marina Village.
"Lido Marina Village is being revitalized… from a land-side perspective, but we also have plans for the marina," Miller said.
They've been in talks about the marina plans for a while, Miller said.
"We've been going through different scenarios about what type of marina is possible, what type of marina is realistic, what's the best use of a marina at that facility," he continued.
It first has to get approved by the Harbor Commission, City Council and then the appropriate state regulatory agencies, California Coastal Commission.
As part of the development there the city is also asking them to build a public dock with visitor serving access, Miller noted. It is planned to be at the end of Central Avenue.
"So you could come, dock your boat and enjoy the area and restaurants," Miller said.
"That public pier at the end of Central Avenue was the number one recommended area for a new public pier to be built in Newport Harbor," added Commissioner "Public Pier" Paul Blank.
"I'm very excited," Blank said. "It's going to be fantastic and really well utilized."
They also touched on Marina Park and gave a brief update on the project.
Marina Park is the first new marina to be built in California in the last 23 years, Blank said.
It will be a 23-slip marina and will include a Girl Scouts facility and a sailing center.
The park will be operational late 2015, he added.
In the meantime, the shore-side facilities are being built, Blank added.
The project is on schedule and slightly under budget, Blank said.
"I'm very much looking forward to it," he said.
Blank and Miller also spoke about the commission's mission and purpose, public piers, Bay Island bulkhead and bridge replacement, eelgrass, RGP 54 dredging permit, the Cheyenne, water propelled vessels, Newport Bay Marina, alternative anchorages in West Turning Basin and CdM Cove, water bus/taxi, Lower Castaways, Balboa Island seawall improvements, mooring administration review,
The meeting ended with a Q-and-A period with questions from the audience that included Balboa Island seawall, storm drains, drought, short-term challenges, jetpacks, and more.
The next Speak Up Newport will be April 8 at the Civic Center Community Room. April's topic will cover Coast Highway.
For more information, visit speakupnewport.com.