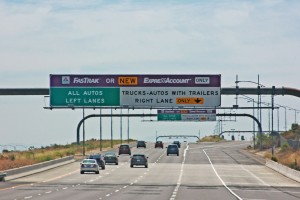 To toll or not to toll — that is the question that will be discussed at the Speak Up Newport meeting on Wednesday at 6 p.m. in the community room at the Civic Center.
Newport residents are invited to the meeting to hear officials discuss opportunities to reduce or eliminate tolls on the San Joaquin Hills Toll Road at Newport Coast Drive, which supporters suggest could improve traffic flow through Corona del Mar.
The meeting will feature Transportation Corridor Agencies Director Michael Kraman, who will explain TCA's opportunities and constraints.
"We are excited and looking forward to participating in SUN's first 2015 meeting," wrote Sarah Swensson King, Media Relations Manager for the Transportation Corridor Agencies (The Toll Roads), in an email.
Their goal is to raise awareness in Newport Beach and other coastal communities.
Kraman will discuss the history of The Toll Roads, explain how the roads were built without the use of taxpayer dollars, discuss the transition to all-electronic tolling and share TCA's most recent milestone of refinancing $1.4 billion of $2.2 billion in outstanding debt issued to fund construction of the 73 Toll Road, Swensson King explained. The sale closed in early November 2014, she added.
"Construction of The Toll Roads were funded through the sale of bonds to both private individuals and institutional investors," Swensson King explained. "The bonds can only be repaid by future tolls and development fees. Today, toll and development impact fee revenue go toward retiring the construction debt, funding additional improvements and covering costs of operating our 51-mile network throughout Orange County."
The refinancing is an important issue, said former Newport Beach Mayor and former San Joaquin Hills TCA Chairman Rush Hill, who will also be speaking at the meeting.
Learning more about "the finances of the TCA and the governance of the TCA will help our community understand the daunting task, yet (also an) opportunity, to adjust tolling," Hill said.
That opportunity has never previously existed, he continued. It exists today only because of the refinancing, Hill explained.
Hill plans on talking about the political structure that will have to be overcome to deal with any differential tolling.
Kraman is looking forward to joining Hill, whose service during his four years on the board embodied TCA's agency's mission to keep people moving and improve mobility within Orange County.
Mayor Ed Selich is also looking forward to the meeting and encourages residents to attend. Changes to the toll road can make a significant impact on traffic, he said.
When the toll road was built, they took away the free section of Newport Coast Drive, Selich explained.
"When that happened, all the traffic started jamming up through Corona del Mar during peak rush hours," he added.
All those people who had been using that section of road for free opted to go through Corona del Mar rather than pay for it, he noted.
The Corona del Mar Bypass Plan, which Selich first introduced at a City Council meeting several months ago, would also work better if the toll was eliminated or reduced, he said.
Selich also questioned what the price would be to buy that section of the toll road out and make it free.
"I'm guessing it's more than we can afford, but it would be nice to know what the answer is," he said.
He also suggested considering a per-mile based system?
The current structure can add up quickly, especially for drivers only going a short distance, and can become quite expensive, Selich noted.
The old bonds were more restrictive, while the new ones seem to be somewhat flexible, Selich commented.
So what are the options to eliminate or reduce the toll?
"That's what we really want to hear from these guys," Selich said.
The Toll Roads, which include the 133, 241, 261, as well as the 73 that borders Newport Beach, can provide a congestion-free alternative to other highways, Swensson King noted.
The 15-mile San Joaquin Hills Transportation Corridor (SR 73) was open to travelers in 1996, providing a transportation alternative to coastal communities, she explained.
More than 260,000 people drive The Toll Roads every day, according to TCA.
For more information, visit www.speakupnewport.org or call (949) 224-2266