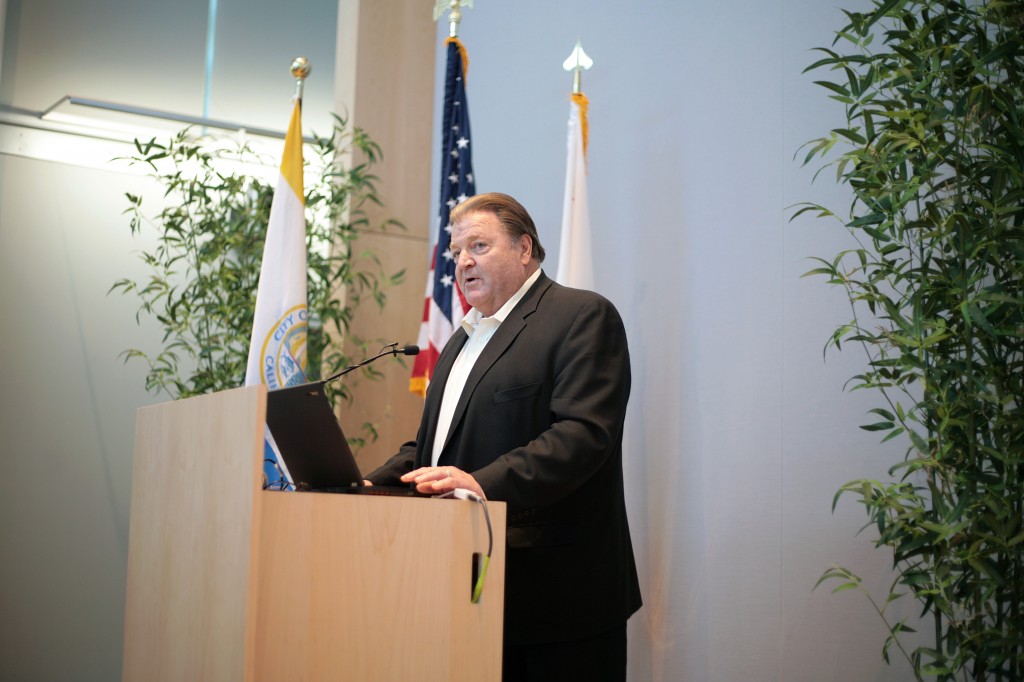 Eelgrass, ocean acidification and related topics were among those discussed at a local group's monthly meeting this week.
Garry Brown, founder and president of Orange County Coastkeeper, discussed the organization and coastal issues at the Speak Up Newport meeting, held Wednesday night in the community room at the civic center.
"We, basically, are all about water," Brown said. "Swimmable, fishable, drinkable water."
The group aims to meet their mission through education, advocacy,  restoration, research and enforcement.
He gave a brief history about the environmental nonprofit, including some of their successes and projects involving Newport Beach.
Brown started Coastkeeper in 1999 and had an office in Lido Village, he explained. At that time, the Orange County chapter was the 27th program for the Waterkeeper Alliance, he added. Now, there are more than 200.
Coastkeeper has worked on more than a dozen projects in Newport Beach, including the kelp reforestation program and the eelgrass restoration project.
"We want to restore habitats, we want to restore what we used to have," Brown said.
Eelgrass is a hot topic, he noted.
"Eelgrass itself is not controversial," Brown said, "the way we've handled it is."
The way that it's been handled and administered in the past has left a lot of people disliking it, he said, but there are a lot of benefits to it.
Together with the city and the state Department of Fish and Wildlife, they are working to protect critical eelgrass habitat in the bay by combining public education with research and restoration, he explained.
Issues that will impact the Newport Beach area in the future include the rising sea level and ocean acidification (seawater absorbing carbon dioxide in the atmosphere causing a reduction in the pH in the ocean), Brown said.
The pH balance can change "just a hair" and it can affect the ocean habitat.
Brown also briefly spoke about the Coastkeeper Garden.
The 2.5 acre garden is located at Santiago Canyon College in Orange. This sustainable garden hosts plants from six southern California native habitats as well as California Friendly plants from around the world.
The garden serves as a demonstration for what southern California residents could do in their own backyards, he said.
Appropriate landscaping can save money and water and help eliminate urban runoff, Brown explained. Coastkeeper
"If we would just change our behavior and landscaping," it could make a huge difference, he said.
Another example of how landscaping can make a difference is Coastkeeper's SmartScape project with Southern California Edison
The project, located at SCE's Villa Park substation in Orange, converted 3 acres of conventional turf into a "resource efficient landscape that is designed to serve as a model for other SCE facilities, commercial spaces, and residential parcels."
It now features drought-tolerant plants, modern technology and sustainable landscape management practices that "reduce maintenance costs, conserve water, reduce carbon emissions, mitigate stormwater runoff, and increase soil carbon sequestration."
"It's the direction we're going," Brown said. "It's the smarter, wiser way to deal with water."
For more information, visit coastkeeper.org and speakupnewport.org.