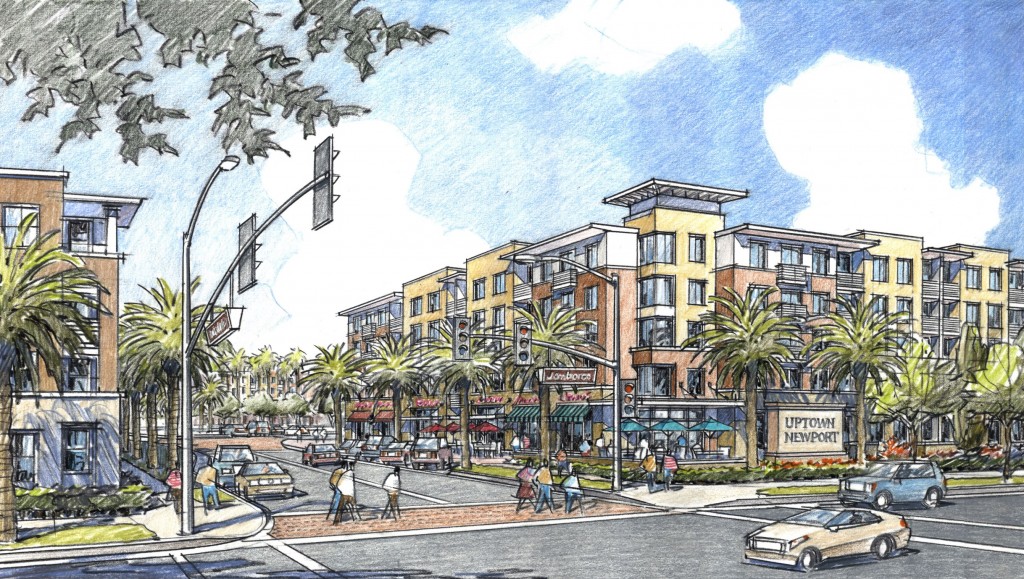 An innovative new residential and retail project in Newport Beach – the first of its kind for the city's John Wayne Airport area – is set to begin construction this month, The Shopoff Group announced.
Uptown Newport Village will replace a pair of aging industrial buildings on 25 acres near the airport with a unique community of neighborhood shops, restaurants, parks and upscale homes and apartments that will generate substantial revenue for the city.
"This is a cornerstone property and a gateway to Newport Beach and we're thrilled to launch the first phase of development, which will revitalize and transform the neighborhood near Koll Center Newport, John Wayne Airport and UC Irvine," said William Shopoff, president and CEO of The Shopoff Group.
Irvine-based The Shopoff Group, which shepherded the vibrant urban village concept through Newport Beach city planners, won praise for its responsiveness and cooperation with local officials and the community in designing an attractive, mixed-use project with ample recreational amenities including landscaped paseos, pavilions, fountains and parks.
The Shopoff Group will serve as master developer for the site, which means it will build the overall infrastructure and the first of two 1-acre public parks. The Shopoff Group will also install a state-of-the-art stormwater runoff treatment system designed to protect and improve water quality in Newport Beach's Back Bay.
"Uptown Newport Village will bring new vitality and economic activity to our community," City Councilman Ed Selich said. "This is the right project at the right location and it fulfills the vision outlined in our general plan for developing sustainable new residential neighborhoods in close proximity to jobs, retailers and services."
Located along Jamboree Road between Birch Street and MacArthur Boulevard, Uptown Newport Village will be built in two phases. Phase 1, set to begin this month and targeted for completion in 2016, entails demolishing an existing office building, constructing an 11,500-square-foot retail center, building approximately 580 luxury apartments and condominiums, and creating a park outfitted with such amenities as a concert green, courtyard with lounge-style seating and children's tot lot.
When fully completed, Uptown Newport Village will feature 1,244 luxury homes, numerous retail shops, two one-acre parks that will be open to the public, plazas, fountains and public paseos.
Uptown Newport's economic benefits include bringing 2,800 construction jobs to Newport Beach and more than $30 million in Phase 1 developer fees to the city.
For more information, visit shopoff.com.