Ready to take a ride on the new Balboa Peninsula Trolley?
Newport Beach Community Development Director Kimberly Brandt certainly hopes so.
At the monthly Speak Up Newport event held Wednesday night, Brandt told the audience that the trolley, which makes its inaugural run on Saturday, "has been a long time coming."  
The free shuttle service with a historic red car-look runs for 12 weekends this summer, plus the Fourth of July. This will be its first season and considered a pilot program by the city.
Deputy Community Development Director Brenda Wisneski added that the service will be evaluated throughout the summer and reviewed at length to determine its success.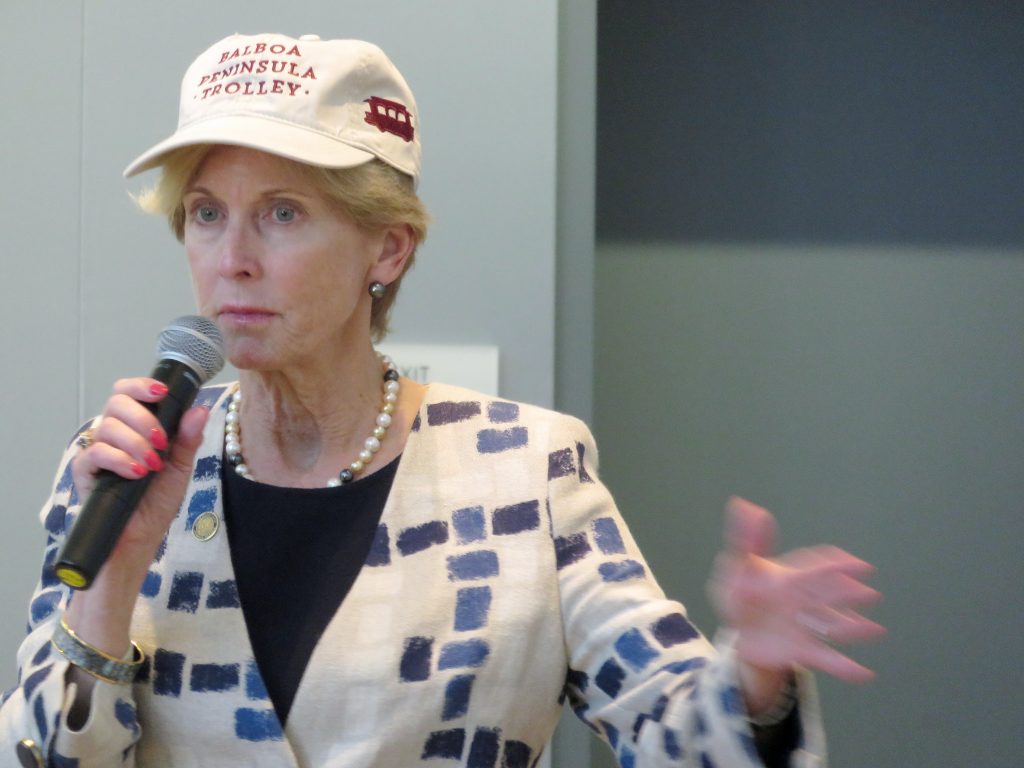 If the service is embraced and ridership is strong, the trolley will likely be brought on next summer, with a more traditional "open-air" trolley design, according to Wisneski. They will also determine if more stops, or alternate stops, would improve the current route.
Brandt also tackled the growing short term rental business during Wednesday's discussion. In all coastal cities, renting out one's house (for a period of less than 30 days) has been a controversial topic, but in Newport Beach, it's quite regulated. Since 1992, the city has had rules in place for those who'd like to benefit from the area's reputation as a summer playground.
The city, Brandt pointed out, is working with the Newport Beach Police Department to determine if houses where noise complaints and other violations have taken place are short-term rentals. They have also recently hired Host Compliance, a company that mines the internet to find locations that are offering rentals without a permit.
To date, Brandt said that they've reviewed 108 questionable listings, issued 57 citations, and brought 61 rentals into code compliance.
She said the city isn't ready to make new regulations or laws for the industry of rentals just yet. She said the position of the city is: "Let's do a better job of enforcing the codes we already have, before we start creating new ones."
Brandt updated the audience on each of the peninsula's many construction projects.
The peninsula's revitalization is still a work in progress, but as shoppers and diners flock to places like Lido Marina Village, it's proof that investments in the region are paying off.
The Lido House Hotel, currently adding its third story on the site of the old city hall, is coming together, she stated. After a rainy winter, she expects the hotel to open in March 2018.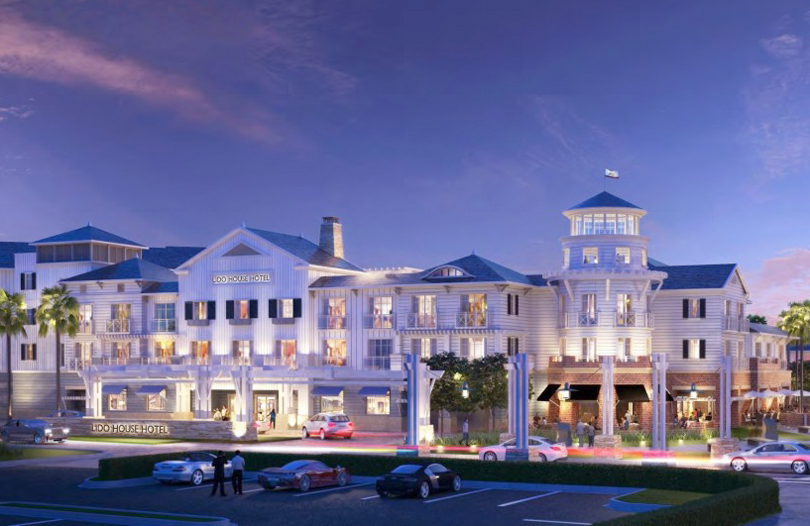 Newport Vue, a 27-unit project with some mixed-use space near the Crab Cooker, faced challenges with its underground parking facility. It's nearing completion, and Brandt said the city was "just about ready to final OK to the residential part" to the 36,000 spare foot project.
The Argyros Girl Scout Leadership Center at Marina Park is just about ready to open. The state of the art facility, named after philanthropist and community leader Julia Argyros, is nearly 21,000 square feet.
Nearby Lighthouse Cafe will be serving a broader list of cocktails, thanks to city council's approval of a type 47 liquor license for the relatively new establishment. In addition to beer and wine, the harbor-front restaurant may now serve "distilled spirits."
Newport Harbor Yacht Club is replacing their 23,000 square foot clubhouse and construction is currently underway. A yacht club member shared that they're targeting May 1, 2018 as the opening date, but that it will definitely be open at some point next summer.
Perhaps the building surrounded by the most mystery is the vintage Balboa Theater, which was sold to company Lab Holding last year.
"Their heart is with bringing back historic buildings and bringing back their original design," Brandt said of Lab, which also created The Camp and The Lab in Costa Mesa and the Anaheim Packing District. "They're in the process of putting their design together."
When asked if it would become a luxury movie theater, Brandt said it would not. The site would likely be for live performances of music or theater. While unable to give specifics, she said that the building will stay at approximately the same height as it has always been.
Next month's Speak Up Newport, scheduled for July 12, will highlight the city's animal shelter. For more information, visit speakupnewport.com.