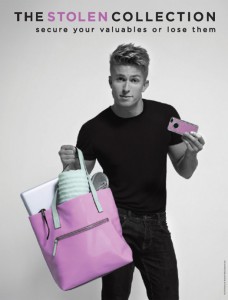 Have you heard about the new Stolen Collection? It launched this week with a runway fashion show at The Marriott in Fashion Island, but instead of fine fashions, the models sported cell phones, designer handbags, and other items stolen from vehicles parked in Newport Beach.
Let me explain—The Stolen Collection is not a new clothing line, although the name is indeed catchy. The Stolen Collection is a new multimedia ad campaign launched this week by the Newport Beach Police Department.
It's designed to educate the community on property theft prevention and encourage residents to lock up and secure their valuables.
"This campaign has the potential to capture the attention of our community," said Chief Jay R. Johnson at the event. "We expect The Stolen Collection to raise awareness and reduce crimes of opportunity within the city by reminding citizens to take the extra steps to lock up valuables, cars, and homes."
Mayor Keith Curry, who spoke at the event, noted that crime statistics in Newport Beach have gone down every year for the past four years, making Newport Beach a safe city in which to live and work. However, property theft accounts for over 96 percent of all reported crimes. Of those, most were preventable if people simply locked their cars and hid personal property from view.
Chief Johnson explained that this time of year, shoppers tend to leave shopping bags and even wrapped presents in plain sight inside their cars,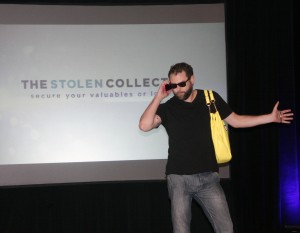 and that thieves can quickly break into vehicles and steal valuables.
So if you see ads for The Stolen Collection with the phrase "Secure your valuables or lose them," heed the warning and do what I do: Lock your car doors, and hide valuables in the trunk or glove compartment. It only takes a few seconds, and those seconds can make a difference between keeping that Gucci handbag, or losing it.