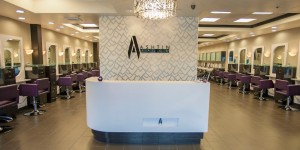 Ashtin Salon in CdM
If you're going to the Corona del Mar Christmas Walk on December 8, you can find me at the NB Indy booth–although I'll also be stopping by Ashtin Salon, which is providing Christmas Walk participants with several special beauty treats.
According to the info they sent me, Ashtin Salon will be offering complimentary hair tattoos called "tress tats" as well as Christmas winks and beard brush-ups. Among their specials: $15 strip lashes, $20 bouncy curls or amazing braids, $35 karatase wash and blowout, and – for the guys – a quick beard trim or neckline cleanup for $5.
Stop by for a glass of hot apple cider, a piece of homemade fudge, and load up on hair care favorites for the holidays which will be 25 to 40 percent off.
Ashtin Salon is located at 2600 E. Coast Hwy in Corona Del Mar. Visit AshtinSalon.com for more information.
More CdM Salons
One of the fun things about the Christmas Walk is discovering new shops, salons and boutiques you normally drive past every day on Coast Highway. I know I'll find a handful of stores I didn't know were there, or always wondered about. A few I want to visit:  Swiss Clinique, which offers personalized facial and body treatments; Images Salon, which lists a variety of hair, nail, and makeup services; and Recycled Rags, which stocks a variety of gently-owned designer fashions (the website recycledrags.com lists dozens of items with photos and prices). Who knows what else is in store at the Christmas Walk.