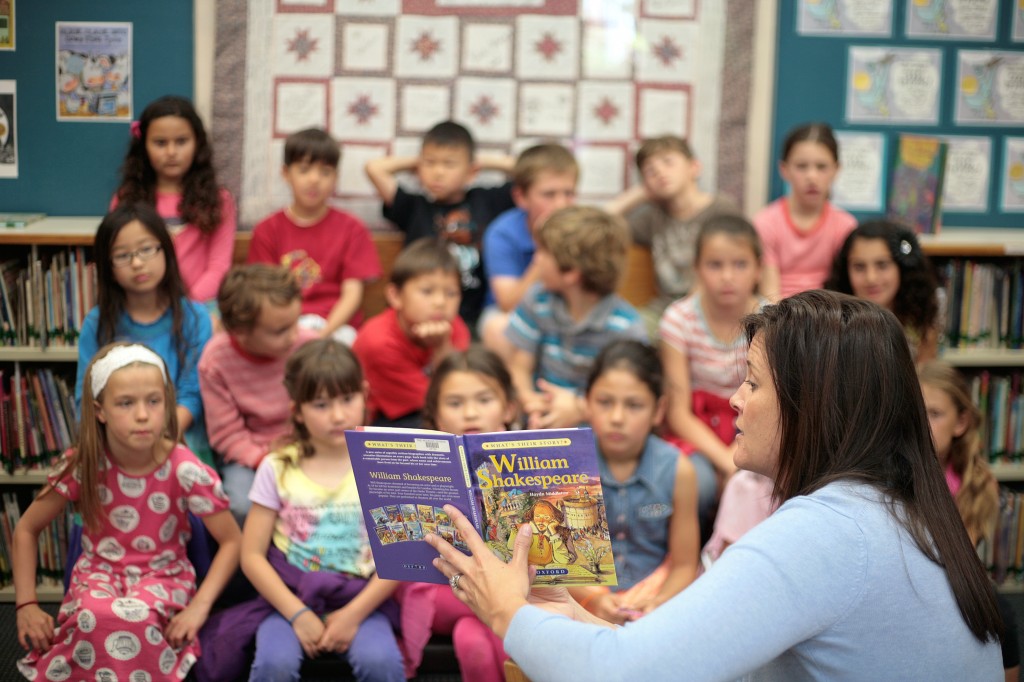 To be or not to be? That was the question on the minds of local students this week.
The Pegasus School in Huntington Beach was celebrating famous playwright William Shakespeare's 450th birthday this week, which is officially celebrated on April 23.
"I don't know if most people think about Shakespeare and necessarily associate the word fun," said Pegasus librarian  Carin Meister. "The bottom line is: It's fun to play games, it's fun to dress up, it's fun to act, and it's fun to read stories."
It's just a fun way to learn, said Meister, who organizes the celebration with fellow school librarian Mara Pearce.
"It's a good way to get to know the past," said eighth grader and Newport Beach resident Ben Gil, 14, "and get more informed about Shakespeare."
Middle School students, including Newport Beach residents Michael Ferry, Tia Grippo, Hannah Leigh, Iman Amini, all eighth graders, Joshua Cheadle, seventh, and Taylor Wilkison and Ilya Garbuzov, both sixth graders, will be performing monologues on Friday as part of the celebration.
For Ferry, 14, it was his first time making it to the final round, although he has participated in past years. He will be performing Marius from "Julius Caesar."
"I'm pretty excited," he said.
All the activities during Shakespeare Week are fun and informative, he said.
"It's an interesting take on history and how he changed the literary world as we know it," Ferry said.
Every middle school student memorizes a monologue and perform for their class. Students and English teachers choose between 15 to 20 kids to move on to the semifinal round.
Students get to choose from a packet of about 50 monologues, with popular choices like Cleopatra, Helena from A Midsummer Night's Dream, Macbeth, and Hamlet.
Judges for the final round include Michele Roberge, executive director of the Carpenter Performing Arts Center in Long Beach, Amanda Zarr, Education Outreach Specialist Shakespeare Orange County, and Kathy Henderson, former Pegasus librarian and founder of the school's Shakespeare Week.
The four winners are recognized National Endowment for the Arts.
Meister's favorite part of the week is watching the kids perform their monologues on Friday.
"They are amazing," she said.
Other Shakespeare Week activities include a Nine Men Morris game tournament.
The strategic game was played during Shakespeare's time period, Meister explained. It was accessible to everybody, she continued, farmers could play out in the field.
Gil was playing a few games of Nine Men Morris during the week. He won a few and lost a few, he said, but it's fun either way. All activities during the week are fun, he added.
There is something for everyone during the week, Meister said.
The Nine Men Morris stimulates the mathematical-minded kids. T-shirt and coloring contests for the artistic types. Shakespeare trivia challenges for the students who enjoy research.
"It allows different students to shine in different ways," Meister said.
The week's activities also include an Elizabethan picnic and entertainment for the eighth grade class and a play performed by the LA Troupe.
It all started because former librarian Kathy Henderson, had a passion for Shakespeare, Meister said.
It started out with just a few activities and became an official event in 2003.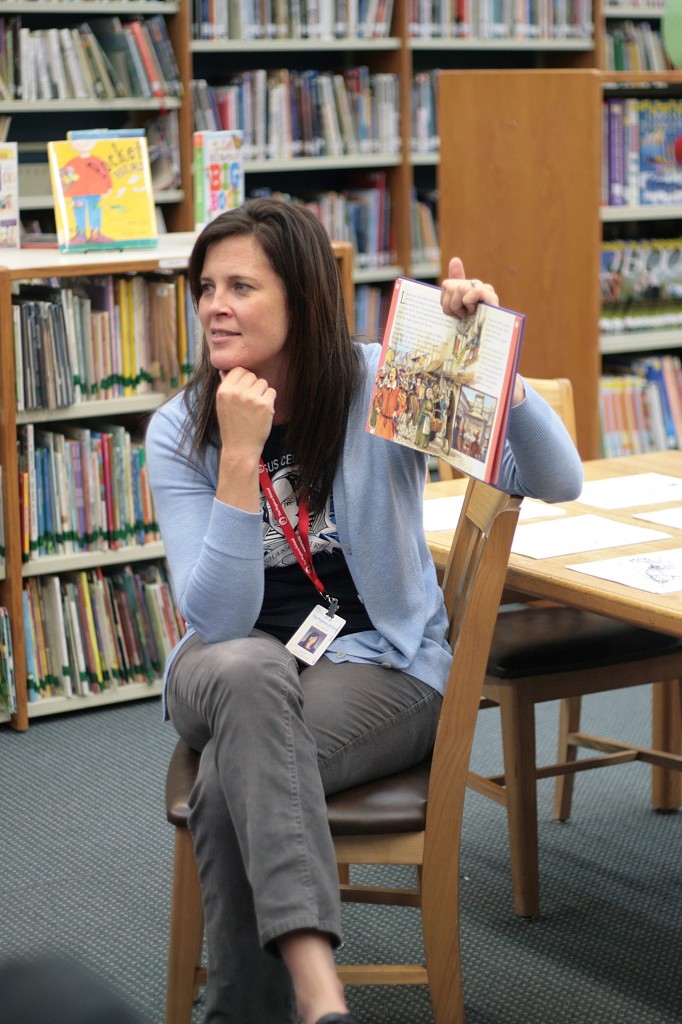 "She kept adding bits and pieces to try and appeal to different types of learners," Meister said.
Everybody participates, Meister added, even the younger kids.
The pre-k kids collaborate on a project with the fifth graders, piecing together Shakespeare's biography.
"People have this idea that Shakespeare is totally inaccessible to little kids," she said.
While they may get some of the details mixed up, they are capable of learning a lot about his life and plays. Meister starts reading picture book adaptations to the students in third grade. It's a really good introduction, she added.
The children learn the meaning of the stories and get familiar with the vocabulary at an early age, agreed third grade teacher Victoria Olivadoti.
"For a lot of them, I think it takes away the scariness of Shakespeare," Meister said.
Most people don't experience Shakespeare until high school or college, she said. At Pegasus very middle school student will read at least one play each year.
"That could be intimidating," she said.
Introducing them to the language and plays at an early age allows them to become more comfortable with it later on.
"So that when they're reading it for the first time, I think they have better basis for understanding it and it's not as intimidating or scary," she said.
Hopefully that confidence and those skills filter over to other parts of their lives, she added.
There is also a Shakespeare Club on campus. It's split into two groups of third and fourth graders. Each group performs a scene during the Bard's birthday celebration.
The club learns about the Renaissance, calligraphy, Shakespearean insults, sword fighting, Renaissance crafts and more.
The students in the club give up a lunch period once every six days between October and April to participate.
"I think the most gratifying thing, for me, is that the students are going above and beyond the regular curriculum," said teacher Sharon Goldhamer, who facilitates the third grade club.
All of the club's work leads up to Shakespeare Week, which brings in the rest of the school in on the fun.
"It's a cross-grade level shared experience," Goldhamer said. "It's for everybody… We all do it together."