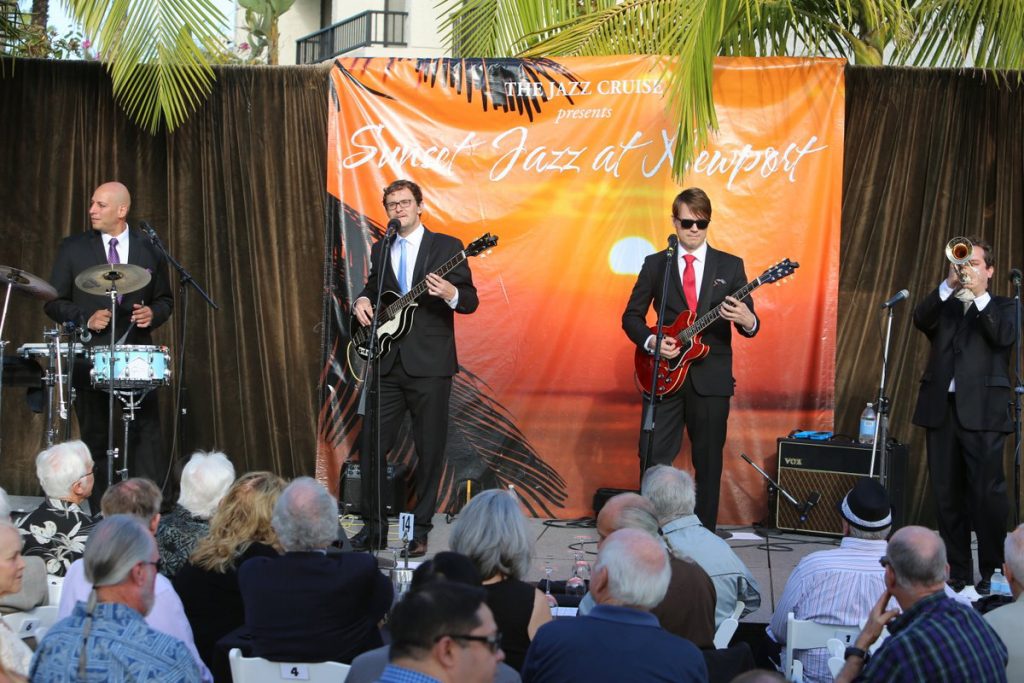 Cool cocktails, balmy evenings and hot jazz. Perfect ingredients for a perfect summer evening under the stars at the Sunset Jazz at Newport concert series that starts July 12 and runs through Sept. 20 at the Newport Beach Marriott Hotel & Spa in Fashion Island.
Held in the Marriott's lovely Rose Garden (and the Seaview Terrace on Aug. 16 and 23), Sunset Jazz at Newport features a variety of jazz ensembles and vocalists, many of whom are the most popular artists from the Newport Beach Jazz Party and The Jazz Cruise.
Each concert features two sets, with the first starting at 6 p.m. and the second at 7:30 p.m. Both one hour sets are included in the price of each ticket.
Doors open at 5 p.m. with table service featuring food and beverages ($20 corkage if you bring your own wine).
The stage is set up at one end of the garden, with numerous tables scattered throughout the garden so that there really isn't a bad seat in the house, and the sound system is excellent.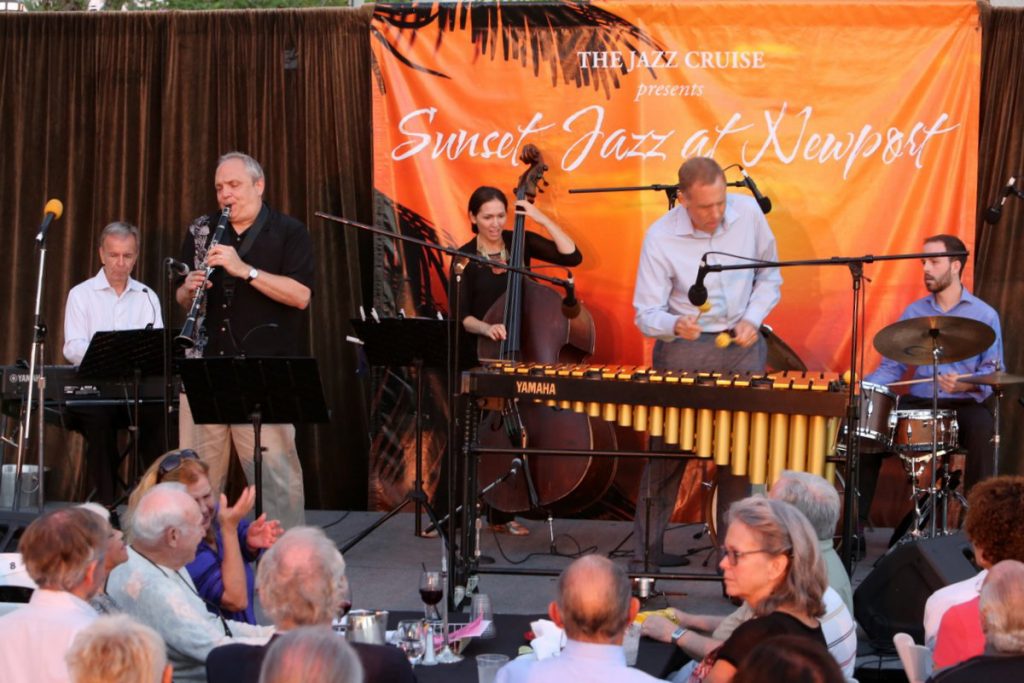 The 2017 Sunset Jazz at Newport line-up:
 July 12: Ken Peplowski Quartet featuring Sue Raney. The late Mel Torme' said "Since the advent of Benny Goodman, there have been too few clarinetists to fill the void that Goodman left. Ken Peplowski is most certainly one of those few. The man is magic."
 July 19: John Clayton, Larry Fuller and Jeff Hamilton. Clayton and Hamilton are famed co-leaders of the Clayton-Hamilton Jazz Orchestra, while pianist Fuller has performed with many jazz artists, including the Ray Brown Trio.
 July 26: Carl Saunders Sextet with All-Stars Scott Whitfield, Doug Webb, Otmaro Ruiz, Chick Berghofer and Steve Schaeffer. An exciting evening of straight-ahead jazz.
 Aug. 2: The Four Freshman. One of the top vocal groups of the 1950s, they formed the bridge between 40s ensembles like the Mel-Tones, and harmony-based rock & roll bands such as the Beach Boys and The Mamas and the Papas. They're "fresher than ever," with new singer Tommy Boynton.
 Aug. 9: Jackie Ryan/Rickey Woodard Quintet with Bill Cunliffe, Chris Colangelo, and Dean Koba. Jazz vocals backed by world-class musicians. A sensational sampling of what the annual Jazz Cruise offers.
 Aug. 16: Jazz Cruise All-Stars with Ken Peplowski, Jeff Hamilton, Larry Fuller, Christoph Luty, Ricky Woodard and a special guest to be announced.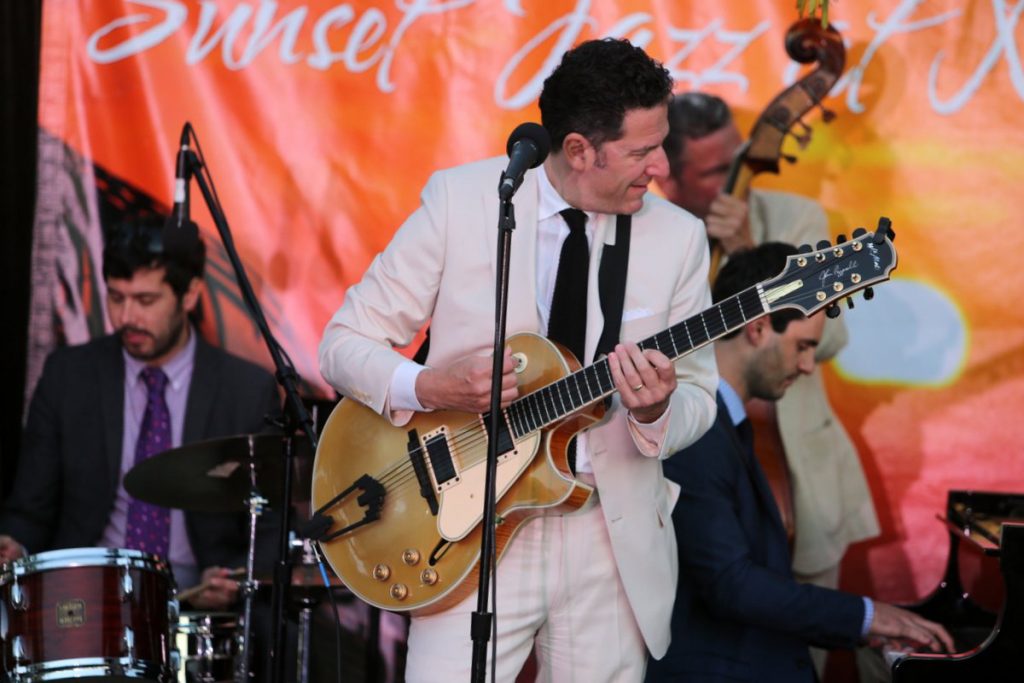 Aug. 23: John Pizzarelli Quartet. Making a return appearance at Sunset Jazz at Newport, Pizzarelli has had a long career as a jazz guitarist, vocalist, and songwriter. His syndicated radio program, "Radio Deluxe with John Pizzarelli," cohosted with his wife, Jessica Molaskey, airs in more than one hundred markets (locally on KKJZ on Thursdays). His shows are always fun and lively.
 Aug.30: Byron Stripling and Bobby Floyd Quartet—An Evening of Satchmo and Beyond. Trumpeter Stripling is the Artistic Director of the Columbus Jazz Orchestra, leader of his own quartet and constantly in demand to play with pops orchestras around the world. Joining Bryon is jazz organist Floyd plus guitarist Graham Dechter and renowned drummer Joe LaBarbera.
 Sept. 6: Barbara Morrison/Charles Owens Quintet. Barbara's annual birthday celebration has become a tradition at Sunset Jazz. Owens is a longtime member of the Clayton-Hamilton Jazz Band.
 Sept. 13: Jeff Hamilton Trio with pianist Tamir Hendelman and bassist Christoph Luty. Virtuoso drummer Hamilton returns to Sunset Jazz with his dynamic trio.
 Sept. 20: Tom Kubis Big Band—Live and Unleashed! Kubis will being a big and swinging close to the Sunset Jazz at Newport series.
 Season tickets (11 concerts for the price of 10) are $278 for general (open seating), $428 Blue (reserved), $542 Gold (reserved).
Individual seats: $26 General; $42 Blue; $53 Gold (The Four Freshmen, John Pizzarelli and tom Kubis tickets are $35/46/57.
Tickets are available by calling (949) 759-5003 or going to sunsetjazzatnewport.com.