The Pacific Symphony is renowned as having some of the best musicians in southern California, but the Pacific Symphony Youth Ensembles also have top music students performing with them.
In fact, the ensembles are so good that in addition to concerts in Segerstrom Concert Hall, they've made some impressive appearances out-of-state, and out of the country.
Pacific Symphony Youth Orchestra toured Bulgaria in 2011 and China last June, and Pacific Symphony Santiago Strings travelled to Tampa, Fla. In March 2016 to take part in the American String Teachers Association National Orchestra Festival.
Now, the Pacific Symphony Youth Wind Ensemble members are packing their bags and preparing for a nine-day international tour.
Regarded as one of the premier youth wind symphonies in the nation, PSYWE is an 81-piece band made up of woodwind, brass and percussion students in grades 8-12, led by Music Director Gregory X. Whitmore.
The group takes flight July 3-12, along with Symphony staff and students' family members, with stops in Austria's "City of Music," Vienna, and Mozart's birthplace, Salzburg, for participation (by special invitation) in the Summa Cum Laude International Youth Music Festival.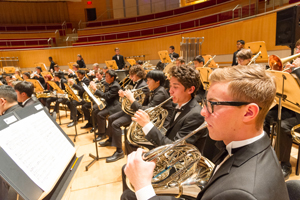 "This feels amazing!" exclaims Maestro Whitmore. "The tour is the culmination of a two-year process of planning, discussions and meetings. I am so excited for the students to have the opportunity to perform and experience Salzburg and Vienna. My hopes and dreams are that the students will not only have the life-changing opportunity to make music in the home of classical music, but will also be able to immerse themselves in the cultural experiences we have planned. If the students come back changed for the better, having broadened their horizons—we have succeeded!"
The tour will be the first in PSYWE's decade-long history, and has been part of a larger celebration of the ensemble's 10-year anniversary season (2016-17).
"We have about 130 people going including kids, and about 30 parents and staff," said Pacific Symphony Youth Ensembles Board chair Elizabeth Stahr, a longtime Newport Beach resident who along with her husband John was named Citizen of the Year for 2016 in Newport Beach.
"The students will get to see where Beethoven lived, take the Danube River Cruise, and play in the fantastic hall of Vienna," she noted. "This group has more boys than girls, all playing euphoniums, alto saxophones, tubas or trombones. This trip will change their lives and be the topic of all of their college application essays!"
"I am very proud of where my kids got into college this year," added Stahr. "We have them going to Harvard, Yale, Princeton, Stanford, Juilliard, Williams, Wellesley, Northwestern, Univ. of Chicago, Brown, USC. Music and academics go together, and these kids prove it." 
One goal of the tour is for PSYWE to play music in acclaimed European concert halls with passion and deep collaboration with one another—in alignment with the theme of the anniversary season, "Collaborations & Celebration."
Students will perform in the famous Musikverein, the MuTh and the Vienna Konzerthaus. PSYWE's tour programing will include highlights from each of the concerts that took place over the past season, plus several compulsory works by Viennese composers, as required by the Festival.
A final "Bon Voyage" concert will be held at UCI on June 30, offering a preview of the tour repertoire.
The Pacific Symphony Youth Ensembles are comprised of students from numerous Orange County schools, including Sage Hill in Newport Beach.  
For more information, visit PacificSymphony.org.