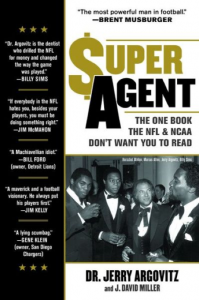 Dr. Jerry Argovitz is a man with a plan. He always has been, ever since being a young, poor Jewish boy in a town of rough and tumble Texans who had to find creative ways to both earn a nickel, and stand up to the the bullies who wanted to knock him down.
A dentist by trade, Argovitz went on to become a successful land speculator and savvy businessman, building a name for himself, and settling into the upper echelons of Houston society, fancy high-rise office building and all.
Also an avid sports fan, the course of "Doc's" life and career would change once again as a result of a conversation had over drinks one night at a party. After overhearing Gene Burrough – brother of pro football player, Kenny Burrough, and professional "talent scout" to a prominent sports agent – boast about his latest contract negotiations, Argovitz was shocked to hear how poorly the players' best interests were being represented. 
He told Burrough that his late grandmother could have brokered a better deal, and invited him to talk about how they might form a partnership, and create a new way to tackle these negotiations. It was an offer he never expected to make good on, but several weeks later, the two men met, and a new chapter was begun.
Although against NCAA regulations, it was common practice at the time for agents to pay college athletes to sign with them. This practice preyed on young athletes who often came up in poverty, and couldn't ignore the financial incentives. Agents would then turn around and charge high commissions on the full values of their players' contracts, despite much of the contract being devalued by deferred payments.
This practice of paying the players, then riding their coattails all the way to the bank didn't sit well with Argovitz. It was unethical, and to him, unacceptable. He thought back to his father's sage advice, shared with him in his early years:
"To live a healthy, successful life, follow these three rules: First, do the right thing.  Second, always do the right thing. And third, repeat rules one and two."
Thus, Argovitz set out to turn the profession of sports agent on its head. He negotiated fiercely for his clients, but always with their best interests in mind. He set them up with financial planners, helped review their investments, and taught them how to behave appropriately in public. He wanted to ensure that his players wouldn't end up broke and in debt due to bad financial choices, and unfair contracts, as was so often the case.
His plan worked, and he went on to represent some of the biggest football names of the time – Billy Sims, Jim Kelly, and Jim McMahon, just to name a few. He brokered the first million dollar football contract, and as a co-owner of the now defunct USFL Houston Gamblers, implemented the concepts of instant replay, the coach's challenge, the two-point conversion, and wide-open passing rules, all of which have been subsequently adopted by the NFL. Famed commentator Brent Musburger even once called him "the most powerful man in football."
Today, he turns his sights on the NCAA. As recent incidences such as the Reggie Bush scandal at USC can attest, it is an organization badly in need of an overhaul.  Programs are getting rich on the backs of unpaid athletes – a reality that Argovitz cannot abide. Never fear, however, he has a plan for that too.
Argovitz will be sharing his new book "Super Agent:  The One Book The NFL and NCAA Don't Want You to Read," co-written with J. David Miller, and discussing his thoughts on the NFL, success, and how to fix the NCAA this month at the Balboa Bay Club.
On Thursday, April 18, from 5:30 to 6:30 p.m., Argovitz will appear at the club to sign books and answer questions.  The cost of the event is $15 and includes valet parking and admission to a no-host bar. For club members, the ticket will also include one drink from the bar. For reservations, please call the Balboa Bay Resort at 949-630-4120.