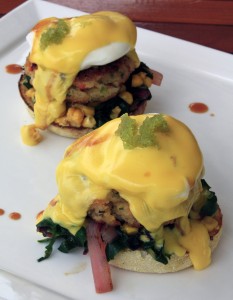 "Did you know that National Eggs Benedict Day is Tuesday, April 16?" I asked Catherine.
"Who comes up with those national food days?" wondered Catherine.
"I don't know, but I found out that The Beachcomber Restaurant in Crystal Cove State Park is creating special eggs Benedict dishes to celebrate Eggs Benedict day–although they'll be available for a few days afterwards, too."
"Chris, I hate to tell you this, but I don't like runny eggs, and eggs Benedict has runny eggs. I like my eggs hard. The harder, the better."
"Well, when you hear the description of the dishes, you might change your mind: The Beachcomber's egg benedicts are made with fresh organic eggs that are poached to perfection, served over a hot and crispy English muffin and dressed in a savory hollandaise sauce. The Florentine Benedict is made with fresh spinach and sautéed tomatoes; the Applewood smoked Scottish salmon Benedict is made with sautéed rainbow Swiss chard, basil, chives and red caviar; and the Maine lobster & pacific shrimp cake Benedict features braised kale, yellow sweet corn, hollandaise sauce with blood orange reduction and wasabi caviar."
 "Those do sound good, but I still don't like runny eggs."
"We're invited to sample the dishes this weekend, so let's try them and see what happens."
Last Sunday, we drove to the Crystal Cove parking lot on Coast Highway across from the entrance to Crystal Cove and took a short shuttle bus ride that dropped us off in the middle of the Historic District. 
"These are cute cottages," said Catherine as we strolled to the Beachcomber, which is indeed a few feet from the beach in Crystal Cove.
"They're all available for rent, and you can bet that everyone staying here comes to Beachcomber for breakfast–or lunch or dinner," I replied. "Of course, plenty of locals come to Beachcomber because of the food, and the view."
After being seated, we ordered a champagne cocktail and a signature bloody Mary before Executive Chef Carlos Olivera brought us three of his eggs Benedict creations. We immediately dug in, although I noticed Catherine was avoiding eating the eggs."
"What do you think?" I asked her between mouthfuls.
"The lobster and shrimp cake with the wasabi caviar has a great mixture of flavors and textures, and the one with the smoked salmon has a maple glaze, so you get a nice combination of sweet and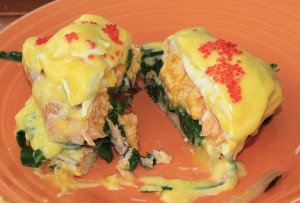 smoky. But not surprisingly, since I lived in Florence for a few months, the Florentine Benedict is my favorite. It has a large, warm, juicy tomato, which allows the sourdough flavor of the English muffin to come through."
"I noticed you didn't mention the eggs," I teased. "But it looks like you can enjoy this dish without being a soft egg lover. I, on the other hand, loved all three dishes. I thought the sauces were wonderful, and each dish had a great combination of flavors and textures. I particularly enjoyed the salmon Benedict."
"I'm getting full," noted Catherine.
"That's one advantage of having a beachside restaurant–you can burn off the calories with a walk along the sand."
"Or a nap on the sand," smiled Catherine.  
Eggs Benedict dishes are $14 to $19, and are available for a limited time. For more information, visit thebeachcombercafe.com or call 949-376-6900.