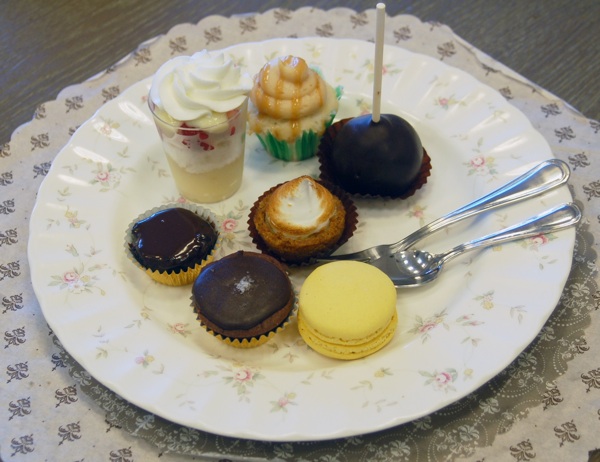 Sweet and Saucy Shop recently opened in the Crystal Cove Shopping Center, and of course I was intrigued by the name.
After some research, I learned that co-owner and pastry chef Melody Brandon opened her flagship sweet shop in Long Beach four years ago, but this was her first foray into Orange County.
So what makes this dessert store so popular?
That's what I wanted to find out, so I paid a visit to Sweet and Saucy and sampled some of the store's treats while I chatted with Melody.
"Our main business is weddings, high-end events, parties, and customized desserts," explained Melody as she placed a plate of decadent looking desserts at my table. "On an everyday basis we have cupcakes, cookies, cake lollipops, French macaroons, and refrigerated mini-desserts."
"These look fabulous," I said, motioning to the place of desserts. "What are they?"
"I picked some of the favorites: red velvet cake lollipop, candy bar cupcake, which is vanilla cake, chocolate filling and peanut butter frosting with salted caramel, strawberry shortcake shot glass, cappuccino cheesecake, chocolate salted caramel tart, chocolate cheesecake, and mini key lime pie."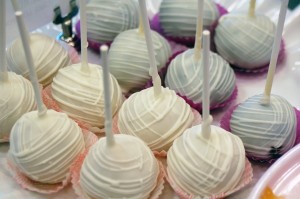 "Wow—this candy bar cupcake is fantastic," I enthused after consuming the sinful concoction in a few big bites. "I love the chocolate filling, it's a fun surprise. I see why it's so popular."
"I'm glad you like it."
"I do have a question about the store's name. I understand the sweet part. Are you the saucy?"
"Definitely," laughed Melody. "But we also say all the dessert have 'sauces' — all the caramel, chocolate ganache, all those fun sauces we put on the desserts."
"What do you think makes you successful?"
"The most important thing is using high-end ingredient," explained Melody. "A dessert can look really good, but if it doesn't taste good people are not going to come back a second time. We bake fresh items every day; we never keep day-old stuff.  That's the key. It has to taste great."
"Appearance is the second thing," added Melody. "People eat with their eyes first, so it's really important how you present it."
"The desserts in your display are beautiful—definitely makes me want to buy them all," I told her." And I love that you have the cupcakes in regular and mini sizes."
"A lot of people love the mini-size cupcakes—they're our top seller so far in Newport," noted Melody. "Everyone wants to try a little something, and this way you could have several minis instead of one larger cupcake."
"This mini key lime pie is fabulous, it's bursting with flavor," I said. "And the strawberry shortcake shot glass is fun and delicious. And you're right—having the mini desserts let me sample more of them. And they may be small in size, but they're big on flavor. I just have one more question."
"Sure, what's that?"
"Can I get a box of them to go?"
For more information, visit www.sweetandsaucyshop.com.