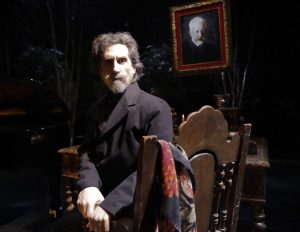 Pianist and actor Hershey Felder has been keeping busy—very busy.
He's played over 4,500 performances of his self-created solo productions around the world, breaking box office records and drawing critical acclaim for his one-man shows that revolve around noted composers.
Up to now, Felder has tackled such musical heavyweights as George Gershwin, Chopin, Beethoven, Leonard Bernstein, and Franz Liszt.
Now, you can add Tchaikovsky to that list.
In "Our Great Tchaikovsky" at Laguna Playhouse, Felder – as he does in his other shows – embodies the composer of "The Nutcracker," "Swan Lake," "1812 Overture," and other renowned works. In doing so, he relates Tchaikovsky's life story, which may surprise some with its frankness.
Although Tchaikovsky married, he preferred the company of men, which in 19th century Russia meant hiding his feelings or facing untold consequences.      
"This story is so timely, it may as well be today," Felder told me last month when he was performing "Our Great Tchaikovsky" in San Diego. "It's amazing to tell a story that happened—it's actually his life. So much of it is related to the politics of today. He lived in complicated times. If people knew who he was, he would have been sent to Siberia."
Felder told me that it took him more than a year to put the play together, from detailed research on Tchaikovsky to telling the story correctly.
In telling the story, Felder noted that he actually starts the play as himself, and then becomes other characters, including Tchaikovsky.
Based on the San Diego response, "Our Great Tchaikovsky" is a success.
It's the first time that every news outlet gave it a rave review," said Felder. "Everyone loves it. I think people are ready for this show."
Armed with that knowledge, I attend a production of "Our Great Tchaikovsky" last weekend.
To keep somewhat with the theme, I dined before the show at Moulin in downtown Laguna, an authentic French Bistro (Felder lives in Paris when he's not performing).  
It was the last day of OC Restaurant Week, so I had the half chicken, fries and a salad, along with some amazing French onion soup and dessert.
The Laguna Beach Moulin is the sister location to the original Moulin in Newport Beach. Both serve authentic French fare, with ambiance to match.
After dinner, I strolled to Laguna Playhouse to watch "Our Great Tchaikovsky," which runs about 100 minutes with no intermission.
Having seen all his other composer play, I was reminded of how expert Felder is at telling a compelling story, yet surprised with the frank examination of Tchaikovsky's life, and how it affected his music.
"Our Great Tchaikovsky" is a fascinating look at a troubled music genius whose inward life was as dramatic as his outward one. If you think you know Tchaikovsky, think again—this play uncovers tidbits of his life unfamiliar to most people, and it will have you appreciating the great composer's music in a whole new way.   
"Our Great Tchaikovsky" runs through March 26. Visit LagunaPlayhouse.com for tickets.
For information on Moulin, visit MoulinBistro.com.