When I was a teenager I planned for my prom for months. My girlfriends and I talked ad nauseam about what we were going to wear, how we were going to style our hair and makeup, what shoes, earrings and purse were a must. In hindsight, that time would have been better spent studying algebra, but at the time, all things prom were all-consuming.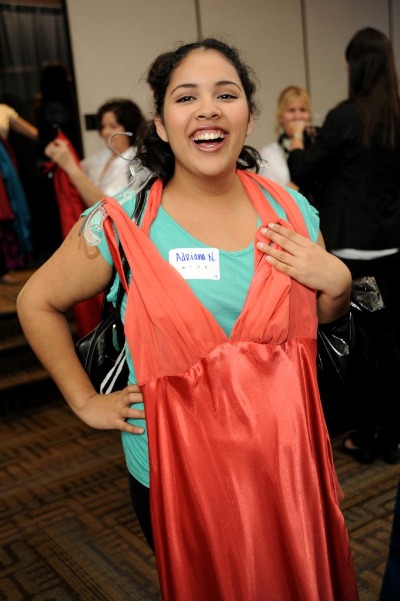 So this past week when I received a call reminding me of Orangewood Children's Foundation March 24 "Belle of the Ball" event, I was cast back to remembering the excitement of prom and I realized all these years later how lucky I was to be able to pick out my outfit, head to toe, at a fancy department store courtesy of my parents. I'll never forget how special I felt in that outfit, and though I didn't know it at the time, the experience set me on a path of feeling good about myself that thankfully stuck with me.
"Belle of the Ball" is an annual prom event – presented by Orangewood in partnership with Girl's Inc., Women Helping Women and Orange Coast College – that gives more than 350 foster and at-risk teen girls from throughout Orange County the opportunity to become princesses for an evening. The event is meant to help the girls feel important, helping to raise their self-esteem, empowering them not just for one night, but for life.
The event has grown, so this year more than ever, organizers say that in order to turn the girls' prom dreams into reality, they are in need of donations of gently worn, clean formal prom, party and bridesmaid dresses, as well as accessories like earrings, purses and shoes, so that the girls who attend the event will have the chance to pick out their perfect prom outfit.
More than 100 volunteers help the girls choose their outfits, and volunteer makeup artists and hair stylists assist them with completing their look. The goal is to provide a wide range of choices so that each girl can have the sizes, styles and colors that match her tastes, at no cost. The girls also participate in body image and wellness workshops to put the final touches on their experience.
Donations can be dropped off Monday through Friday from 8:30 a.m. to 5 p.m. at Orangewood Children's Foundation at 1575 E. 17th St., Santa Ana, 92705.  Especially needed are contemporary and plus-size dresses. For more information, call 714-619-0200 or visit  orangewoodfoundation.org.
Don't miss this opportunity to help make a teen girl feel like a princess for a day, and perhaps a lifetime.
Columnist Lynn Selich resides in Newport Beach.  She can be reached at [email protected].