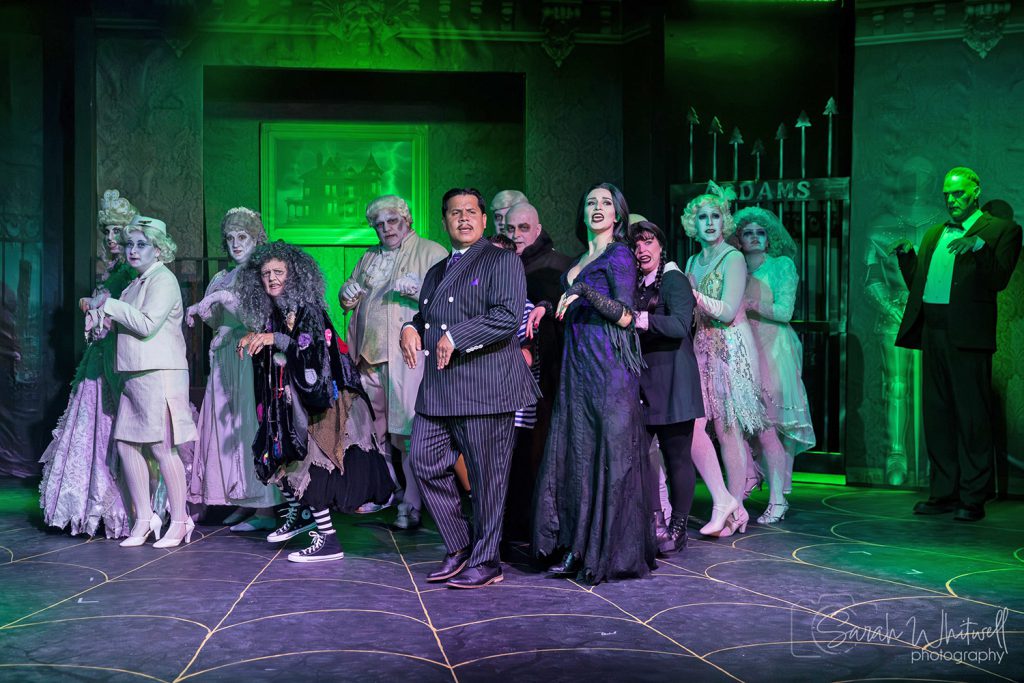 By Eric Marchese | Special to the NB Indy
Just in time for fall and Halloween, and leading off Newport Theatre Arts Center's new season, is the hit 2009 Broadway musical "The Addams Family."
Think this is a stage version of the 1991 film starring Raul Julia and Angelica Huston? Think again. It's all original, with a reliable script by Rick Elice and Marshall Brickman (who had teamed on "Jersey Boys") and music and lyrics by Andrew Lippa ("The Wild Party") that underscore the odd family's appealing quirks.
Elice, Brickman and Lippa do something musicals often do, yet not attempted in the '90s films, hit '60s TV series or Charles Addams' single panel "New Yorker" magazine comics: They make the various members of the, ahem, unorthodox Addams clan sympathetic.
Watch NTAC's production, and you'll find your heart going out to Gomez (Brandon Gomez), the family's eccentric, impulsive dad; his icily beautiful wife, Morticia (Noelle Carney Campbell); intense yet impassive daughter Wednesday (Brooke Lewis); off-center son Pugsley (Brady Barrett); nutty Uncle Fester (Owen Lovejoy); Grandma (Victoria Groskreutz); and Lurch (Jack Millis), the family's hulking, mute servant.
The plot is fairly routine: Lucas Beineke (Sean Farrell) is visiting New York City from Ohio with his parents. He and Wednesday have met, and now the two teens are bursting with joyful romance.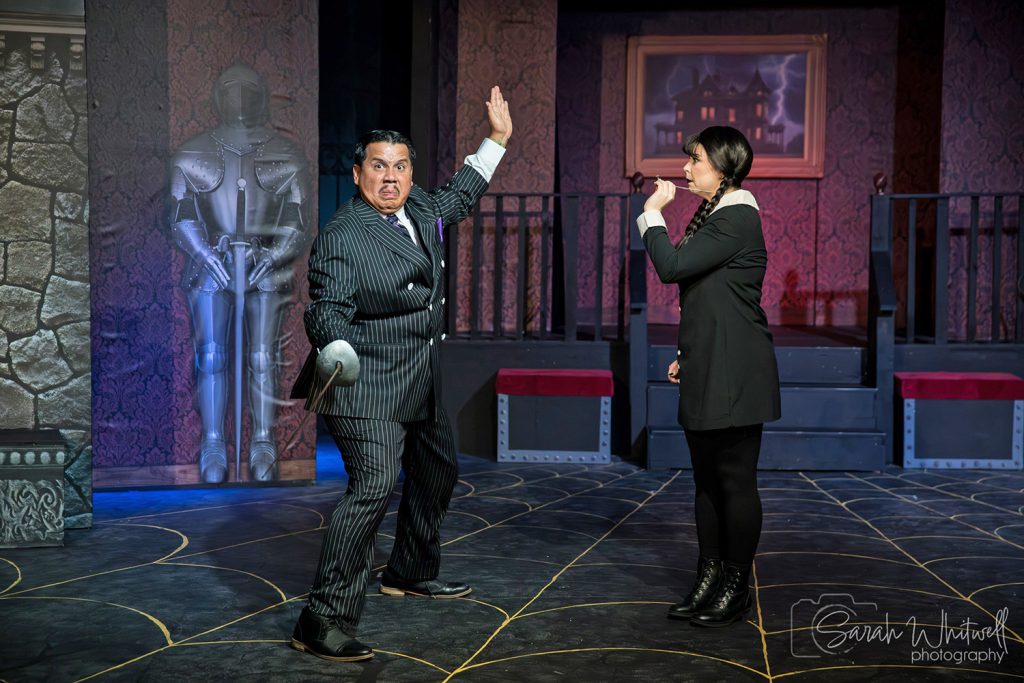 Will Lucas' straight-arrow parents, Alice and Mal (Kayla Agnew and Randall Goddard), accept Wednesday and her offbeat family? Will the dark, macabre Addamses take to such plain-vanilla midwesterners?
Elice and Brickman spin this seemingly pedestrian plot into gold, and Lippa's music fits the various Addams' oddities. Rounding out the character roster, and functioning as the chorus, are The Ancestors, eight long-deceased Addamses who've escaped the family crypt.
Veteran director Kathy Paladino has assembled a cast so good, they could do this show in a much larger venue. They're backed by production and design teams as good as any big-budget local staging or touring company.
At the heart of Elice and Brickman's script is Gomez. Wednesday tells him she and Lucas are planning to marry, and that she wants him to keep this to himself. Gomez, though, has never kept secrets from Morticia, and "The Addams Family" follows his efforts to stay true both to wife and daughter without betraying either.
Actor Brandon Gomez creates and maintains the exaggeratedly funny persona of the Latin lover first personified by TV Gomez John Astin and later enhanced by Raul Julia. Campbell is an elegant, deliciously sexy Morticia who's all fire and ice.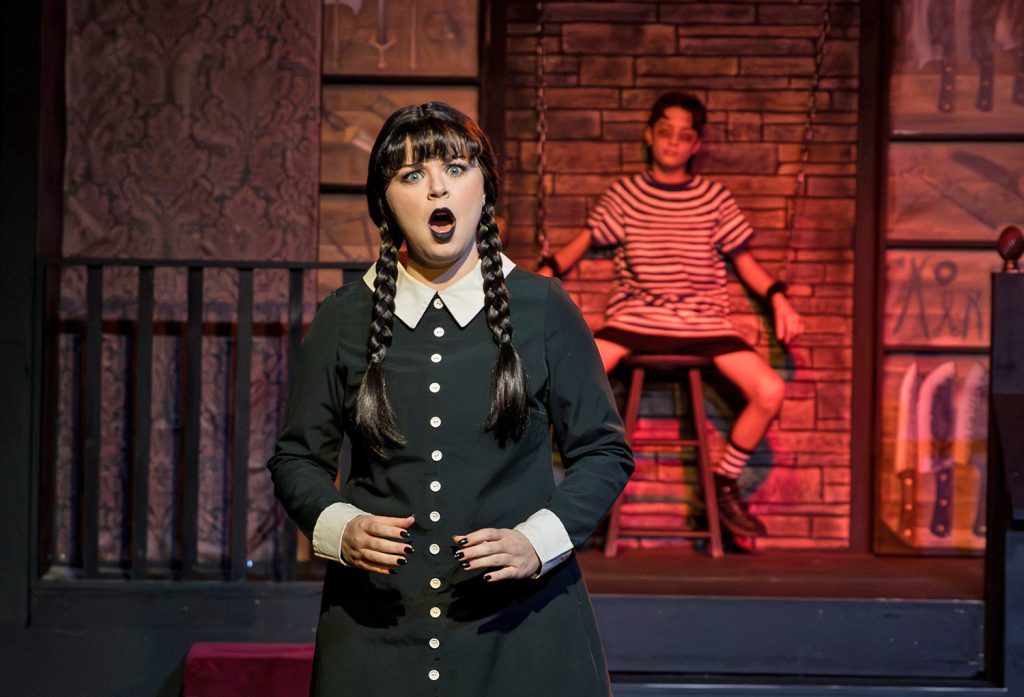 Even better is the absolutely superb Lewis. Not just aptly deadpan, Lewis delivers top-notch vocals throughout, her every feature blazing with intensity.
While leads Gomez, Campbell and Lewis deservedly garner high praise, Paladino's entire cast couldn't be better.
Lovejoy's Fester is a quirky delight, blending a Nathan Lane-like persona with facets of '60s comedic actor Paul Lynde. Barrett's Pugsley is aptly mischievous, yet adorably starved for attention from parents and sister.
Attired in black tux and cummerbund, Millis' Lurch grunts, gestures and, uh, lurches around the Addams mansion, and Groskreutz is aptly bizarre as wacky, ancient Grandma.
Cheryl Dekeyser, Sebastian Kahn, Ashley Montgomery, Ariana Nin, Shannyn Page, Alexis Slear, Ally Vargas and Terry Vickrey are laudably versatile, delivering yeoman work.
And, for the record, some audiences will see Kendall Sinclair as Morticia and Ethan Horner as Pugsley at select performances.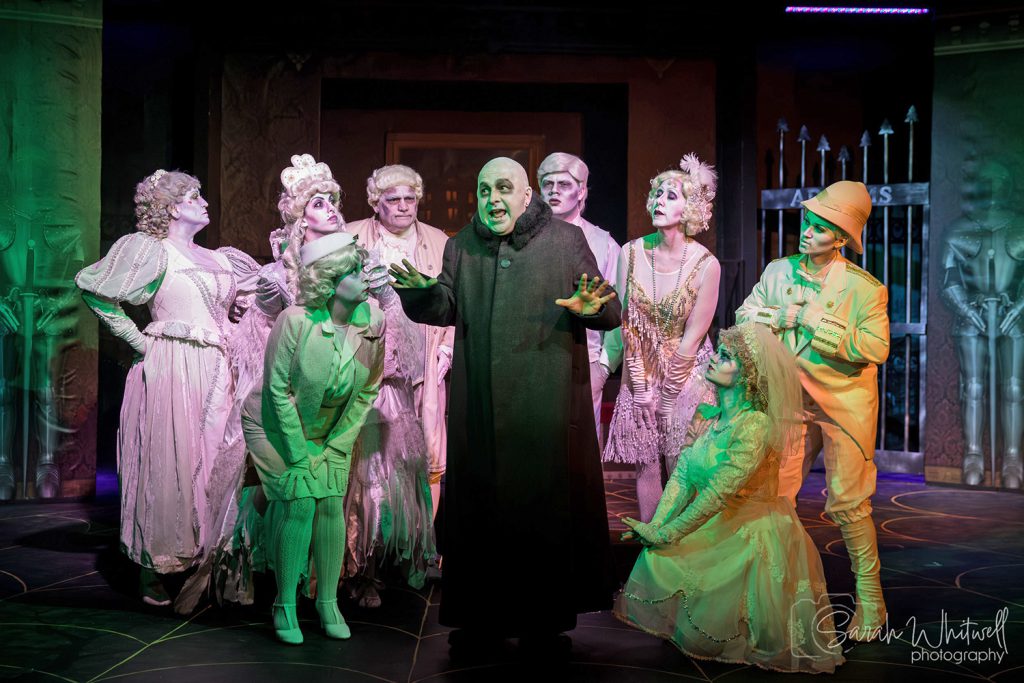 The 19 musical numbers showcase Lippa's talent, and, at NTAC, the song-and-dance skills of Paladino's cast and Maureen Russell's fitting, always eye-catching choreography, which captures the family's offbeat nature.
Kevin Weed's music direction makes the most of the pre-recorded tracks of the score, which favors spotlighting individual characters versus stringing together elaborate, large-scale musical numbers – a canny approach that works in the show's favor.
Opening the show is the quirky-funny, macabre and yet sublime song "When You're an Addams," ideally setting things up while cleverly incorporating the memorable finger-snapping gimmick from Vic Mizzy's TV show theme song.
The watchable Campbell shines in the Act Two opener "Just Around the Corner," singing and dancing up a storm in the graveyard while backed by The Ancestors. Agnew has a showstopping solo in the number "Full Disclosure," as Alice Beineke bares her soul to everyone, shocking husband Mal in the process.
Lovejoy conveys Fester's sense of longing with the sweet, softly romantic Act Two number "The Moon and Me," while "But Love," the anthem Fester performs and repeats with The Ancestors throughout the show, is a delightful spoof of '20s love ditties.
The show concludes with three compelling Gomez-Morticia songs, including a torrid tango that's among the show's most elaborate dance numbers, and a company-wide finale that puts the spotlight where we don't expect it – on Lurch.
Paladino's production and design teams live up to the potential of the script, songs and the cast's portrayals.
Jim Huffman's eye-popping scenic design creates the interior of a medieval castle, starting with rough stone walls built around arched, armored windows and decorated with stone carvings. Flanked by two suits of armor, and grandly framed by a proscenium, is the main upstage entryway.
The production's effective look, sound and feel are completed by Kat Scott and Jenny Wentworth's costume and wig designs, technical director Joshua Serrano's lighting design, Huffman's sound scheme and Frank Paladino's special effects. Mastering the crucial makeup artistry are Campbell (Morticia) and stage manager Sage Delaney.
Where "The Addams Family" really scores – and what's so joyfully apparent in NTAC's outstanding production – is in the way it uses its eccentric characters to offer insights into the contradictions that weave in and out of our daily lives. Who says a show can't be uproariously funny, and bizarre, and still have tremendous heart?
Newport Theatre Arts Center, 2501 Cliff Drive, Newport Beach. Through October 22. Running time (including intermission): Two hours, 25 minutes. 7:30 p.m. Thu.-Sat., 2 p.m. Sun. Tickets: $30. Ticket information: (949) 631-0288, www.ntaconline.com.