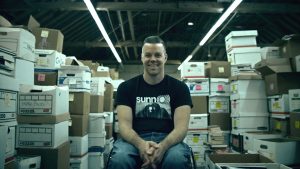 "I'm making a mess, Dada."
So says Eden Spencer to her father, Josh, in the opening moments of the short documentary film, "Welcome to the Last Bookstore." Like Eden, each of us regularly makes a mess out of this life, but what viewers will discover about Spencer is that he was able to take his own mess, and turn it into something beautiful that has, in turn, become its own sort of messy Mecca.
A graduate of Art Center College of Design, the film's director, Chad Howitt says his initial exposure to art and media came during the adolescent years he spent working in video stores and tattoo parlors. Known for the work he has done for such companies such as Volkswagen and Skullcandy, he is now bringing his unique style of narrative driven filmmaking home to his native Los Angeles, as he turns the lens on Josh Spencer and his one of a kind L.A. shop, The Last Bookstore.
The resulting short documentary, already winning awards on the festival circuit, tells the story of Spencer's personal journey towards creating a place that has become almost a home to many of its patrons in Downtown Los Angeles.
After suffering life-altering injuries in an accident that would leave him a paraplegic, Spencer had to reevaluate what a successful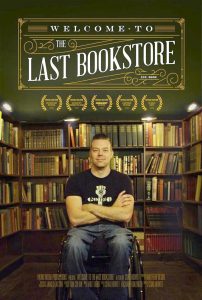 life meant. He struggled with his new limitations, and took, in his own words, "a decade to readjust." He found himself in Los Angeles, unemployed, and needing a new direction. At the urging of friends, he decided to open a bookstore.
This was a risky endeavor in an era when well-established book-sellers were going under, and e-readers were threatening to make physical books obsolete. Spencer said, however, "After my injury, my life perspective definitely changed, in terms of being able to look at everything as a challenge and not be afraid of failure. I've lost things in my life much more traumatic than losing a business…if I can deal with that, I can certainly deal with a business failing."
Instead, Spencer has created a store that, quite the opposite, is thriving. He said he wanted to create a place that he would want to hang out in, and it seems his ever-growing clientele wants to hang out there as well.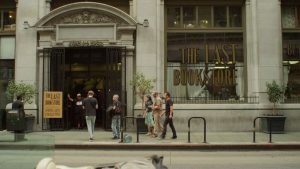 Visually beautiful and boasting a massive collection of eclectic titles, The Last Bookstore has become not only Spencer's salvation, but also a haven for all those who love the heft of a book in their hand, and are still enchanted by the turn of the page.
"Welcome to the Last Bookstore" will screen at the Newport Beach Film Festival on April 25, at 3 p.m.
Bibliophiles attending the festival should also be sure to check out "Papa:  Hemingway in Cuba," in advance of its nationwide theater release.  Directed by the award-winning Bob Yari, "Papa" is set during the Cuban revolution, and tells the story of Hemingway's relationship with Miami journalist, Denne Bart Petitclerc. With cast members including Adrian Sparks, Giovanni Ribisi, Minka Kelly, and Mariel Hemingway, the film was shot on location, making it the first Hollywood film to be shot in Cuba since 1959. It plays at the festival on April 24 and 25.