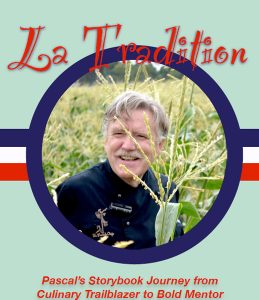 By Christopher Trela & Catherine Del Casale | NB Indy
Orange County's fine dining scene is relatively young, so the term "legend" in the county's culinary world is seldom used. And yet, it's fittingly applied to Chef Pascal Olhats, who has been crafting authentic French cuisine in Orange County for 30 years—much of that in Newport Beach thanks to such noted bistros as Tradition by Pascal, Brasserie Pascal at Fashion Island, and Café Jardin at Sherman Gardens.
The county has grown, so too has the dining scene. Palates have become more sophisticated, trends have come and gone (so have Pascal's Tradition and Brasserie restaurants), but Pascal has remained a fixture in OC's culinary world.
What makes Pascal so popular, both as a chef and as a mentor to those coming up in the restaurant world?
Those questions, and others, are answered in the new documentary "La Tradition" that screens at the Newport Beach Film Festival on Saturday, April 23 and Monday, April 25.
We watched a preview of the film, and despite being fans of Pascal's for many years, were surprised how much we learned about his background, and about his groundbreaking role in helping to elevate Orange County's restaurant community.
"You get to find out where his love of cooking came from, how he sees his career moving forward, and best of all what his employees and colleagues really think of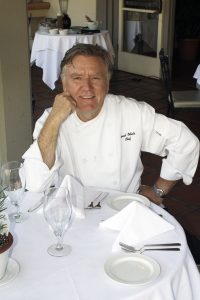 him," said Catherine. "You can really tell how much energy, thought and love Chef Pascal puts into all of his dishes. One of the things I love about his cooking is how thought out it is for both the customer who is going to enjoy it, to being conscious of the environment (both sourcing and wastefulness)."
"I agree—learning about Pascal's background and his passion for cooking helps put his career into perspective, and the interviews with fellow chefs including Florent Marneau of Marche Moderne, Greg Daniels of Haven Gastropub, Anne Manassero of Manassero Farms, Takashi Abe of Bluefin Sushi, and others help make Pascal's culinary journey come to life," said Christopher. "Watching the film also made me hungry for some of Pascal's cuisine."
We were also fortunate to get an advance look at "The New Orleans Sazerac," a short documentary about the popular drink that put New Orleans on the cocktail map.
"There's something deeply profound about the Sazerac cocktail," notes one of the cocktail experts interviewed in the film.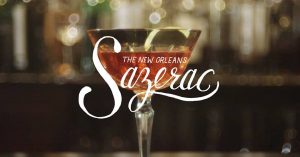 Filmmaker James Martin certainly makes a good case to back up that claim, quickly taking viewers through a 200-year history of the Sazerac cocktail, and through the history of New Orleans itself.
"There are so many questions surrounding the Sazerac," states Martin on his website. "Was it America's first cocktail? Why has it changed so much over time? How do contemporary interpretations measure up? When it was time for me to embark on my first film to direct, exploring the lifeline of the Sazerac felt like the natural choice."
For those unfamiliar with a Sazerac, it's made with absinthe, sugar, rye whiskey or cognac, and bitters.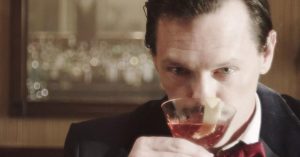 "The New Orleans Sazerac" screens on Saturday, April 23 at 6 p.m. as part of a short subject program with three other films.
And then there's "Noodle Deli," a short documentary about a typical day in the life of a Los Angeles noodle restaurant.
"I loved getting an inside look to the history, passion and artistry that goes into making Chinese noodles," said Catherine. "I always think of Italian and French food when I think of the passion of cooking, but this film really illustrated the love and creation that goes into each dish. Warning—you'll feel compelled to eat Chinese food after seeing this film."
For more information and tickets to these films, visit NewportBeachFilmFest.com.