A week ago and throughout the weekend we were back to summertime weather. We definitely live in the best area of the world.
Last Friday our harbor was an abundant boating mix. An 80-foot Ocean Alexander from Marina del Rey cruised by with the owner and family sunning themselves behind the fly bridge. Five minutes later the 120-foot Westship "Celebration" from Lido Isle cruised by with a group aboard making use of the fantastic weather. While working, at least 20 Duffy rental boats went by and several sailboats tacked up the channel and raced back on a downwind course.
Normally we would see this kind of boating activity on a July or August weekday. It's amazing that after a week to 10 days of record breaking cold weather, we would be back to near 80-degree heat towards the end of January. There are less than a handful of areas in our country where the locals are out boating and working on their tan in the dead of winter. Our harbor rocks!
Last Sunday I attended one of my weekly meetings on the oceanfront in Balboa. In the hour and a half I was taking care of business and working on my tan, dozens of boats of all sizes cruised by. The Davey's and Newport Landing fishing boats were on the hunt for sand bass. Small skiffs were heading to local offshore fishing grounds. I noticed an optimistic sailboat outside the jetty cruising slowly as it was too early for the afternoon wind. They held their course anyway as this weather is just too much. We didn't notice anyone coming or going to Catalina, but a fair amount of good sized power boats headed up and down the coast.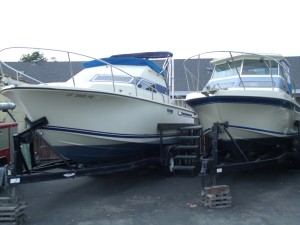 I took notice fondly of a 28-foot Skipjack heading up the coast. Skipjack sport fishing boats is another local boat builder which started manufacturing boats and continued for almost 30 years in Costa Mesa. Jack Cole, and later on his son, created his boat in his garage around 1969. Jack had become enamored with fishing Baja California and saw a niche for trailer boats to traverse the new toll road from the border to Cabo San Lucas.
His first boat was an open 20-footer and soon followed with a 20-foot fly bridge model. A few years later the 24-foot open and fly bridge followed. Hundreds of these ocean going sport boats were built at their Costa Mesa headquarters.
Around the mid-70s, he created and built the 28-foot model followed with a 25-footer with more of the 28-foot style. Around 1995 he came up with another break-through 26-foot fly bridge model that not only fished the ocean well but was extremely pleasing to the eye.
By this time fiberglass boats and engines were becoming quite pricey and the middle class would have trouble affording new boats. Within a couple years his 30-foot sport fisher was launched and the new boats were selling in the 220's. The cost only went up. He moved the plant to the high desert to control costs and built a 36-footer. Within a couple of years he sold the business.
Around 2002 a broker friend of mine, who is close to Jack, mentioned Jack was working on a new break-through design for a new boat. Around 2005 Jack had built a 22-footer which could come in three different styles. The last several years his new venture has been included in the Newport Boat Show at Lido Village.
I've seen a couple over the years cruising in Newport Harbor, but not the large use of the earlier era. Up until recently I would see his ads in the Southern California boating magazine, but not recently.
Like housing, new boat sales has been retarded by our endlessly hurting economy. In the early 90s recession national unemployment for boat builders was in excess of 75 percent. I suspect we're in the same pattern as before.
Go boating in our harbor and enjoy our unique weather. Here's to a summer-like tan!
Sea Ya,
Skipper Steve
Steve Barrett has more than 50 years boating experience in Newport Beach and performs systems checks, repairs, and pilots yachts. Email him at [email protected]