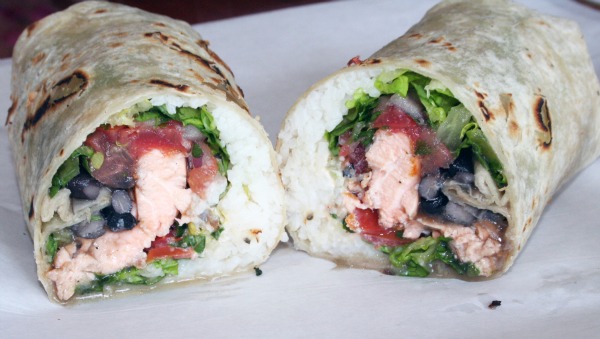 "Something's fishy in Newport Beach," I told our editorial assistant, Catherine, who's been filling in for Stasha while our favorite foodie focuses on her starring role in a play in Burbank.
Catherine looked at me quizzically.
"I didn't say that just for the halibut, although I'm floundering for words and may get crabby and clam up," I continued, smiling.
"I think you said that on porpoise," laughed Catherine.
"You like seafood, right? I asked her.
"Of course."
"Great, there's a new restaurant we need to check out called Bear Flag Fish Company. Their original restaurant is on Balboa Peninsula, but they just opened a new location in the Crystal Cove Shopping Center.
"'Bear Flag'?"
"The California flag has a bear on it," I explained.
"And bears like fish," added Catherine.
"Exactly, so let's make like a grizzly and grab something fishy for lunch at Bear Flag."
On the way to Bear Flag, I told Catherine that Bear Flag Fish Company offers a high-quality seafood menu, along with a fresh seafood market. The menu features everything from poke and ceviche to grilled fish plates, seafood rice bowls, grilled seafood sandwiches and panko grilled fish tacos.
Upon entering the restaurant, we immediately noticed the large mounted fish on the walls and the small communal tables with shiny wood tops. We strolled to the counter to examine the menu and place our order.
I was glad we had perused the online menu earlier, as the only menus we could find were printed on tiny cards at the counter, although several daily specials were handwritten on sign boards above the counter.
We asked the staff for a recommendation and discovered it was Taco Tuesday, so we ordered Panko Grilled Fish Tacos (filled with a fish called Basa), and a Teriyaki Salmon Burrito to share.
The tacos arrived with a generous chunk of avocado on top of the fish, cabbage and pico de gallo filling.
"I like the fish rolled in panko, it gives it a nice texture when you combine it with the other ingredients," said Catherine after taking a bite of her taco.
"Mmmm." I replied, my mouth full of food.
"Chris, did you just inhale your food, or drop your taco on the floor? I've taken two bites, and yours is gone."
"I have a big mouth," I offered. "Let's try the burrito."
"The combination of fish and teriyaki flavor with the usual rice and beans mesh really well – they create an explosion of flavors in every bite," stated Catherine.
"You sound like a food writer," I teased.
We finished our lunch, then got up to leave.
"I'm stuffed to the gills," I joked.
"Chris, listening to your jokes makes me wish I was hard of herring," returned Catherine.
I laughed as we walked next door to Pacific Whey buy a small red velvet cake to bring back to the office.
For more information, visit www.BearFlagFishCo.com.
***
Catherine hails from Napa, so I thought it would be fun to bring her to the opening of Wine Lab Newport's new location at The Camp in Costa Mesa, and see what she thought of the wine, and the store.
Upon entering the shop, we immediately noticed a completely different ambiance and décor from the Newport store. The new venue is larger and boasts both beer and wine on tap.
"We have a MicroMatic wine dispenser that serves eight wines on tap – a first for Orange County," explained co-owner Roger Richards. "Wines are delivered in 19 liter reusable kegs, which eliminates the waste of bottles. Small wineries are embracing this type of wine delivery."
And Catherine and I embraced the way the 2-ounce wine tastes were delivered to us at the tasting counter. The wine flights (whites for her, reds for me) came in test tubes, which we then poured into our glasses.
"I like the ambiance here – it's easygoing and laid back," noted Catherine, taking a sip of her Palmino Blanco Italian blend from Santa Barbara.
"It is indeed, and I noticed they've expanded their food offerings," I said, taking in the menu. "They have cheese platters, charcuterie, fresh baked bread with goat butter, flatbread pizzas…"
"This fig and honey baguette is delicious with the goat butter – it's rich and creamy," interrupted Catherine.
I looked up and saw that co-owner ChrisAnn Richards had delivered a selection of food samples.
"You're right, this is fabulous," I agreed.
"So are the flatbreads," added Catherine. "The Solei has pesto and mozzarella, which reminds me of my trip to Cinque Terre on the Italian Riveria, which is known for its pesto."
"Ummm, right," I said. "It reminds me that I need to visit Wine Lab more often so I can take a culinary wine trip without leaving town."
For more information, visit www.WineLabCamp.com.