Chef and restaurateur Yvon Goetz captures joie de vivre through his food at the restaurant's new Mariner's Mile location.
By Allison Hata | Photos by Jody Tiongco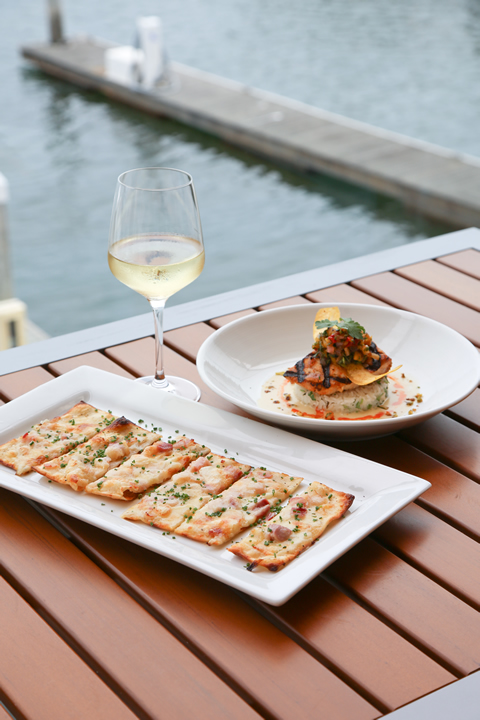 Some may find it unusual that there's a second Winery Restaurant & Wine Bar just 10 miles down the road from its flagship site in Tustin, but for Executive Chef Yvon Goetz, the two cities might as well be worlds away.
"Here, you can really experiment," Yvon says of the Mariner's Mile location in Newport, where he believes diners are more willing to expand their palates with one of his nightly specials.
Along with his business partners, the award-winning international chef opened the restaurant in April on the old Villa Nova lot. A landmark location in Newport, the space has been reimagined: A floor-to-ceiling wine locker stores the reds and whites of loyal patrons, while a wall-to-wall stretch of windows showcases harbor views in the dining area. Upstairs, there are three private dining spaces, another bar area and an intimate outdoor cigar lounge—as well as the second half of a two-story wine vault.
To start off your meal, there's a large offering of appetizers, including a citrus-tinged seared ahi tuna served with an avocado, mango and cucumber tower and orange vinaigrette. It's perfect for two people to share, but a signature dish—and one of the most popular—is YG's Alsatian "pizza."
"The white cheese pizza is my favorite on the planet," Yvon says. "I want it to be my last meal."
The dish, which hails from the chef's native Alsace, isn't quite a pizza, but rather a thin flatbread layered with creme fraiche, diced applewood smoked bacon, Gruyere cheese and onions.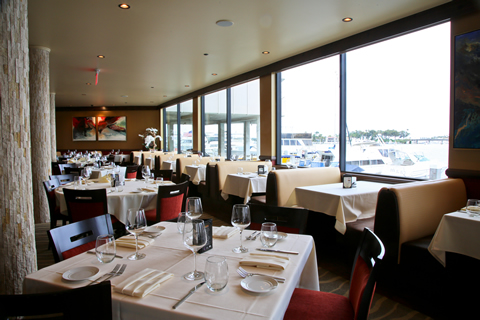 "It's not something you find in a fine dining setting," Yvon adds of the pizza—but that's of little concern to the chef. He marches to his own beat, creating a concept of fine dining that seems to suit the Newport dining crowd.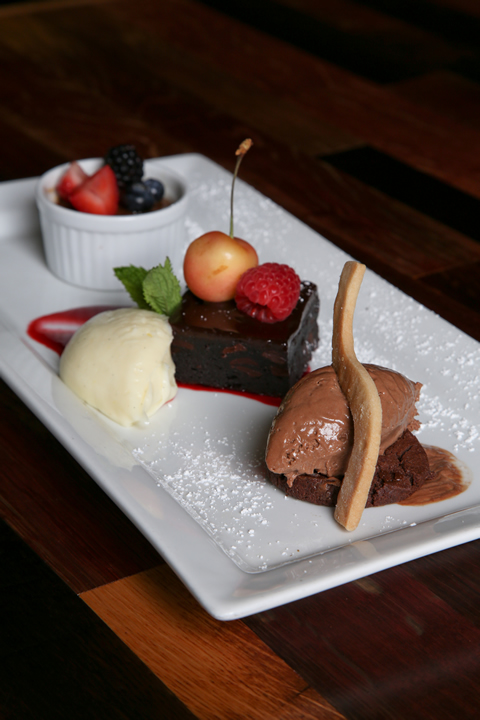 Eschewing a practice that's becoming a norm in many seaside kitchens, Yvon says his focus is on flavor rather than on using only local purveyors. Much of the seafood is flown over daily from Hawaii, and dishes like the light, flaky mahi mahi are enough to make you forget about other options on the menu. Rubbed with a chili lime seasoning and topped with a pineapple, mango and bell pepper chutney over a fried plantain, the fish is gently plated on a bed of jasmine rice.
The list of desserts is a small, curated one, with a range of new flavors and classics—however, the chef gets creative with his trio of chocolate decadence: a macaron filled with chocolate Chantilly cream; a flourless brownie that's rich in flavor but more cake-like in texture; and a chocolate creme brulee served with seasonal berries.
Yvon and his business partners have found a comfortable niche in their new oceanfront digs. And, the chef promises, there's much to look forward to in the coming months as he fine-tunes his process and begins to add happy hour offerings, brunches and more.
The Winery Restaurant & Wine Bar, 3131 W. Coast Hwy.; 949-999-6622; thewineryrestaurant.net