As we wrap up 2012 and look towards a new year, it is important to also look back and pat ourselves on the back for all our successes, both large and small, over the previous 12 months.
This is true in all walks of life – parents need to praise their children, bosses need to recognize hard workers, and we need to congratulate ourselves on the sheer fact that despite it all, we are still standing with our sanity (mostly) intact.
Going all the way back to elementary school, and those "Student of the Month" certificates, we all crave getting our name on the good list, and receiving recognition for a job well done.
The same is true of authors. They weave together words to create a story, then sit back and hope that story speaks to others the way it spoke to them.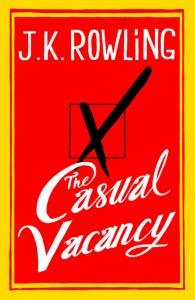 Recently, Goodreads.com published their list of the best books of 2012. If you are not yet familiar with Goodreads, it is a kind of a smash-up between yelp and facebook, allowing users to create profiles which list and review books they have both read and want to read, while also following friends to keep an eye on what they are reading and enjoying.
It is an excellent place to find a recommendation when trying to select your next great read, and even provides links to the major booksellers, so as not to waste any time once that book has been chosen.
With the Goodreads Choice Awards 2012, the site collected over one million votes, and has created a comprehensive list of what readers have deemed the best books of the past year.
Spanning virtually every genre, the awards are ready to point any reader in the right direction. While there is only one winning book for each category, the website lists all the nominees as well, making it a virtual Who's Who list of good books.
For these authors, it is a year-end pat on the back indeed. I'm sure that all across the country, much like those star student certificates of yore, there are print-outs of this list carefully affixed with magnets, occupying the place of honor on the refrigerator door of these writers' mamas.
For the rest of us, who have undoubtedly achieved successes of our own this year, let's skip the Refrigerator Hall of Fame, and reward ourselves with a good book. I have a feeling we can't go wrong with any of these selections.
The categories and winners are:
-Fiction: "The Casual Vacancy" by J.K .Rowling
-Mystery and Thriller: "Gone Girl" by Gillian Flynn
-Historical Fiction: "The Light Between Oceans" by M.L. Stedman
-Fantasy: "The Wind Through the Keyhole" by Stephen King
-Paranormal Fantasy: "Shadow of Night" by Deborah Harkness
-Science Fiction: "The Long Earth" by Terry Pratchett and Stephen Baxter
-Romance: "Fifty Shades Freed" by E.L. James
-Horror: "The Twelve" by Justin Cronin
-Memoir and Autobiography: "Wild" by Cheryl Strayed
-History and Biography: "Elizabeth the Queen:  The Life of a Modern Monarch" by Sally Bedell Smith
-Nonfiction: "Quiet:  The Power of Introverts in a World That Can't Stop Talking" by Susan Cain
-Food and Cookbooks: "The Pioneer Woman Cooks: Food from My Frontier" by Ree Drummond
-Humor: "Let's Pretend This Never Happened (A Mostly True Memoir) by Jenny Lawson
-Graphic Novels and Comics: "The Walking Dead" by Robert Kirkman
-Poetry: "A Thousand Mornings" by Mary Oliver
-Young Adult Fiction: "The Fault in Our Stars" by John Green
-Young Adult Fantasy: "Insurgent" by Veronica Roth
-Middle Grade and Children's: "The Mark of Athena" by Rick Riordan
-Picture Books: "Olivia and the Fairy Princesses" by Ian Falconer
 For a complete listing of nominees and winners, please visit www.goodreads.com