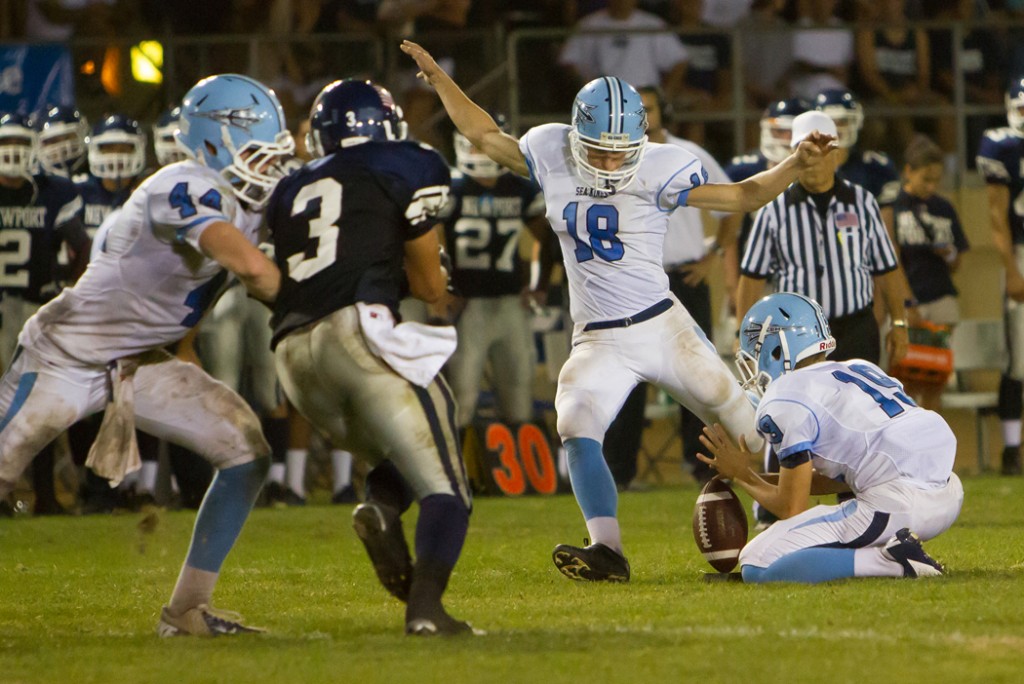 Part two of a two-part roundup of the top stories that made headlines in the Newport Beach Independent in 2012.
July
A cash mob of customers flooded Toy Boat Toy Boat Toy Boat July 31, helping the iconic Corona del Mar toy store stay afloat after an announcement that it was in danger of sinking for good. About 300 people shopped at the store throughout the day. They also had an increase in local customers over the weekend. The store netted more than $9,000, Toy Boat owner Lori Curtin said.
West Coast Arborists, Newport Beach's tree maintenance contractor, received a $120,000 increase in its 2012 contract, according to city contract documents, for the removal of blue gum eucalyptus trees on Irvine Avenue and elsewhere in the city. WCA and the city are being sued for negligence in the September 2011 death of Haeyoon Miller, who was crushed by a blue gum eucalyptus at Irvine Avenue and Westcliff Drive.
August
Hoag Memorial Hospital Presbyterian and St. Joseph Health announced Aug. 15 that they will joining forces to create a combined health care system, which will include the five St. Joseph Health hospitals, the two Hoag hospitals, and all the other services under the two organizations.
The toxicology reports for the four sailors aboard Aegean that were killed during the Newport to Ensenada race revealed that all four tested negative for alcohol, although one, Joseph Lester Stewart, had trace amounts of marijuana in his system. The engine, keel and other debris from the 37-foot sailboat was later found and documented off the rocks near the tip of the northern island by two divers conducting an unofficial investigation. The find unofficially puts to rest the idea that the boat hit a larger vessel, such as a tanker.
Veteran sailor Andrew Szaz, 74, of Newport Beach, was reported missing Aug. 2 after his boat ran aground, empty, near Main Beach in Laguna Beach. The 24-foot Babe was discovered near the surf line in the early hours on Aug. 1. He was last seen departing Dana Point Harbor alone about 1:30 p.m. on July 31.
The council approved the Banning Ranch development plan on Aug. 14, which calls for 1,375 homes, a 75-room hotel, a wildlife habitat and commercial and open space on 401 acres. The project still needs to be approved by the California Coastal Commission.
September
Lindsay Brown, 21, a Notre Dame student and Newport Beach native, was announced as the winner of Seventeen magazine's "Pretty Amazing" contest. Brown appeared on the cover of the October issue of the publication. She founded The SEGway Project, an organization that empowers girls in developing countries through soccer. She was chosen out of 35,000 entries.
On Sept. 29, Jetlev Southwest President Dean O'Malley successfully flew the Jetlev jetpack 26 miles, from Newport Beach to Catalina Island, establishing a world record for longest distance traveled by jetpack.
The Banning Ranch Conservancy filed suit against the city, challenging the council's approval of the Banning Ranch project. The suit alleges that Newport Beach violated the California Environmental Quality Act and the city's General Plan, and that the environmental impact report was inadequate.
Marnie Jo Lippincott, 39, of Costa Mesa, pleaded guilty to a felony charge of driving under the influence causing bodily injury in a December accident that critically injured Newport Harbor High School student Crystal Morales. Lippincott faces up to eight years in prison.
Sara Leaf, 29, of Corona del Mar, died when she was struck and run over by a truck as the truck turned right from Coast Highway onto Bay side Drive on Sept. 14. Not quite 24 hours later, on the morning of Sept. 15 , Dr. Catherine Campion-Ritz, 57, was killed while riding her bicycle northbound on Newport Coast Drive about a quarter-mile south of San Joaquin Hills Road.
October
Terry Newhouse, 44, died Oct. 2 after he shot himself in the head during a seven-hour standoff with police. A woman had called police around 9:15 p.m. the night before and said the man was threatening her with a handgun at her residence in the Balboa Coves community. He barricaded himself inside and when SWAT entered the home around 4:30 a.m., they found him with a self-inflicted gunshot wound to the head. He was transported to a local hospital and died about an hour later. The woman was unharmed.
Peter Gregory Chadwick, 48, pleaded not guilty on a charge of murder with special circumstances for financial gain, and later claimed a house painter did it, according to an affidavit. The body of his wife, Quee "Q.C." Chadwick, 46, was found Oct. 18 in a Lakeside dumpster. It was determined she died of strangulation. In an initial search of the Chadwick home, Newport Beach police found a bloody towel, broken glass, and an open safe.
Ensign Intermediate School officials questioned an 11-year-old student Oct. 9 whose lunchbox contained fermented Kombucha tea, known to contain traces of alcohol, a violation of school policy. When his mother couldn't be reached, the boy was questioned by a Newport Beach police officer stationed at the school. Later, the mother blogged that her son was "interrogated" and defended the tea as a healthy alternative to soda.
November
Firefighters discovered Mary Louise Phillips, 90, dead inside a home at 2201 Heather Lane, after responding to a fire at the residence around 10:40 a.m. Nov. 14. The cause of the fire was ruled as accidental, possibly electrical in nature.
Republican incumbents Rep. Dana Rohrabacher and Assemblyman Allan Mansoor were both re-elected with 62 percent and 57 percent of the vote, respectively, in the Nov. 2 election. Measure EE, a package of 38 changes to the City Charter, passed with a 57 percent "yes" vote. Councilmembers Ed Selich and Keith Curry, both running unopposed, were reelected. In council District 2, Tony Petros, also running unopposed, was voted in.
Recently hiked marina rents got a small rollback Nov. 13, when city council approved commercial rents of approximately $1.68 per square foot, trimming the rate of $1.97 per square foot approved Oct. 23. Council members also agreed to an estimated $1.02 per square foot hike on businesses using public tidelands, such as charter operators, daily boat rentals, yacht clubs and visitor slips at restaurants.
City Council members boosted staff salaries Nov. 13, voting unanimously for an 11 percent raise for City Clerk Leilani Brown and a three percent bump for City Manager Dave Kiff. The raise brings Brown's salary to $123,800 and Kiff 's to $231,750. The council also adopted new salary ranges and proposed a performance-based bonus system for employees.
December
City council voted 5-1 on Dec. 11 in approval of increased residential dock fees during a special meeting and after more than two hours of discussion with the public. The vote raised permit fees for residential docks using public tidelands from a flat $100 annually to 52.5 cents per square foot of usable dock space, per year. The fees will increase over a five-year phase plan.
The Newport Beach City Council moved into their new chambers for the Dec. 11 meeting. The new room had some technical difficulties, resulting in the council members voting by show of hand. Steve Rosansky gave an emotional farewell speech and Tony Petros was sworn in to replace him.
Marcos Sarinana Gurrola, 42, of Garden Grove, who allegedly fired more than 50 shots from a handgun into the air and at the ground at Fashion Island on Dec. 15, did not enter a plea, had his arraignment continued until Jan. 11, and was denied bail on Dec. 18. He confessed to 10 other Orange County shooting incidents from earlier this year and has been charged with 64 counts of discharging a gun in public, some related to a similar incident last year.
Newport Coast resident Tomoo Kawai, 68, pled not guilty to a misdemeanor count of unlawful waste disposal on Dec. 17 after allegedly tossing feces-filled diapers along Coast Highway in Newport and Laguna Beach. His arrest follows police surveillance on his home and vehicles, and finding large bag of used diapers in the passenger seat of his car. If convicted, Kawai could face probation or up to six months in jail. Kawai is scheduled to appear in court on Jan. 23 for a pretrial hearing.
Despite the threat of houses and boats "going dark" as a protest to the city's recently passed residential dock fee increases, Newport Bay was largely lit up for the Christmas Boat Parade. About 90 boats were included in the parade and more people than usual showed up for the first day. Parade chairman, David Beek, said there was a "boycott of the boycott" mentality in the community.