Twenty-five lucky young chefs-in-training are preparing to don their pleated white hats and become ambassadors of good taste as they set out to take part in the Newport Beach Public Library Foundation's "Kids Cook" program.
Sponsored by Five Crowns restaurant in Corona del Mar, "Kids Cook" is part of the Making Memories for Children Series, a program designed to engage, educate and inspire children ages 5-12 through a series of different creative activities.
We all know how very important good nutrition is, and how crucial it is to develop good eating habits early on. These days, with all the genetically modified food and artificial everything that is so readily available, fostering an awareness of what goes into the food we eat is of equally utmost importance.
Led by Five Crowns general manager, Jim Colombo, this program sets out to do just that.  During this three-part experience, the budding kitchen artists fortunate enough to secure a spot will learn about growing, selecting, preparing, and cooking healthy and delicious food in a fun, interactive way.
The first class will take place in Five Crowns' own garden, where the children will have the opportunity to select and "harvest" their own fresh herbs and produce. After introducing them to many fruits and vegetables, the chef will lead the future gourmands in the preparation of simple, delicious treats.
Stop number two in this culinary adventure will bring our young chefs to the Ecology Center in San Juan Capistrano. Here, they will be able to explore the gardens and interactive exhibits, learning about organic food production, and why sustainability and green living are so important. Once the explorations are complete, they will also be able to try their hand at cooking in the Center's hand-made wood oven.
The program will wrap up when these future foodies return to Five Crowns to put all their new knowledge to work. Along with the restaurant's chefs, the children will prepare a tasty brunch, which they will then be able to enjoy with their parents.
What an amazing opportunity! I am confident that there are many adult cooks out there who'd be willing to sell their own mothers for the chance to cook in that kitchen. Never fear however, if your little darling wasn't one of the lucky few to snag a proverbial apron, you can create your very own test kitchen at home.
You'll want to start with the basics — make sure that the work space and tools you'll be using are safe for your little sous chef, carefully select your recipe to ensure it is one they will be able to follow and take ownership of, and most of all, see to it that the experience will be fun!
If you need a little help getting started, why not check out one of these books geared towards cooking with kids: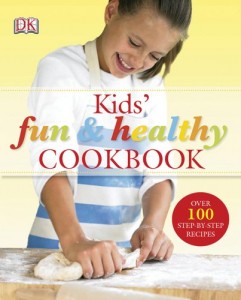 "Healthy Cooking for Kids: Building Blocks for a Lifetime of Good Nutrition" by Shelly Null. Touted as a "comprehensive guide to feeding children better," this book promises to encourage good eating habits, without sacrificing either flavor or fun. With recipes for everything from drinks to desserts, the book also includes several chapters that lay out how to create a healthy approach to feeding our families.
"Kids' Fun and Healthy Cookbook" by Nicola Graimes. Chock-full of color photos and tasty treats, this book is sure to be a hit with any young cook. Ideal for ages seven and up, it contains lots of healthy eating tips, as well as recipes for fun, easy to master treats such as "Fruit Sticks with Chocolate Orange Dip."
Kids are always ready to embrace anything that is fun, so whether you are attending class in the Five Crowns kitchen, or setting up your own gourmet cooking station at home, by engaging your children, and making eating healthfully not only tasty, but fun, you will be creating good habits that will last a lifetime.
For more information on the Making Memories with Children and Kids Cook programs, please visit www.nbplfoundation.org, or call (949) 548-2411.