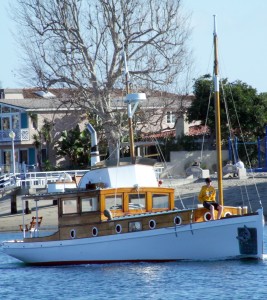 Two week ago, the weather was so picture perfect warm we weren't sure if we would survive without air conditioning or not. I needed to make sure I stayed out of the sun on Saturday due to a slight sunburn when I forgot to put my shirt back on in time to limit the exposure.
My how a few days can make a difference! The previous days to this edition saw rainy days, high winds and more snow in the local mountains. This does produce post card perfect photos of the snow-capped mountains and green foothills when boating off-shore. It's amazing this winter that we have winter storms for a few days and then there's summer style weather and hundreds of boats plying our harbor and ocean.
Last Sunday the weather changed and there was an unusual morning armada of yachts returning from the previous warm weather at Catalina. The change in weather was predicted but unwelcomed. Four or five cattle boats (commercial sportfishers) were maxed out with passengers in the wind-chopped swells looking for whales. I haven't noticed any blow holes during my oceanfront Sunday morning meetings and this is the first Sunday in four or five weeks the on-shore dolphins were nowhere to be found.
There are several noteworthy families who contributed to the evolution of boating in Newport Harbor. I've mentioned a couple in past columns and will continue to share in the future these unique people. Some have harbor businesses; some built yachts, and some brought fame and fortune to our harbor.
Here's a bay front memory I reflect on from time to time.
I started crewing with my older brother on the family snowbird around 1958 out of the novice youth program at the Newport Harbor Yacht Club. Around 1962 and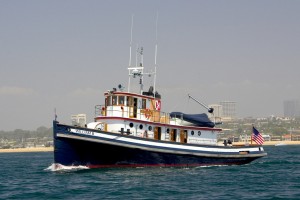 through my teen years, Sambo (Pete Jr.), Gary and Bunker Hill spent their summers working with their Dad at his Standard Oil fuel dock in Balboa. It seemed when the boys turned about eleven or twelve, Pops handed them a time card. While we were sailing, surfing, wolfing down cheeseburgers and Shirley Temples at the club, they were pulling down adult style work shifts. They not only worked hard, they also learned the public relations part of finessing their customers.
Gary is still running the fuel dock, Bunker is a renowned Newport Harbor marine surveyor, and I've been informed that Sam is a major distributor of Northern Lights Generators. I haven't seen Sam in a long time, but I often see Gary out in his classic 80-foot tugboat the "William B" built in 1943. He's captained the tug all over the West Coast and Mexico for more than 30 years.
I see Bunker working a lot at local shipyards and marinas. He and Steve Farrwell are co-owners on a very unique 42-foot, 1924 antique sportfisher designed by Edson Schock.
Looking forward to warmer weather!
Sea Ya,
Skipper Steve
Steve Barrett has more than 50 years boating in Newport and performs systems checks, repairs and pilots yachts. Email him at [email protected].