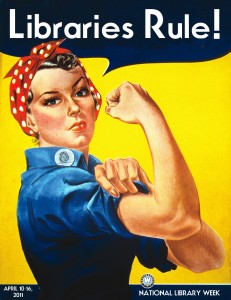 National Library Week is a time each year when, all across the country, libraries come together to honor the contributions they have made to our nation, encourage reading, and promote library use and support.
The Newport Beach Public Libraries will join their biblio-brothers and sisters in the celebration, running from April 14-April 20, by offering an impressive array of both family friendly and adult activities.
For those with kiddos in tow, how about taking a "Walk on the Wild Side" at the Central Library, as they host Wild Wonders? A program suitable for children of all ages, the event will give kids an opportunity to both learn about and meet animals from all over the world. Wild Wonders will visit the library on Monday, April 15, at 4 p.m., and seating is free on a first come, first served basis.
Bring your budding marine biologists to the Balboa Branch on Saturday, April 20, and let them discover all the amazing creatures that can be found in our local tide pools. Sea stars, urchins, hermit crabs, and more will all make an appearance. The program is hands-on, and begins at 2 p.m., with time set aside at the end to meet all the animals.
If you stop by the Mariners Branch on Saturday, April 20 at 3 p.m., you just may catch "Bubblemania." In another family-friendly offering, bubble-ologists will be on site to create the amazing works of soap sculpture known as giant bubbles. Word on the street is that there may even be some big enough to fit a whole child inside! This event is also free of charge, but pint-sized participants must be accompanied by an adult, and seating is limited to room capacity.
For music lovers of all ages, The Corona Del Mar Library will present "A Historical Journey Through America's Music." Taking place on Wednesday, April 17, from 3 to 4 p.m., this journey will take you on a tour of America's history, as told through music, dating from our country's inception up through the Civil War. The presentation will include tunes, instruments, and even an opportunity to sing along.
Additionally, all children's story times during National Library Week will be presented by special guests from the Library Board of Trustees and the Newport Beach City Council.
If you are looking for a little more of a grown-up affair, never fear, the Library has something in mind for you as well.
Maybe you've decided that paper magazines are so last decade.  Perhaps the Easter Bunny brought you a new e-reader, but you haven't gotten it figured out just yet. If this sounds like you, head on over to the Central Library on Wednesday, April 17, at 6 p.m., as the Tech Connection presents "Downloading Digital Magazines," a workshop sure to answer all your e-reading questions, and help you lighten your mailman's load by going digital with your subscriptions.
Or, you could hold out for Library Week's pièce de résistance, an appearance by self-proclaimed "cheese freak," Pamela Thomson, and her cohort, Trader Joe's wine-buyer, James Vorce, at the popular "What's Cooking at the Library" series.
Taking place in the Friends Room at the Central Library on Tuesday, April 16, at 7 p.m., the evening will feature Thomson and Vorst as they offer tips for successful entertaining, and teach participants how to make perfect wine and cheese pairings, sure to impress whomever they'll be serving.
Due to food costs, there is a $20 per person charge for this event, and registration is required.  Please visit www.newportbeachlibrary.org or call 949-717-3800 to register.
While you're there, enjoying your wine and cheese, take a moment to raise a glass to the library – it's their big week, and they deserve it!