By Christopher Trela and Catherine Del Casale | NB Indy
We love fine food, scenic dining, and fun wines. We recently indulged in all three thanks to Pelican Grill at the Pelican Hill Resort, and Tobin James Cellars in Paso Robles.
PELICAN GRILL
A trip to Pelican Hill Resort means slowing down and enjoying life's simpler pleasures–wonderful ocean views, a classy yet relaxed ambiance, and creative cuisine.
Having dined at the resort's Andrea Restaurant and Coliseum  Pool & Grill, we accepted an invitation to sample spring menu items at Pelican Grill, which is now under the supervision of Chef Derek Brooks, who previously served as a sous chef at Andrea before becoming Pelican Grill's head chef.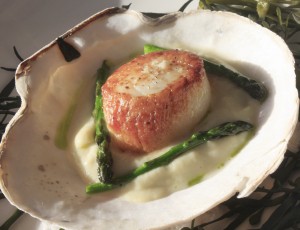 Among the menu selections: In-house smoked and beet-cured skuna bay salmon; warm bloomsdale spinach salad with Irvine Ranch strawberries, pistachios, and burrata cheese; seared sea scallops with white asparagus puree and Irvine Ranch green asparagus; and braised short rib with garlic mashed potatoes and Irvine Ranch vegetables. Dessert was a mini strawberry souffle.
Editorial duties kept me away for part of the meal, but Catherine enjoyed each course. Her notes:
"My favorite dish was the braised short rib. The meat was very tender and easily shredded with my fork. I was intrigued by the garlic mashed potatoes–the chef takes the raw garlic cloves and boils them in water, and then simmers the potatoes in the water so that the garlic flavor isn't overwhelming. The result was creamy and smooth mashed potatoes with the perfect amount of garlic flavor. The dish also had Irvine Ranch baby carrots that were soft and very sweet."
"The dessert was a Strawberry Soufflé; the best I have ever had. They used fresh strawberries from the Irvine Ranch and vodka to balance out the sweetness. It was a unique twist on the usual chocolate soufflé. I will be coming back for more."
For a complete menu, visit PelicanHill.com
TOBIN JAMES
Whenever we go out to dinner, I frequently bring a bottle of wine. More often than not, that bottle is from Tobin James Cellars in Paso Robles.
Catherine, who hails from Napa Valley, is a recent Paso convert thanks to my seemingly endless supply of Tobin James wine. Because my supply of Tobin James was running low, and Catherine had never been to Paso, we decided to take a road trip and attend the annual Paso Robles Zinfandel Festival, a weekend of fun, food, and great wine, with the area's 200+ wineries showcasing their best zinfandel wines.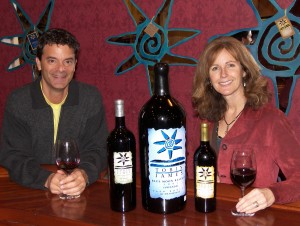 Tobin James Cellars (which has the largest wine club membership of any winery in the world–26,000 and counting) holds its own Zin Fest, with live music, more than a dozen restaurants offering generous tastings, and of course plenty of Tobin James wine.
We made it to Paso (a four hour drive from Newport Beach) in time to meet up with fellow Tobin James fans from OC. Together, we entered the Zin Fest grounds, and at once I was reminded why the Tobin James winery is so popular: friendly staff, fun wine club members, wonderful wines, and three of the most warm and genuine winery owners you could imagine: Tobin James (a fine winemaker/cowboy with charm to spare), and Lance and Claire Silver, a dynamic husband and wife duo whose knowledge and hospitality knows no bounds.
I'd primed Catherine on what to expect, but she admitted that the experience exceeded her expectations.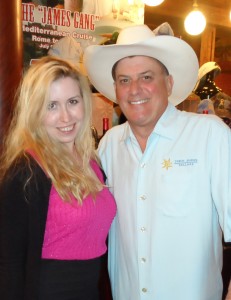 "They must have been pouring every wine they make, and they were all amazing," gushed Catherine after the event. "Tobin James himself was a delight to talk to, and I was surrounded by people who love to enjoy wine and have a great time."
For those unable to make it up to Paso, Tobin James wines can be purchased at Hi Time Cellars in Costa Mesa, and enjoyed by the glass at a handful of local restaurants, including SOL Cocina. You can also order it online at TobinJames.com.