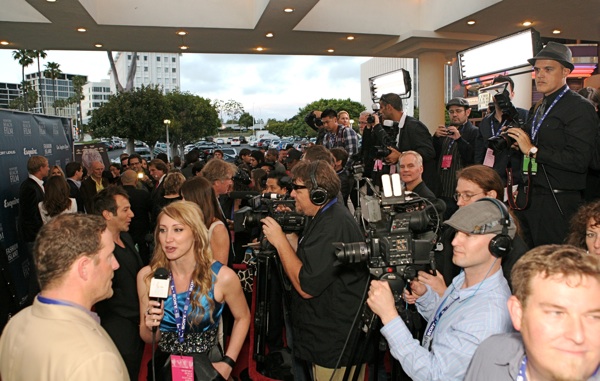 Eight hundred volunteers, 450 films, 50 countries, 14 screens and seven days comprise the staggering statistics behind an incredible experience for cinema junkies.They define the Newport Beach Film Festival, which takes place April 26 – May 3 at venues throughout Newport Beach and Costa Mesa.
Add another number, in this case the 13th annual event. Film fest chief executive Gregg Schwenk wasn't sure the first one would garner any attention or audience.
"I'm very proud of the evolution and overall success of the Festival," said  Schwenk. "We had a vision of what we wanted to create, and it has exceeded our expectations. We have more films this year than ever before, and more screens."
More offerings does not result in mediocre movies creeping onto the festival's schedule. "The review process reflects that. So if you see a film on a Tuesday at 4 p.m. or a Friday at 8 p.m., you'll see a well-made film," he promised.
These well-made films have well-valued prices, ranging from $12 general admission to $125 for opening night and the after-party. Many evening screenings (including the four Friday Night Spotlight films that feature a post-screening soiree at Newport Lexus) offer a film and after-party package starting at $40, less than what other festivals charge, said Schwenk.
"We wanted to keep the events accessible, so people can see a wonderful film and have a great party."
What's on Schwenk's must-see list?
"'Sunset Strip,' which is by an alumni filmmaker who has previously been shown at the festival, and 'Swerve' from Australia is an extremely well done thriller. 'I Wish' and 'Ice Dragon' are others. The director of 'Ice Dragon' is flying in from Sweden to attend our festival."
Schwenk also cited the free Vision and Craft: The Art of Filmmaking seminar series held on Saturday and Sunday, April 28 and 29, from 1 p.m. to 5 p.m. at the newly renovated Port Theater in Corona del Mar as being an integral component of the festival.
Co-sponsored by the Newport Beach Arts Commission, this series of interactive panels focus on the art of filmmaking, and feature distinguished film industry professionals. "It's an opportunity to go behind the scenes with some of the industry's leading filmmakers as they share their insight into the inner workings of the film industry," Schwenk said.
Among the hundreds of films on the schedule are dramas, comedies, short subjects, animated shorts, documentaries, and an action sports series that appeals to an audience tuned into action sports and the culture that surrounds it.
One film, "Of Two Minds," is a compelling and fascinating feature documentary by Doug Blush and Lisa Klein that tackles the timely topic of bipolar disorder. More than five million Americans suffer from bipolar disorder, and the condition just got a PR boost thanks to Irish singer Sinead O'Connor, who this week announced she has cancelled all touring for the rest of the year, saying she is "very unwell" and dealing with bipolar disorder.
Another timely topic that provides perfect film fodder is the organic food industry, thoroughly explored in the documentary "In Organic We Trust."
More local restaurants are participating in festival after-parties than ever before. Partygoers can sample cuisine from A Restaurant, Back Bay Bistro, Bella Cuba, Roy's, Royal Thai, 118 Degrees, Tamarind of London, The Cannery, True Food, and many others.
For a complete schedule and to purchase tickets to individual screenings, visit www.NewportBeachFilmFest.com.