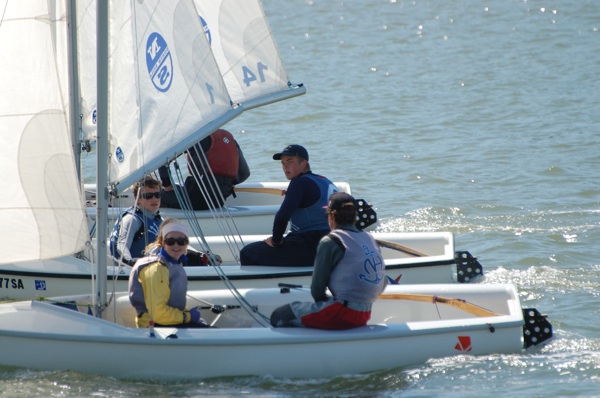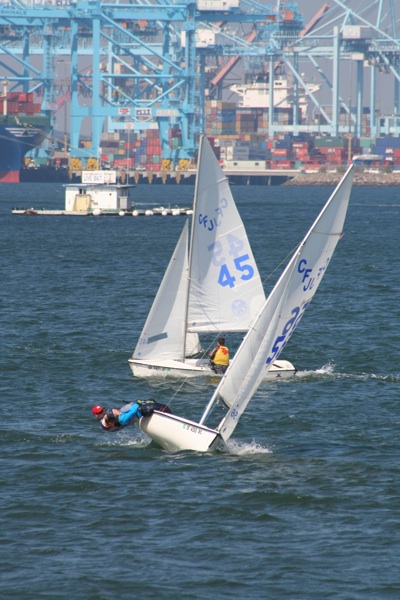 Pacific Coast Championships (PCCs) – April 21-22, UC Berkeley and Richmond YC – (High School, Fleet Racing)
It's been a busy month for local HS teams.  Top West Coast high school sailing teams met in the San Francisco Bay area for the PCCs, which is also the National Championship qualifying regatta. The Mallory Trophy (High School Champs) will be sailed next month in Seattle.
Even though Corona del Mar finished ahead of NHHS at last weekend's PCCs, based on overall season scores (that account for 30 percent of the total qualifying score) Newport Harbor will be the local team heading to Lake Union in Seattle.  After a full season of racing against each other, CdM finished just a single point behind Newport Harbor and did not qualify for this year's fleet racing championship.
In addition to NHHS, three of the Top 5 teams qualifying for the High School Nationals were from Southern California, including San Diego teams at Pt. Loma, Coronado and Cathedral Catholic high schools.
In addition to the PCCs, there was a concurrent "PCC Silver" event for JV teams at CBYC.  Newport Harbor sent three teams to this event and they finished 1st, 2nd and 3rd overall.  Full weekend racing results can be found at PCISA.org.
This coming weekend, high school teams will head to San Diego Yacht Club for the Baker Trophy eliminations, a three-on-three team racing event.
** Special Report: The Farallones Tragedy, here *
Ahmanson Regatta – April 21-22, NHYC – (Offshore, PHRF)
Newport Harbor Yacht Club unveiled a new "pursuit" format for this year's edition of the venerable Ahmanson series.  Unlike normal fleet racing, boats started in reverse order based on their handicap ratings, with smallest/slowest boats starting first.  At least in theory, by using a pursuit format all boats should reach the finish line at about the same time.  Local sailors responded positively to the new format, with more than 35 entries primarily from local area yacht clubs.
With two of three races completed so far, Bob Kettenhoffen's classic Beck 60, Dare (BYC), was dominating, posting "bullets" in both races by comfortable margins.  Even with some of the top offshore racing boats out gunning for this trophy, Dare is the old IOR design that could still find her legs in the light conditions seen both days.
The final concluding race for this year's Ahmanson trophy will be NHYC's Opening Day Race on Saturday May 4.  Full results can be found at nhyc.org.
Newport-to-Ensenada Race – April 27-29, Newport Ocean Sailing Association – (Offshore, PHRF)
The annual Newport Ensenada Race kicks off today.  The best-known race out of Newport routinely attracts hundreds of racers for the 125-mile sprint o Ensenada.  Racing starts Friday, and most boats will reach Ensenada by afternoon Saturday.  Special events are scheduled this year at the Hotel Coral (www.hotelcoral.com), including welcoming events, food and music, all starting mid-afternoon Saturday.
More information and full results will be available at NOSA.org.
Upcoming Events:
April 27-29, Newport to Ensenada Race (PHRF, Offshore)
April 28, Opening Day Regatta, NHYC (Inside classes)
April 28-29 – PCISA Baker Trophy Eliminations (High School, Team Racing)
May 4, Opening Day Race – LA Harbor to Newport, NHYC (PHRF & Offshore Classes)