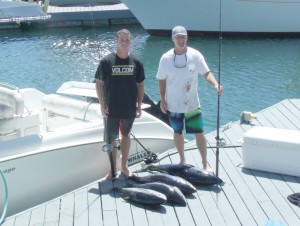 If ever there is an appropriate phrase to sum up what a multitude of anglers are thinking and doing, it's "Gone Fishin'"
Last summer and throughout what we used to consider the off-season, water temperatures were above normal and the Bluefin Tuna never left the outer banks within a two-day trip for private and sport boat range.
While working on the Primary Color sportfishing yacht SunDance at Ardell Marina one recent afternoon, a 24-foot Boston Whaler, (also berthed at Ardell), cruised by and into their slip. Later, when I walked by their slip, they were unloading their gear, and on the dock were three 50 pound Yellowfin Tuna and a fourth they said was 68 pounds. Holy Cow!
I learned that the father and son left their slip at 5 a.m. that morning, filled their bait tank beside the Newport Jetty on the bait receiver, and headed to the 14-Mile Bank. They radioed some friends on a different sportfisher at the 277 Bank who were landing Yellowfin under the patties. They scooted another 10 to 12 miles and found five other boats with consistent bites. The photo shows their reward.
As the bite dropped off they headed into port. In less than a day they had more than 200 pounds of fresh, succulent and delicious Tuna!
This bite has continued. The Tiara sportfisher Kingfisher (which I maintain for owner Mike Hirt) cruised to six miles off Dana Point for the weekend and landed two Bluefin Tuna and two Yellowfin Tuna.
Last Friday I moved Kingfisher from Redondo Harbor to Dana Point Harbor for Mike so he and his kids would be closer to the weekend hot spots. While the trip had choppy conditions running south, I saw a Marlin half-mile from Palos Verde Peninsula. About 30 minutes later a Gray Whale surfaced 50 feet from the boat, followed a few minutes later by several schools of Dolphin breezing and playing.
After anchoring in the harbor, I tied up the inflatable near the Dana Wharf Sportfishing office and went in to get a soda while waiting for a ride home. The fella behind the counter mentioned the fish had moved outside yesterday to 15-miles from shore, but their two sport boats landed a whopping 176 Yellowfin Tuna!
I have to get in on the fun and catch a tasty meal for my barbecue. Next column I'll fill you in on the recent Stan Miller Fishing Tournament headquartered at Newport Harbor's Basin Marine Shipyard.
 Tight Lines!
Skipper Steve