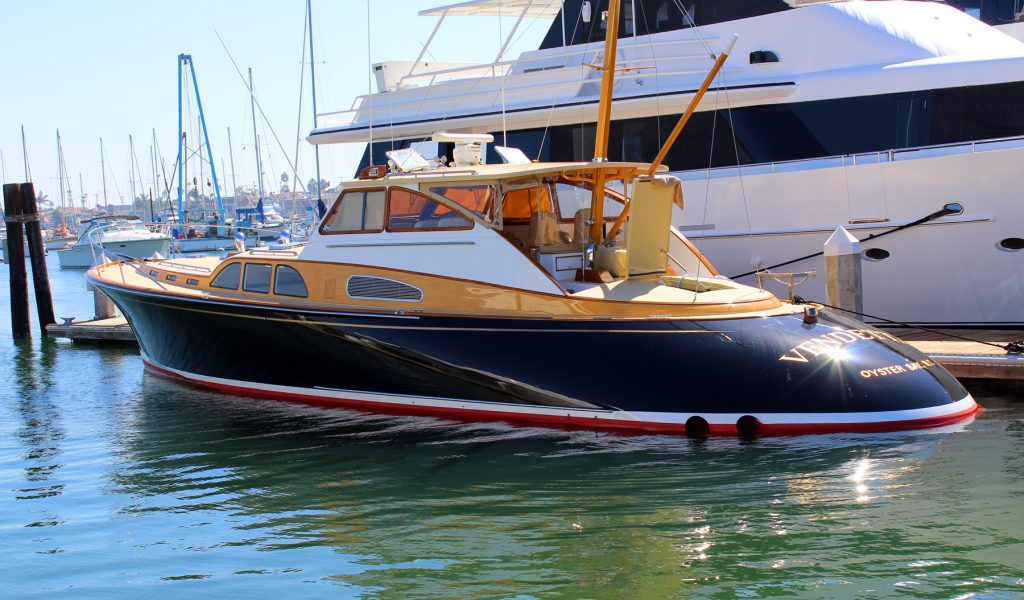 For those of us with the pleasure of growing up on Newport Harbor, many times we found ourselves admitting it's a small world along our bay.
Whether it be the yachts cruising in and out of the local waterfront, owners or families who own and use the yachts, or the men and women who work on or maintain these vessels, if we don't know their names we recognized their faces which we've seen scores or even hundreds of times over the years.
We also live and breathe all things boating. I started reading Yachting and Sea Magazine when I was 10 years old, and had the pleasure of reading the various national and international monthly and bi-monthly yacht magazines that Ardell Yacht and Ship Brokers advertised in.
So, when I saw a beautiful 57-foot wooden yacht berthed locally, I recalled reading about it a few years earlier.
When I asked the young man aboard if this was Vendetta, the yacht I read about that was built on the East Coast for Grammy award-winning Billy Joel, he said it was. It's powered by 1300 horsepower MAN diesels, and when new it achieved 47 knots. This allowed him to leave his Long Island estate and reach Manhattan much quicker than by car.
This is nothing new. In the 1920s and 1930s, wealthy businessmen had "commuter yachts" to get to the city from their estates. Sometimes they would race each other and, if not the winner, it was time to build a quicker yacht.
The yacht worker said Vendetta had been clocked the day before at 50-miles-an-hour and had been purchased by a local resident. I will continue to find out the owner's intentions, but if you see this rare beauty, now you know its history.
Speaking of the 1920s, during Prohibition high speed "runabouts" were also built to run outlawed liquor from Canada across the Great Lakes to supply the speakeasies. After Prohibition was repealed, my Grandfather purchased one of those boats from the Treasury Department for his use when the family boated out of Duluth, Minnesota.
Around 1937 my grandfather's construction company was awarded the contract to build Prado Dam (near Corona), following major flooding and loss of life and property. During this period our delightful weather caused the family to relocate and build a home on the bayfront in Bayshores. Shortly after this, he had his wooden go-fast yacht Bimmer transported from Duluth to Newport Harbor to enjoy for many years.
Only when the 85-foot yacht Gypsy, built for Douglas Fairbanks by Fellows and Stewart in L.A. Harbor, became available, did he move up to said vessel.
At a young age my Dad would load us up, along with one or two other families, and off we went to Avalon for a week or so.
Sea Ya,
Skipper Steve