Renowned Amerian pianist André Watts will headline the grand opening of the Pacific Symphony's 34th season with a performance of Brahms' Piano Concerto No. 2, led by Music Director Carl St.Clair, on Thursday through Saturday, Sept. 20-22, at 8 p.m. in the Renée and Henry Segerstrom Concert Hall.
An opening night celebration and fundraiser for the symphony, "Festa di Firenze," will take place Thursday, Sept. 20, beginning at 5 p.m., at the Westin South Coast Plaza, and includes dinner, the concert and a post-concert reception.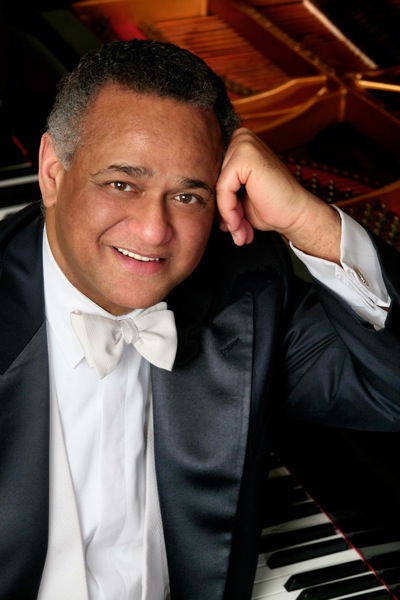 "André is a consummate artist," says St.Clair. "To me this means he is an artist's artist. His depth of knowledge and understanding of the works he performs reflect a level not often obtained or experienced. This makes everyone around him a better musician and also a more discerning listener."
Watts is the musician Pacific Symphony calls when they want a show-stopping start or a memorable end to a season. One of the world's most celebrated and beloved piano superstars for more than 50 years, Watts joined the Symphony for St.Clair's 20th anniversary celebration in June 2010, the final concert of the season, performing Grieg's sweepingly dramatic Piano Concerto. Prior to that, in 2008, Watts also performed Rachmaninoff's Piano Concerto No. 2 with the Symphony.
But the association dates all the way back to the mid-1980s, when St.Clair was assistant conductor at the Boston Symphony, and he first met Watts.
"He came regularly as soloist, so I was able to experience his profound music-making," says St.Clair. "I remember when he performed both Brahms' piano concertos on the same concert. It was not only a moving experience, it was revelatory to hear these two great works back-to-back as performed by André's mastery.
"His performance of Rachmaninoff's Second Piano Concerto is also vivid in my memory. These are musical moments that have formed my present expectations of these works. I'm honored to have had the opportunity to have conducted André in these concertos, among others. It was through our professional collaborations that we developed a mutual respect that deepened into a friendship."
The affection and sentiment are returned.
Watts has said, "I, as well as the audiences and musicians of Pacific Symphony, praise Carl St.Clair for being a wonderful musician; we can feel even greater joy in realizing that this great artist is also a human being with a wonderful heart and soul."
** Video: Carl St.Clair on Watts, Brahms and Two Strausses **
Franz Liszt once called Brahms' Second Piano Concerto "a distinguished work of art in which thought and feeling move in noble harmony." Separated by a gap of 22 years from the composer's first piano concerto, the second concerto's premiere was given by Brahms himself as soloist and was an immediate success that's held true to today.
The program also includes the lightheartedness of two composers with the same last name: Johann Strauss II's Overture to "Die Fledermaus," which contrasts with the sophistication of Richard Strauss' Suite from "Der Rosenkavalier," packed with colorful operatic orchestration.
Watts' appearance launches the Hal and Jeanette Segerstrom Family Foundation Classical Series 2012-13, an exceptional and diverse season designed to embrace traditional repertoire, while introducing bright new interpretations, inventive staging and the best in established and emerging guest artists. The season begins with the spotlight squarely on the piano.
"This season opens with three extraordinary pianists, each with different and individual talents," says St.Clair, referring to the concerts with Watts, Lang Lang (Sept. 27) and Conrad Tao (Oct. 18-20). "In a matter of weeks, our patrons will have the opportunity to hear no less than four piano concertos, each of them beloved masterworks. In my 23 years as music director, this is unprecedented and a rare opportunity on any stage.'
Among the 2012-13 season highlights are three new innovative Music Unwound programs: "Come to the Cabaret," Mozart's Requiem and Stravinsky's "Rite of Spring"; a continuation of the opera initiative that lunched last season – "Symphonic Voices" – featuring Puccini's "Tosca"; and the critically acclaimed American Composers Festival, which in its 13th year will explore the music of the American jazz age with the Duke Ellington Orchestra.
"This season is steeped in music of the more traditional vein," St.Clair said. "The backbone of our repertoire will dominate the programs, but is complimented by interesting journeys into the realm of jazz, opera and music of the Baroque era."
For more information about purchasing a table or individual seats to the opening night celebration, call 714-876 2364. For concert tickets, visit pacificsymphony.org or call 714-755-5799.