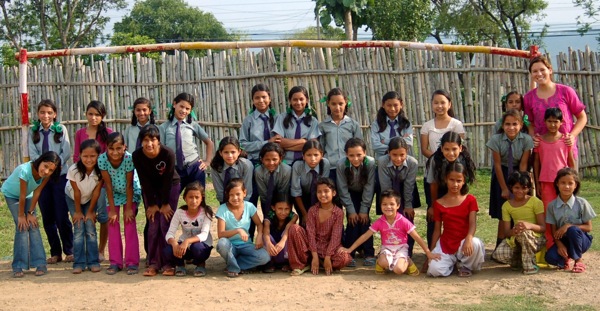 A local girl has caught national attention by making a difference worldwide.
Lindsay Brown, 21, a Notre Dame student and Newport Beach native, is on the cover of the October issue of Seventeen for her work helping empower young girls across the globe through soccer with the non-profit she founded, The SEGway Project.
"I'm happy Seventeen wants to give these girls a voice," Brown said, and reaching 13 million girls and young women, average age between 15 and 22, through the magazine can really help raise awareness about the girls, their situation and the charity. If her story can inspire just one girl to take action it would be a success, she said.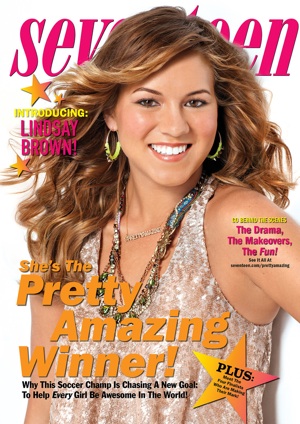 SEGway, or Soccer Empowering Girls Worldwide and You, organizes girls' soccer teams in developing countries. The girls gain confidence, a healthy competitive spirit, self-worth, learn teamwork and "acquire the life skills needed to segway into the leader she was born to be."
The project aims to help them fulfill their potential both on and off the field.
"You can honestly see the difference in these girls," Brown, a NCAA Division 1 soccer champion, said.
The girls are more engaged in the classroom, they're raising their hands more often, and overall they aren't as timid as they used to be, she added.
"It's amazing that a sport I've been playing for 15 years can be so powerful in this community," Brown said.
"It's been amazing to see the girls out there, on the soccer field, for the first time in their lives, just bursting with confidence," said Maggie Doyne, founder and principal of Kopila Valley School in Nepal.
"We believe soccer has the unique ability to build leaders while breaking down gender barriers. The solidarity the girls form on the field will translate off the field into lasting friendships, a strong community and a new generation of powerful women," the website, thesegwayproject.org, states.
The magazine's  second annual "Pretty Amazing" cover contest is presented by Neutrogena and the winner was chosen out of about 35,000 entries by readers' votes; Ann Shoket, editor-in-chief of Seventeen; Emma Roberts, actress and Neutrogena Brand Ambassador; and Jared Eng of JustJared.com.
Brown, along with four other finalists, was flown to New York City earlier this summer for a photoshoot and a luncheon with the editors of Seventeen and Roberts. Her prize also includes a $20,000 scholarship from Neutrogena.
"What set Lindsay apart was her selfless devotion to helping other girls understand their power in the world," Shoket said.
Brown's project "empowers girls through academics and athletics, allowing them to escape the cycle of poverty and "segway" into becoming true leaders," a press release from Seventeen states.
It all started when Brown was a freshman at Notre Dame, her soccer coach encouraged her, as well as her teammates, to get involved with non-profit organizations and to do their part in giving back and helping the less fortunate.
She had already volunteered in Madagascar with Operation Smile while she was in high school, so it came naturally to Brown to join up with a worthy cause.
She started and became president of a Notre Dame chapter of She's the First, a non-profit that sponsors girls' education in the developing world, helping them be the first in their families to graduate.
Her first fundraiser for STF was a bake sale in her dorm. They raised enough to sponsor one girl's education at the Kopila Valley School in Nepal. Not long after they heard from that very girl, who expressed her gratitude and explained how their charity made a huge difference in her life.
"We thought, 'this really helped her, and we can do so much more,'" Brown said.
So they held more bake sale fundraisers, all huge successes in part to a tie-dye cupcake they created, and sponsored two more girls' educations in the fall.
Soon after Brown and her team won the national soccer championship title and the girls contacted them. They told the soccer stars that they have been following the team's progress and were excited for their win, even though they didn't have their own soccer team.
Brown, who has played soccer since she was a kid, was touched by this and felt compelled to do something.
So she organized a team for girls in the small community in Nepal. She also volunteered as a teacher for the school during summer.
"It was a big deal for this community," she said. "It was very eye opening for me."
She is currently working on getting teams going in Kenya and Cambodia.
Brown decided to step down from the soccer team to focus more on SEGway.
"I decided if I wanted to focus on this project I need to be totally committed," she said. "It was definitely the right decision."
"Leaving the soccer team was a big sacrifice for me," she continued, "but it's nothing compared to what these little girls have sacrificed."
Brown, who lived on Balboa Island and attended Mater Dei High School in Santa Ana, said she wants to empower the girls to be leaders not only in the classroom, but also out in their community.
There has been some resistance though, she added.
The boys on the soccer team at the school in Nepal were upset at first but after Brown interacted with them and they realized how good the girls were, they gained respect for them.
It also took some time for the parents to trust Brown and accept that the soccer team is good for the girls. The girls usually help out with family or get a job or something after school, she explained, so it takes a lot for them to let the girls stay after school to play.
Brown said since getting involved with this project her personal life goals have changed dramatically.
"I thought my goal was to win national champion and possibly go on to Olympics," she said. "Then I saw the impact we were making on these little girls and my goals instantly changed… It's great to see my personal passion being put to use like this."
Her goal now is to one day work with policy makers to help make a difference in these communities. She has plans to continue her education at graduate school and study international relations.
She was one of the Google Zeitgeist "10 Young Minds That Will Change the World" in 2011 and spoke at the Clinton Global Initiative University in April 2011.
Brown's story is in the October issue of Seventeen on newsstands nationwide now.
For more information about SEGway, visitthesegwayproject.org.