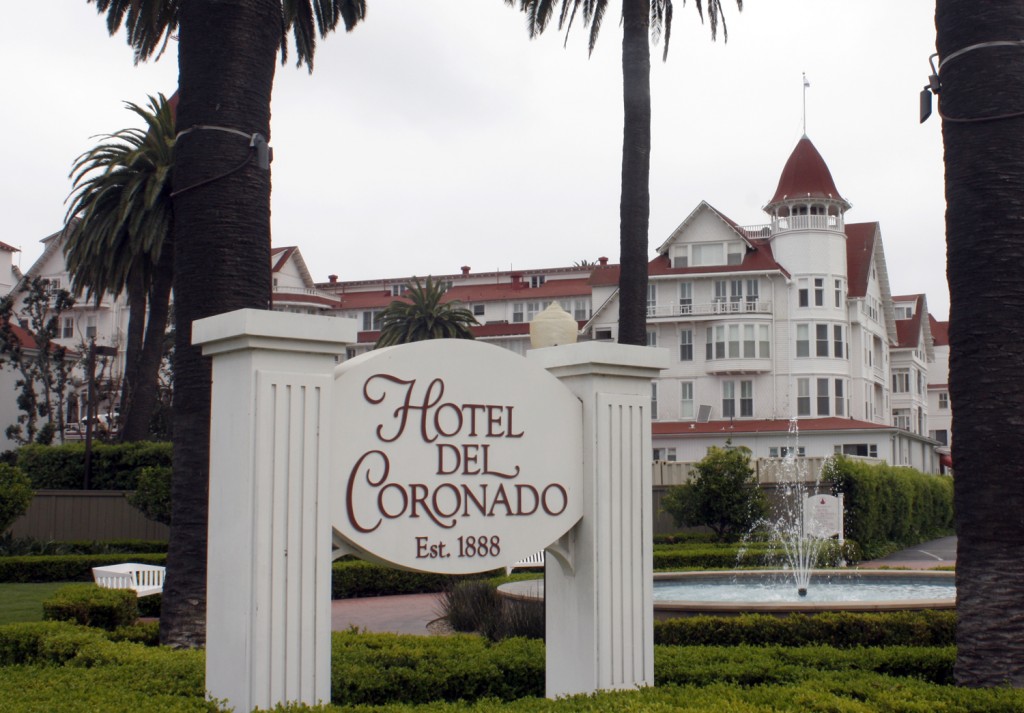 By Christopher Trela & Catherine Del Casale | NB Indy
With its mild coastal weather, myriad attractions and close proximity to Orange County, San Diego has long been a popular weekend getaway spot.
We've both been there many times, and agree that weekend traffic can sometimes make driving to San Diego a challenging experience.
That's why we recently decided to get away to San Diego without a car.
FRIDAY
We parked at the Irvine Amtrak station (which has a large parking structure and free parking), boarded the 5 p.m. train and settled into our Business Class seats for the pleasant two hour ride (the small extra fee for business class is worth the added comfort). We sipped wine, admired the view, and perused the SanDiego.org website on our laptops thanks to the free Amtrak wifi.
Upon arrival in downtown San Diego, we took a short taxi ride to the historic Hotel Del Coronado.
"As I stepped out of the taxi, I was brought back in time to an era when celebrities and politicians graced the halls of this iconic architectural landmark,"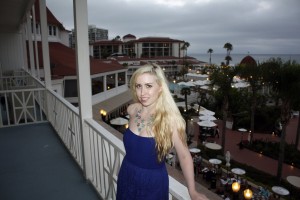 said Catherine. "With its large turrets, red-shingled roof, and unique elevator with its own personal operator, the Hotel Del Coronado practically oozes character and charm."
Our ocean view room featured French doors that opened from the living room into a bedroom with its own porch including two rocking chairs to relax in while gazing at the beach and ocean.
We explored the hotel, marveling at the wide hallways and the classic architecture. The Del is definitely an homage to another time, and we found ourselves getting into a more relaxed mood.
We enjoyed an al fresco dinner in the classy yet comfortable 1500 Ocean restaurant. This turned out to be the first of several memorable meals that weekend.
"The Maine lobster risotto with Meyer lemon, mascarpone, coral oil and large chunks of lobster practically melted in my mouth," said Catherine. "The center cut filet mignon was one of the best I've had—it was juicy but with a nice charred outer layer, and was paired with smooth truffled potato puree, baby carrots, snap peas and a bordelaise that I couldn't get enough of."
We lingered over dessert and wine, admiring the view and feeling the fast paced OC lifestyle slowly slipping away.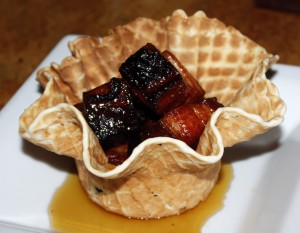 SATURDAY
The next morning, Catherine went for a run on the beach where Marilyn Monroe, Tony Curtis and Jack Lemmon filmed the classic movie "Some Like It Hot." She noticed a dog friendly beach near the hotel, and later discovered that Hotel Del Coronado is a dog and cat friendly hotel that includes an in-room pet dining menu prepared by the hotel chefs, personalized pet tags, toys, bedding, and more.
"I often feel guilty when going on vacation and leaving my dogs at home, and now I don't have to—I can just take them here," noted Catherine with delight.
It was difficult to leave the hotel property, but we decided to venture out and see what Coronado Island had to offer.
The town is charming – almost like an upscale Balboa Village – with small boutiques and interesting restaurants.
We were invited to Leroy's Kitchen and Lounge to sample the menu, which had inventive dishes such as a decadent bacon and waffle bowl which consisted of a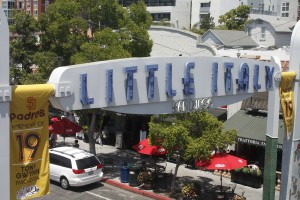 freshly made waffle bowl filled with thick cut double smoked bacon drizzled with a maple glaze.
We also tried the truffled fries, berry brioche French toast with raspberry mascarpone, and braised short rib hash. Each dish was superb, and we left full and happy.
After checking out of Hotel Del Coronado, we took a taxi to the Coronado Ferry followed by a short ferry ride back to the mainland. Another brief taxi ride brought us to La Pensione Hotel in the heart of Little Italy, our hotel for Saturday night.
La Pensione is a charming boutique hotel with quiet, comfortable and spacious rooms. It was the perfect home base for exploring Little Italy, and we were delighted with the friendly service from the hotel's staff.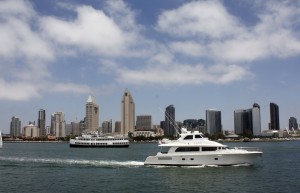 The Old Town Trolley stop was a block from the hotel, so we boarded it for a fun narrated tour of the city. We disembarked at Old Town to explore the origins of San Diego, re-boarded the trolley, and then got off at the wharf, where all the sightseeing boats are berthed.
We had time for a one hour, narrated Flagship harbor cruise–a relaxing way to view vistas of the San Diego skyline and sailboats in the harbor.
"Both the cruise and the trolley tour offered more San Diego history and cultural tidbits than I expected," noted Christopher. "The cruise was perfect—it's hard to beat sipping cocktails while looking scenery."
"The trolley is a great way to get around San Diego and find it's hidden gems, especially if you don't know where to start or have a full itinerary planned, like we did," added Catherine.
After our harbor tour, we squeezed in a brief tour of the USS Midway museum before returning to our hotel to freshen up before dinner.
We had reservations at Blue Point Coastal Cuisine in the Gaslamp Quarter, San Diego's dining and entertainment Mecca. With its high-backed booths, upscale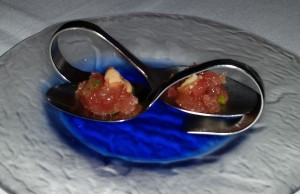 décor and focus on fresh seafood, Blue Point offered yet another perfect dining experience.
Being a steak girl, Catherine ordered a filet which she deemed superb, while Christopher ordered the sea bass special when he heard that the chef had caught the fish that morning near San Diego harbor. Again, another superb dining experience.
We lingered at Blue Point as long as we could, then strolled a few blocks to an ocean-front park where the San Diego Symphony holds its summer Pops concert series. We had tickets to enjoy Classical Mystery Tour, a Beatles tribute band that performs with symphony orchestras (Jim Owen, who portrays John Lennon, is a friend of ours from Huntington Beach). The concert was terrific, with the enthusiastic audience clapping and singing along. We loved the al fresco setting, and the post-concert fireworks.
SUNDAY
The next morning we explored Little Italy and then dined at Napizza adjacent to La Pensione Hotel, which offers a variety of pizza by the slice, including a breakfast pizza with an egg on top. Having lived in Italy for several months where she developed a serious addiction to pizza, Catherine can eat pizza any time of day.
Suitably fortified, we checked out of La Pensione but left our bags there and took a taxi to Balboa Park.
First stop: The San Diego Zoo, where we spent several hours marveling at the exotic animals. We liked the kangaroo bus that allows passengers to enter and exit at a handful of stops along the route.
After the zoo, we found our way to the Ruben H. Fleet Science Center and had a ball trying the various hands-on science experiments.
After visiting the Model Railroad Museum (which offers train buffs giant model train layouts) and the Museum of Man, we walked to CUCINA urbana, the flagship restaurant that spawned CUCINA enoteca in Irvine and the soon-to-open CUCINA enoteca location in Fashion Island.
We could see why CUCINA urbana has been a hit since it opened. It has a casual yet classy feel and a menu that leans towards serious Italian with fun twists. Sundays is no corkage fee for wine, so we purchased a bottle from their wine shop to sip with dinner.
"The stuffed fried squash blossoms are a must have at CUCINA urbana," stated Catherine. "They are stuffed with herb ricotta and have an opal basil pesto and cured lemon aioli drizzle.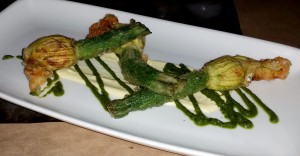 There is no way to describe the burst of flavors, and the soft and crunchy texture. Another plus is that when you've finished the dish you can dip your bread in the pesto and lemon aioli. The atmosphere is fun and classy-casual. It's a great place to walk over after for dinner after exploring all that Balboa Park has to offer."
Once again, another wonderful dinner, but no time to linger–we had a train to catch! We grabbed a cab back to La Pensione, retrieved our luggage, and made it to the Amtrak station in plenty of time for the return trip back to OC.
Yes, it was a whirlwind weekend, and we took a variety of modes of transportation, but we had a blast and look forward to doing it again.
PS: We'll be writing about the San Diego restaurants in more detail in an upcoming Off the Menu dining column.
Resources:
www.SanDiego.org
www.HotelDel.com
www.Leroyskitchenandlounge.com
www.Cohnrestaurants.com/bluepoint
www.CucinaUrbana.com