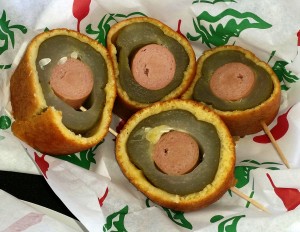 By Christopher Trela & Catherine Del Casale | NB Indy
Deep fried bacon wrapped turkey legs. Jack Daniels infused churros. Texas size pop rocks donuts. Deep fried pecan pie on a stick.
These and other outrageous food options can be found at this year's OC Fair.
Gone are the simple days of cotton candy and ice cream, although those treats are still available. These days, most food purveyors compete to see who can offer the most original, outlandish and over-the-top cuisine.
Last weekend we were invited to a media tasting of some of the newest OC Fair food items, and went back again this week to try more tasty treats. Here's a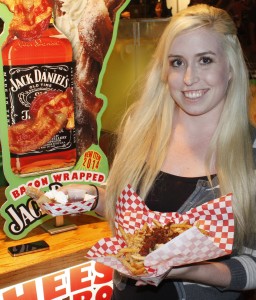 rundown of some of our favorites:
Bacon A-Fair: New this year is the deep-fried bacon-wrapped turkey leg, which is crispy on the outside and moist on the inside, and the deep-fried Jack Daniels churro, which is a churro injected with Jack Daniels whiskey, wrapped with bacon, grilled on open flame, and serve with whipped cream and maple syrup. Christopher down this decadent dessert in four bites. Our favorite is still the truffle gouda bacon fries.
Biggy's Meat Market: The Big Daddy Corn Dog & Garlic Herb Big Chic On A Stick. We learned that the two pounds of chicken on a stick is gluten free this year. All the food at this stand is large portions designed for sharing.
Fair Fix & Fried A Fair: Their new items is deep fried pecan pie that's dipped in batter and fried, leaving it crispy on outside and hot and gooey on the inside. Another over-the-top treat.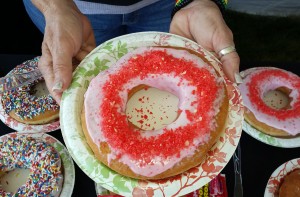 Chicken Charlie's: New this year is deep-fried Doritos & deep-fried chicken skin. Known for frying anything, Chicken Charlie has a lengthy list of deep fried foods. Our favorite is still the deep fried Klondike bar.
Grantsburgers: They added a chile relleno pretzel burger to the menu, which Christopher really enjoyed, noting that combo of all beef hamburger, the chile relleno and the pretzel bun was excellent.
Tasti Chips: We love Tasti chips. It's one of our favorite fair foods we return to year after year. They're celebrating their 40th anniversary this year, and owner Lori Southerlend told us they still use their original recipe and cooking methods, and customers return year after year for what we think are the tastiest chips anywhere.
Pickle O' Petes: This is their first time at the OC Fair, and they're featuring pickle chips and a pickle dog, which is an all-beef hot dog inside a kosher dill pickle, dipped in corn dog batter and deep fried. "These fairs have been so competitive, we have had to brainstorm on things others are not doing," said owner Nate Janousek. "The pickle chips are made from a special pickle we source from Chicago, and we have a special machine that batters and breads them individually, and they're fried fresh, nothing frozen or premade. We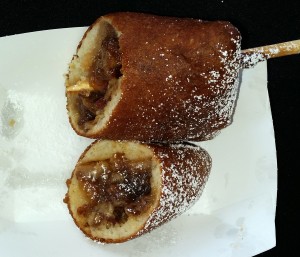 plan to use more than 60,000 gallons of pickles at the fair."
Pink's Hot Dogs: New this year are the Emeril Bam Dog and Colonel Klink Dog, both creative and a good representation of the quality of the famous Pink's Hot Dogs.
Texas Donuts: Last year, their most popular donut was the maple bacon, but this year they've introduced a cherry Pop Rocks donut that offers a fun sensation on the palate.
"If you like donuts, you'll enjoy these large Texas-sized donuts that can be shared between four people," said Catherine. We also tried their peanut butter cup donut, which had generous chunks of Reese's peanut butter cup on it. Both decadent and delicious desserts.
Every Friday from noon to 4 p.m., fairgoers can get $2 tastes at most food booths. For more information, visit OCFair.com.