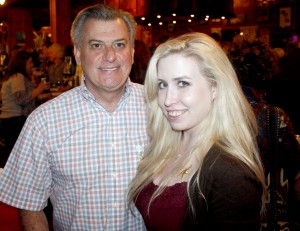 By Christopher Trela & Catherine Del Casale | NB Indy
We love wine—in fact, Catherine hails from Napa and grew up surrounded by wineries, but she's relatively unfamiliar with the So Cal and Central Coast wine regions.
Christopher, however, has visited the Santa Barbara and Paso Robles wine areas many times, and prefers Paso over Napa.
"Paso is a four hour drive from Newport, the area is still rustic and unpretentious, and more than 200 wineries now call Paso home."
We decided to spend a weekend in Paso and attend their Zinfandel Festival, which occurs every March, but we included Cambria and Hearst Castle in our itinerary.
There are two routes to Paso: Interstate 5, which is a somewhat boring drive, or Highway 101, which hugs the coast and goes through Santa Barbara, Pismo Beach, San Luis Obispo and then up to Paso Robles.
We opted for the 101, and despite Friday afternoon traffic enjoyed the scenic drive (and the opportunity to make pit stops at Epiphany Cellars and Fess Parker Winery – both in Santa Barbara County – on the way).
We arrived at Tobin James Cellars just in time for their Zinfandel party, which featured live music, 20 restaurants serving generous tastings of their cuisine, and of course lots of  Tobin James wine.
Christopher is a longtime fan of Tobin James Cellars, which offers more than 20 different varietals of red and white wines. They're known for their Zins, and for having the largest wine club (called the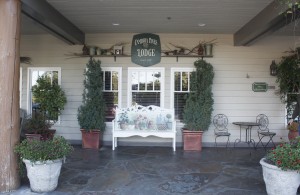 James Gang) in the world—25,000 members and counting.
We chatted with Tobin James and co-owners Claire and Lance Silver, tried some barrel samples of wine as well as generous tastes of premium Tobin James varietals, and voted in the annual Chili Cookoff contest between Tobin and Lance.
After purchasing several bottles of wine to take home, we headed for our hotel. Because hotels in Paso Robles often fill up on the weekends, we opted to stay in Cambria, an easy 20 minute drive from Paso. After perusing options on the internet, we chose Cambria Pines Lodge, a rustic yet well-appointed facility boasting 152 rooms spread out on 25 acres.
Our double room was $129 per night (rates go up to the mid $200s for suites), which we thought was a bargain.
"This is a great place to stay if you want to visit both Paso Robles and Hearst Castle," said Catherine. "The rooms each have their own wood-burning fireplace, and the rate includes a buffet style breakfast that is actually quite tasty (I loved the crisp breakfast potatoes. It is also in a great location if you like to take walks or go for a run (as I did). They have beautiful gardens on the property, and the surrounding area features hilly terrain, horses, goats and beautiful sunrises."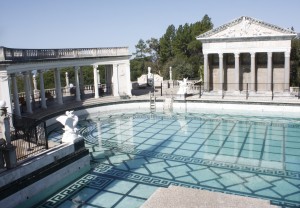 Saturday morning we were off to Hearst Castle, a popular tourist destination which for us was even more special because Hearst at one time owned a chain of newspapers, and was influential in the publishing world.
"Hearst Castle has been on my list of places to go for quite some time, and it didn't disappoint me," stated Catherine. "During the shuttle ride to the castle, you felt like you were in a different world; mountains, trees and grass extends out for acres. The castle is full of gold gilded doors, mosaic tiled floors, intricately crafted ceilings, and period furnishings. The tour was very informative without being dry, and I came away knowing more about the artwork and architecture in the rooms, as well as about Hearst and his many famous guests. One of my favorite parts was the intimate theater where we viewed movie clips from Hearst Castle's early days when guests enjoyed lavish parties."
After spending the morning at Hearst Castle (tours are $25 per person), we went across the street to Hearst Ranch Winery to begin our day of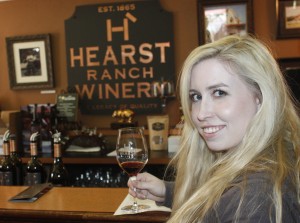 wine tasting. Hearst Ranch has been carving a name for itself by making wine from vines grown on Hearst property.
After buying two bottles, we headed back to Paso and explored the back country, where some of the best wineries are located.
We stopped at HammerSky Winery and met owner Doug Hauck, a Newport Beach resident who owns a dental surgery business in Fashion Island but had wanted to get into the wine business. His winery is named for his two sons, Hamilton and Skyler.
"I wanted a winery in the Santa Barbara area, but then the movie 'Sideways' came out and blew up the costs, so I looked up here," Hauck told us.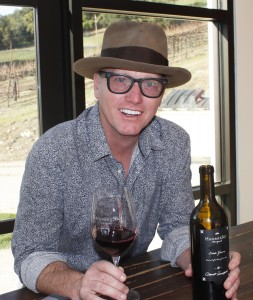 Hauck heard about a winery for sale, drove up to Paso Robles, made several offers, and ended up buying the property where HammerSky now sits. He remodeled the property, and now hosts weddings and sells 2100 cases of wine each year.
"Wine sales are up 22 percent this year, and we've had a 31 percent growth in weddings, we rent out the inn which sleeps four to eight people," said Hauck, who spends half his week at his Newport dental office and most weekends n Paso.
Newporters can purchase HammerSky wine at Flemings, Mastro's, Montage, and Patina restaurants, but we had a great time at the HammerSky tasting. We sampled several wines including Zinfandel ($45), the Red Handed blend ($49), and Cabernet Sauvignon ($73). We were impressed with the quality and came away with several bottles.
"I like HammerSky—it feels very homey and relaxing. A true gem," said Catherine.
After a delicious lunch at Big Bubba's Bad Barbecue, we visited several more wineries, including Adelaida (where Chef Pascal Olhats got married) and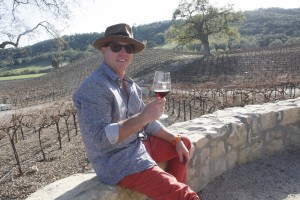 Tablas Creek, then headed back down the 101, stopping for dinner on the Santa Barbara pier before returning to Newport.
For more information on Paso Robles, including the 32nd annual Wine Festival Weekend May 15-18, visit PasoWine.com.
Tobin James Cellars: TobinJames.com.
Cambria Pines Lodge: CambriaPinesLodge.com.
Hearst Castle: HearstCastle.com.
Hearst Ranch Winery: HearstRanchWinery.com.
HammerSky Vineyards & Inn: Hammersky.com.