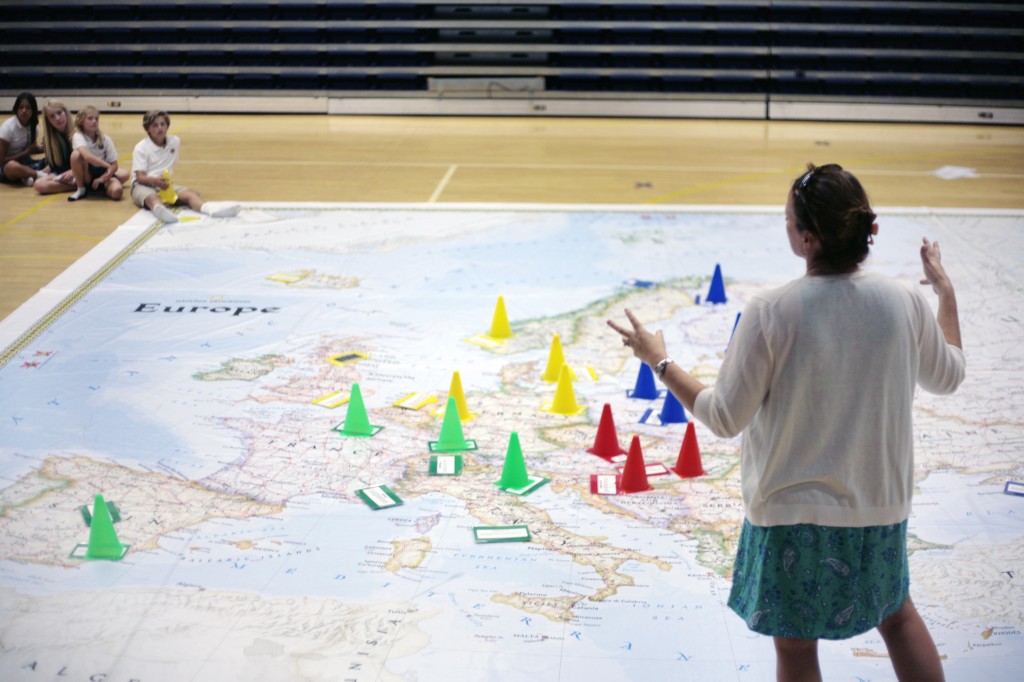 Students at a Corona del Mar school are trekking through Europe this month, sans passports.
A National Geographic Traveling Map of Europe arrived at Harbor Day School on May 5, allowing students to learn about the continent in a whole new way.
The large vinyl floor map measures 26 feet by 26 feet and will be at the school until the end of the month.
It "will enable students to embark on a mock tour of the world's second smallest continent, while learning about its rich history and diverse geography," according to a press release from the school.
The Giant Traveling Maps program is managed by National Geographic Live, the public programming division of the National Geographic Society.
This is the second year the school has rented a map from the program. Last year, a map of Africa was on campus.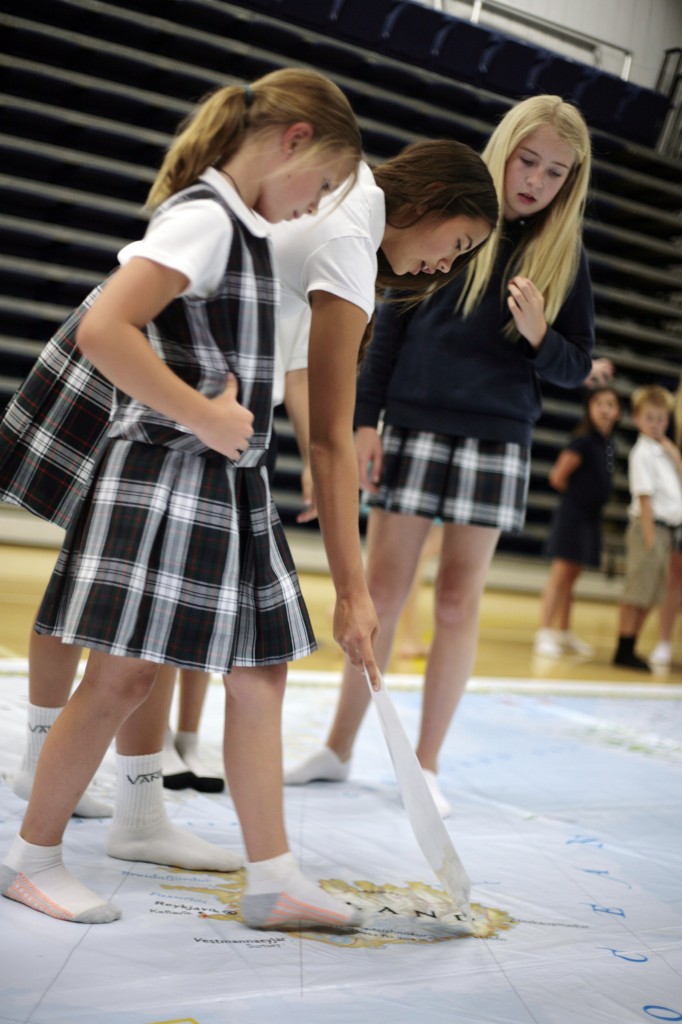 "We are excited to bring another part of the world to our students to enhance our geography curriculum," noted HDS history teacher, Jennifer Fenner. "The giant maps give the students a greater understanding of the continent, its political, physical features, and how they influence each other and affect world events."
Fenner discovered the map at a social studies conference in November of 2013. By February 2014, the Africa map was at Harbor Day.
Giant Traveling Maps of Africa, Asia, Europe, North America, South America, and the Pacific Ocean are available for rent.
She definitely wants to continue bring the map to HDS, she said.
The kids can really see how places interact with each other, she said.
"When they're physically interacting with the element there is much more retention," Fenner explained.
Michaela Phan, 12, was one of the seventh graders working with the younger kids on Thursday. Her second graders were Ashley Pratt and Isabella Fawaz, both 8.
The second graders are a lot smarter than she anticipated, Phan said. She really enjoyed working and learning with them, she added.
Phan utilized the Africa map last year as well, she said. The Europe map seems to have more detail, she noted. She also learned about the various cultures in Europe, she added.
"It's a lot of fun," Phan said. It's better than "staring at a random map (in a textbook) in class."
There have been some really great reactions from kids, Fenner said. Many are simply amazed at the sheer size of it, she added.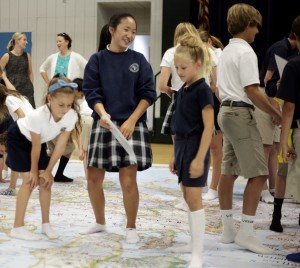 "The Europe map is an important and exciting addition to our ever-expanding roster of Giant Traveling Maps," said Dan Beaupré, National Geographic's director of education partnerships for National Geographic Live. "We believe this giant map will be an effective tool in enlivening the study of Europe's geography and history for both students and teachers."
Designed for grades K-8, NGL provides activities sp kids of all ages can utilize the map, Fenner explained.
The map guides students through lessons and activities related to Europe's climate, natural resources, famous landmarks, demographics and more, according to the press release.
"Teachers are provided with a trunk of accessories designed to enhance the lessons and encourage student engagement in content-rich games suitable for various age groups and class sizes," the statement reads.
The activities include a geography-themed version of "Simon Says," in which students utilize movement and knowledge to locate key places on the map; "All Aboard the Landmark Carousel," which explores iconic European landmarks and human geography; and "The Grid Game," which reviews the concept of identifying a location using latitudinal and longitudinal coordinates.
It also gets really interesting when the older kids work with the younger kids, Fenner said. The big kids take ownership and become the teacher, she added. It adds value to the learning experience, she said.
"Having the two groups interact together has added so much more depth to what we teach," Fenner said.
National Geographic's Giant Traveling Maps program was introduced in 2006 with a map of Africa created after National Geographic magazine devoted its September 2005 issue entirely to that continent.
For more information, visit nationalgeographic.com/giantmaps.