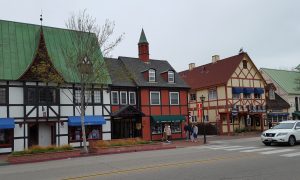 By Christopher Trela & Catherine Del Casale | NB Indy
How much fun could we pack into one weekend?
That's what we wondered when we planned our annual spring trip to Paso Robles for the popular Zinfandel Weekend, when wineries feature their best Zinfandel wines.
Paso has become a hotbed for adventurous winemakers. Just 15 years ago, Paso had but a handful of wineries. Now, more than 200 wineries call Paso home. Some, including Justin, J. Lohr and Tobin James, have become well-known names, but there are many boutique wineries making small batches of extraordinary wine.
Catherine hails from Napa Valley, but even she admits that Paso Robles has become a serious wine destination but without the "Napa attitude."
We usually take the scenic Highway 101 north o Paso so we can stop at Los Olivos along the way to sample wine at Epiphany Cellars and have lunch. We learned that the annual Taste of Solvang was that same weekend, which fit perfectly with our schedule (and Solvang is only a few miles from Los Olivos).
Since Catherine had never been to Solvang – which is a charming recreation of a Danish town, complete with restaurants, bakeries, and even a Hans Christian Anderson museum – we had to make it part of our itinerary.
Add to that an overnight stay in San Simeon and a tour of Hearst Castle, and our weekend was looking full, and fun.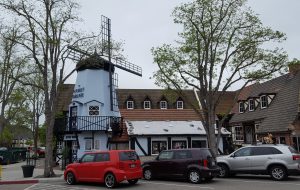 Solvang
We left Newport after breakfast on a Saturday morning, missed most of the traffic on Highway 101, and made it to Solvang just in time for the start of the Taste of Solvang and the Solvang Tasting trail, which featured more than 40 tasting spots throughout Solvang.
We managed to make it to 20 places, and sampled everything from traditional Danish ableskivers and meatballs to strudel and pastries.
"The Taste of Solvang is a great way to explore this cool Danish town," enthused Catherine. "I had never really heard of Solvang before this trip but fell in love with the charm of the town. All of the buildings are done in traditional Danish style, with authentic Danish goodies throughout the town. I think the Taste of Solvang was the best event to get to know the town, especially if it's just one stop on your weekend getaway. We were given map when we arrived that acted as a dining passport that was stamped at each stop in exchange for food, beer or other goodies at the restaurants around town. I got to see what so many of the different shops and restaurants had to offer—it felt like my own personal tour around the town."
"I agree, even though I've been to Solvang several times, this event took me to shops and restaurants I had never visited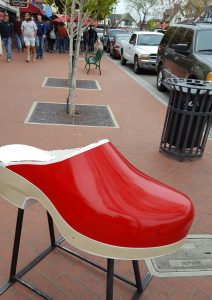 before, and made me want to return and continue exploring the town," added Christopher.
Solvang has several hotels and inns scattered throughout town. Christopher recalled staying at the Storybook Inn a number of years ago, and learned that it had been sold and renamed the Mirabelle Inn. A highly recommended restaurant, First and Oak, is located inside Mirabelle Inn.
Christopher also learned that The Brothers restaurant, once inside the Storybook Inn and also in the historic Mattei's Tavern in Los Olivos, has moved again to another Los Olivos restaurant, Sides Hardware & Shoes, which has become a popular lunch spot. The Brothers also own the Red Barn restaurant/bar in Santa Ynez.
Solvang Third Wednesday, which naturally enough takes place on the third Wednesday of every month, features more than 60 shops and restaurants offering discounts, and for $20 you can purchase a ticket for the Wine and Beer Walk.
A popular late-summer event in Solvang is Danish Days, held Sept. 16-18 (solvangdanishdays.org), featuring a variety of activities including parades, a dinner dance, merchant walks, concerts, and other events with a Danish theme.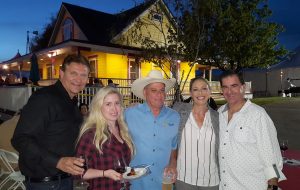 Paso Robles and Tobin James Cellars
We reluctantly left Solvang and headed to nearby Los Olivos for wine tasting at Epiphany Cellars (actor Fess Parker's son, Eli, is the winemaker) and then Fess Parker Winery before heading towards Paso Robles.
We hit Paso with enough time to visit a winery or two before driving to San Simeon and checking into The Morgan, a charming hotel designed by Julia Morgan—the same architect who created Hearst Castle, which we planned to tour the next day.
After changing, we headed to Tobin James Winery, where every year they throw the best Zinfandel Weekend party in town: two dozen restaurants, four bands, and more than 25 different wines available for unlimited tasting.
Christopher has been a wine club member at Tobin James for 15 years, and usually brings a bottle of Tobin James wine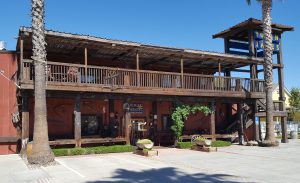 when we go out to dinner. The winery has a wild west theme, and the wine club is dubbed The James Gang. And in case you're wondering, there really is a Tobin James, although everyone calls him Toby. He's the owner, along with Lance and Claire Silver, and they've been making wine in Paso for nearly 20 years.
According to Lance Silver, a huge portion of the winery's 30,000 wine club members live in Orange County. Zinfandel continues to be their signature wine, although they make many others including killer syrahs and fantastic blends.
"This is the 19th year we've done our Zin parties—it's a big effort, and we like to do it perfect," said Silver. "We go over each detail four or five times, and we always try to get a mix of old and new restaurants."
Having attended the zin party for several years, we agree that it's always wonderful—no long lines, plenty of food and wine, and truly fun people.
Tobin James has two more parties coming up this summer: Full Moon BBQ on Aug. 20, and End of Summer BBQ on Sept. 10. Tickets are $98 per person, and include multiple food station, live music, and of course plenty of wine.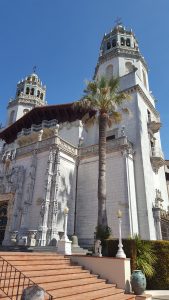 Hearst Castle
Sunday morning we were off to Hearst Castle, a popular tourist destination which for us was even more special because Hearst at one time owned a chain of newspapers, and was influential in the publishing world.
This was our third year in a row visiting Hearst Castle, which offers several different tours that show off various aspects of the property.
This time, we opted for the tour that included bungalows, the Hearst Castle kitchen, and the infamous wine cellar, where we were told by our knowledgeable guide that the Hearst family occasionally comes to grab a bottle of well-aged wine. The tour concludes at the dramatic indoor swimming pool.
"During the shuttle ride to the castle, you feel like you are in a different world," said
Catherine. "The castle is full of gold gilded doors, mosaic tiled floors, intricately crafted ceilings, and period furnishings. The tour was very informative without being dry, and I came away knowing more about the artwork and architecture in the rooms, as well as about Hearst and his many famous guests."
After spending the morning at Hearst Castle, we headed back to Paso and explored the back country, where some of the best wineries are located.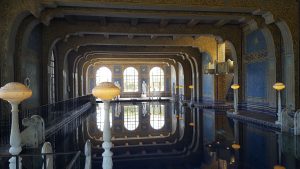 After stopping at Opolo Cellars (where we bought a bottle of their reserve zin), we acted on a tip and visited Sextant, which we were told was making some rather fabulous wines.
Indeed they were—we enjoyed their zinfandels and bought several bottles before heading to our favorite Paso lunch spot: Big Bubba's Bad Barbecue.
We stopped at Tobin James Winery on our way out of town and bought a case of wine, then reluctantly said farewell to Paso and headed home, knowing full well we'd be back soon.
For more information:
Solvang: SolvangUSA.com
Paso Robles: PasoWine.com.
Tobin James Cellars: TobinJames.com.
Hearst Castle: HearstCastle.com.