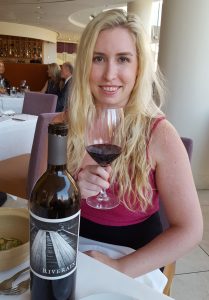 By Christopher Trela & Catherine Del Casale | NB Indy
"Life is a cabernet, old chum, so drink up the cabernet."
Yes, it's supposed to be cabaret, but because we were going to Leatherby's Café Rouge for dinner prior to attending the opening night performance of "Cabaret" at Segerstrom Center, we naturally decided to bring a bottle of cabernet with us—but not just any bottle.
Christopher recently wrote about Riverain wine, which was founded several years ago by Steve Nordhoff of Laguna Beach and Laurie and Dean Gray of Newport Beach. They make two wines – cabernet and syrah – that have garnered 95 points and 94 points, respectively, from Robert Parker.
So armed with a bottle of Riverain cabernet, we set about sampling Chef Ross Pangilinan's "Cabaret"-themed menu.
We began with "It Couldn't Please Me More" scallop crudo with pineapple and cucumber lime dressing, and "Sitting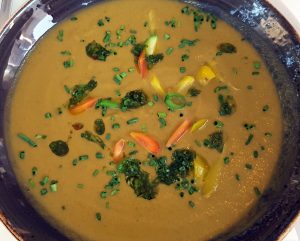 Pretty" vegetable soup.
"Chef's soup is once again a hit!" exclaimed Catherine. "This time it's a nondairy broccoli and caramelized onion blend topped with a mix of vegetables. I don't know how he makes eating healthy taste so amazing."
"And the scallops are a refreshing start—love the dressing," added Christopher.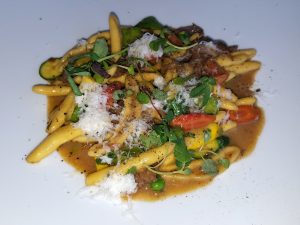 We moved onto the entrees: "Perfectly Marvelous" cavatelli with braised boar ragu, summer vegetables and pecorino, and – because we'd previously tried the salmon with mushroom risotto and asparagus, and it wouldn't pair well with the cabernet – Chef Ross brought us a duo of lamb chops and lamb shank.
Not only were both dishes delicious, the Riverain cab was a perfect pairing.
Dessert was, as usual, a creative treat. "Kit Kat Klub" was a house-made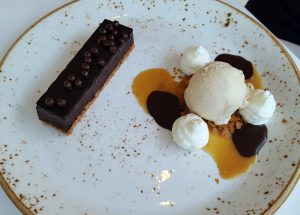 chocolate kit kat bar with hazelnut gelato, and the "What Would You Do" offered a variety of house-made sorbets.
"I was partial to the Kit Kat Klub dessert as 'Kit Cat' was a nickname of mine," revealed Catherine. "The house made chocolate kit kat bar was delicious, but so was the sorbet."
We strolled next door to Segerstrom Center for the Roundabout Theater Company's touring production of "Cabaret," the Kander and Ebb musical about an American writer whose trip to Germany on the eve of 1930 and the rise of Hitler takes a decadent turn when he's exposed to the wild side of Berlin and the characters that inhabit the Kit Kat Klub.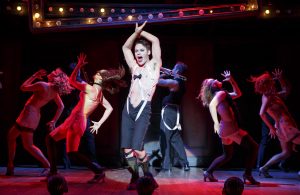 "This was my first time seeing Cabaret and I didn't know much about the show," admitted Catherine. "I fell in love with the Emcee who pulled me in with his wit and charm (there is audience participation, so be prepared if you're in the front). I thought the lighted framing of the set really gave it a show biz feel and transported you into the Kit Kat Klub. Be prepared to have your heart strings pulled as you watch love grow and then unravel as the Nazis rise to power. I found the show thought provoking and fun at the same time."
"I've seen the show several times, but this might be the most in-your-face version yet—and that's a good thing," said Christopher. "They really accent the decadence of the era, which was filled with both hope and hopelessness. It's a fascinating and at times riveting production."
Leatherby's themed menu is $47 per person. Visit PatinaGroup.com.
Tickets to Cabaret start at $29. Visit SCFTA.org.