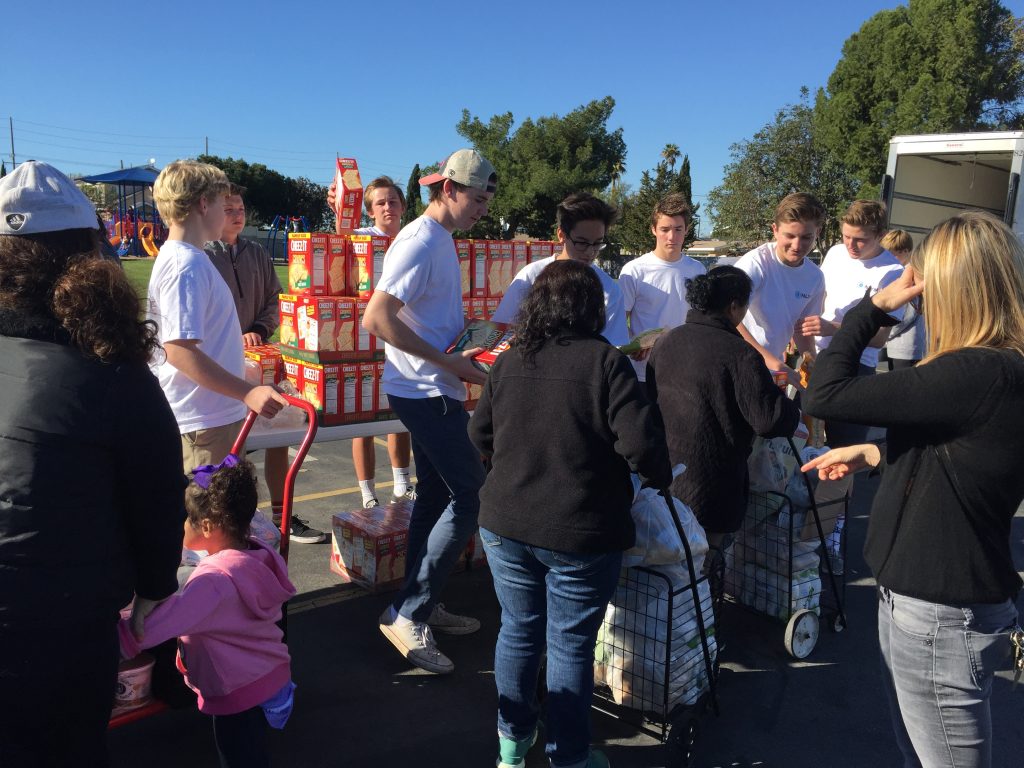 A group of charitable young men got to see the faces of the very people they were helping at an event this weekend.
About 35 members of the Newport-Mesa chapter of the National League of Young Men visited the Christ Lutheran Church in Costa Mesa on Saturday to pack grocery bags and hand out food to more than 100 people.
"It was an experience I will never forget," said Michael Sherlock, 15, a sophomore at Sage Hill School. "Little did I know that this event would change how I look at the world."
The NLYM nonprofit started in 2007 in Newport Beach and aims to promote the development of young men in grades nine through 12 into community leaders through charitable service, cultural experiences and protocol education, while at the same time strengthening the mother-son relationship.
In past years, the Newport-Mesa NLYM group has sorted through several tons of donated items at the warehouse for Second Harvest Food Bank of Orange County in Irvine. Sherlock and his classmates in middle school also volunteered at the Orange County Food Bank every year, where they would sort and pack food to be distributed to the needy.
"I was one of the people filling the boxes and putting them on the trucks, never knowing who we were helping," he said. "I finally saw where these boxes went."
The boxes eventually headed to families in the area struggling to put food on the table. It was a very different experience to actually hand the food over to the families in need, Sherlock said.
"The looks on their faces when I handed them the bag of canned goods made the time all worth while," Sherlock said. "I was able to see the difference we were making right before my eyes, something I have never been able to do before."
Helping others on such a personal level and the sense of community changed his life, he added, and likely the lives of those receiving the food. It has also motivated him to give back and help out more in the community.
"A spark lit a fire inside of me that day," Sherlock said. "A fire fueled by community and smiles."
For more information, visit nlymnewportmesa.org.