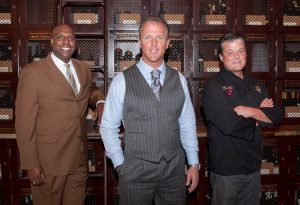 By Christopher Trela & Catherine Del Casale
Two of our favorite local restaurants, The Winery Restaurant & Wine Bar and Bluewater Grill, have announced plans to open new locations outside of OC.
The Winery
The Winery Restaurant, which has locations in Newport Beach and Tustin, will open its third location in San Diego's Westfield UTC, an upscale outdoor mall in La Jolla, this fall.
The Winery will also open a separate 1,000-square-foot wine bar within Westfield UTC, featuring a menu of small bites, grab-and-go foods and wine flights.
We're delighted to hear this news, because we've been fans of The Winery since they opened their Tustin location nearly 10 years ago, and Newport three years ago.
The Winery partners JC Clow, William Lewis and Chef Yvon Goetz have found the perfect balance of creative cuisine, superior service, and awesome ambiance.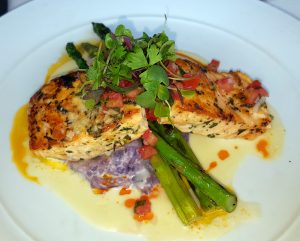 "At The Winery Restaurant & Wine Bar, we pride ourselves on really focusing on our guest experience. Our third location to open in La Jolla will have the same level of service, with highly skilled chefs to orchestrate a warm and passionate menu created by our award-winning Chef Yvon Goetz, and a team of Certified Sommeliers to oversee an incredible wine program," explained Clow. "It's exciting to join a group of retailers that are among the best in their respective fields. We anticipate endless possibilities, with something to suit every palate."
Off the Menu co-writer Christopher Trela is a member of the Southern California Restaurant Writers Association, and has helped bestow numerous accolades on The Winery, including Restaurant of the Year, Restaurateur of the Year, Chef of the Year, and Sommelier of the Year, plus numerous awards for The Winery's wine list.
"I've known JC since his days as GM of the Morton's Restaurant at South Coast Plaza, and to see the transition he's made from Morton's to launching The Winery concepts and now taking that successful concept to La Jolla is remarkable," said Christopher. "His partners Yvon Goetz and William Lewis are both creative and experts at what they do, and the staff they have put together are some of the best in the business. Catherine and I have no doubt their La Jolla location will be an overwhelming success."
We're told that the La Jolla restaurant menu will focus on contemporary California regional cuisine as well as wild game and USDA Prime steaks, plus Pacific Rim flavorings, such as fresh line-caught Opah, Mong Chong, Ono & Mahi Mahi flown in daily from Hawaii.
For more information, visit TheWineryRestaurant.net.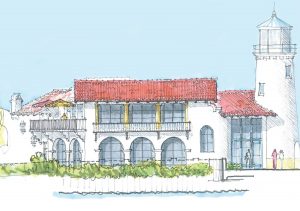 Bluewater Grill
Since opening in Cannery Village in 1996, Bluewater Grill has become a renowned seafood restaurant that practices sustainable fishing and farming. The restaurant's co-founders Richard Staunton and Jimmy "U" Ulcickas have opened other Bluewater locations in Redondo Beach, Tustin, Phoenix, Avalon, Coronado Island, and Temecula.  Another Bluewater Grill is due to open in Carlsbad early in 2017.
Now, add one more Bluewater Grill to the list.
Bluewater Grill is moving north to California's Central Coast with its debut on the Santa Barbara waterfront this summer.
Bluewater Grill Santa Barbara will open at the foot of Stearns Wharf in July, and will pair locally caught seafood and shellfish with Santa Barbara County wines.
Bluewater Grill Santa Barbara will take over the site of the Castagnola Lobster House. According to information from Bluewater Grill, the recently rebuilt landmark building at 15 E. Cabrillo Blvd. features a signature lighthouse at the corner of Cabrillo Boulevard and Helena Street and expansive views of the beach, Santa Barbara Harbor and Channel Islands.
"It's a thrill to bring Bluewater's commitment to the absolutely freshest sustainable seafood to the Santa Barbara beachfront," said Ulcickas. "Given Santa Barbara's role as a world-class resort and culinary town, with an exceptional wine heritage, we expect Bluewater Grill to be an ideal fit with local foodies, wine and seafood lovers, and visitors. We're excited to be able to add spectacularly prepared seafood and shellfish to the local mix of options."
We drive through Santa Barbara several times a year, so we're looking forward to checking out the cuisine once the restaurant opens.
For details, go to bluewatergrill.com.