For the first time, more than 150 volunteers hauled 20 tons of Pacific oyster shell in hand-sewn coconut fiber bags to restore Upper Newport Bay as part of the Orange County Coastkeeper's groundbreaking Living Shorelines project.
Orange County Coastkeeper's effort is unique to the west coast, combining oyster shell and eelgrass restoration to protect the shoreline from erosion and rising sea levels.
Coastkeeper anticipates that this will improve water quality and result in a flourishing habitat for fish, invertebrates and other marine life.
Unlike most restoration projects that rely on plastic mesh bags, this endeavor with oyster shells used entirely biodegradable materials. In April, students and volunteers hand-sewed more than 500 bags using coconut coir, the fiber found on coconut husks, and filled the bags with 40,000 pounds of Pacific oyster shells. Then, for a full week, they woke up before dawn to transport the shells to four different sites in Upper Newport Bay during low tide.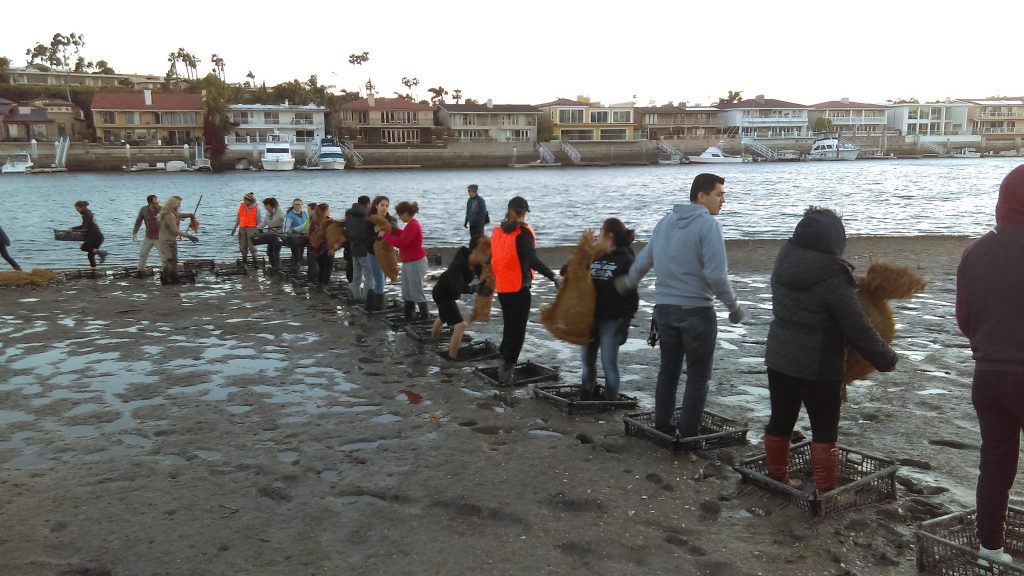 "It's not every day you see students from four universities and volunteers wake up at 2 a.m. to protect and enhance our shoreline," said Orange County Coastkeeper Marine Restoration Director Katie Nichols. "Their hard work and dedication to the project was inspiring and we hope to see it pay off in the form of improved water quality and an enhanced native Olympia oyster population."
Over the last five years, Coastkeeper and hundreds of volunteers planted more than 2,500 square meters of eelgrass as part of the Living Shorelines project and have already noted improved water quality and an increase in marine life.
Now with oyster shell added to the site, Coastkeeper will use the restored area as a case study to evaluate the potential benefits of restoring eelgrass and oysters simultaneously. As it continues to monitor the area, Coastkeeper anticipates seeing more signs of habitat improvement, including increased endangered Olympia oysters and other native species.
For more information about Living Shorelines, visit Coastkeeper's website at coastkeeper.org.