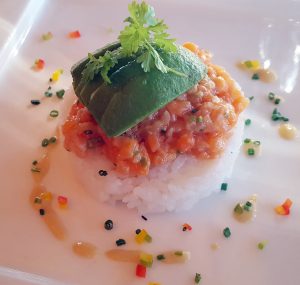 We don't often dine at the same restaurant on back-to-back nights, but that's exactly what Christopher did at Bayside last week.
On Thursday, June 15, Bayside held a Macallan scotch dinner featuring four courses paired with different vintages and styles of Macallan scotch.
The evening began with a welcome cocktail of house made punch with Brugal 1888, accompanied by a meatball, crab cake and goat cheese crostini.
Then it was down to serious business with the first course: wild salmon tartare with seasoned rice, miso, soy, ginger and avocado, accompanied by Macallan 12 year.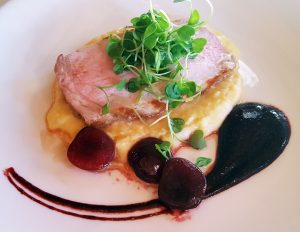 Next course was the American kurobuta pork with cherry mustard, micro arugula and polenta, accompanied by Macallan 12 year double cask.
Next was farm raised venison loin with garnet yam with maple, five spice reduction and cranberry pear chutney, accompanied by Macallan 15 year.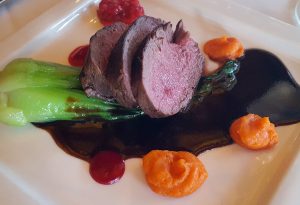 For dessert: butterscotch budino paired with Macallan rare cask, a scotch that retails for upwards of $200.
"Each course was superb—perfectly prepared and colorful," stated Christopher. "The scotches kept getting better and better. Whether they were a perfect pairing was beside the point—although the rare cask and the butterscotch budino were indeed terrific together."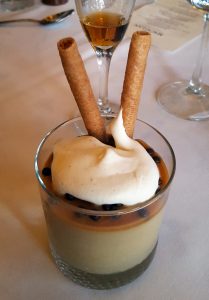 Bayside holds these scotch dinners several times a year, featuring different scotch labels each time. Cost is generally around $55, a bargain for food and scotch this good. Scotch fans can also sample more than 50 different scotches at the Bayside bar.
For more information, visit BaysideRestaurant.com.
 We returned to Bayside the next night to have dinner prior to the initial concert in the 2017 Hyatt Summer Concert Series: Candy Dulfer, a Dutch sax player and vocalist who we heard puts on a sensational show.
We decided to keep dinner simple and ordered the risotto shrimp ($26.50) with jumbo tiger prawns and sugar snap peas, and seabass with lemon risotto. The shrimp was superb, as was the risotto, which was dyed green from the peas. The fish was flavorful and the lemon risotto a nice accompaniment.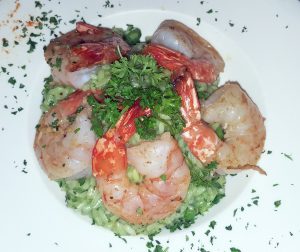 One reason we always dine at Bayside before attending a concert at the Hyatt is the free shuttle provided by Bayside.
"Many of our guests attend the concerts and have grown to love them, but traffic and limited parking sometimes strip away some of the joy of the experience," said Marc Ghoukassian, proprietor of Bayside. "We decided to extend this service as a courtesy for our guests and hopefully reach some new ones."
It's also a stark contract to the Hyatt's $35 valet fee.
After our dinner (which was accompanied by the always fabulous Ron Kobayashi on piano), we hopped in the shuttle and three minutes later were at the front door of the Hyatt. We picked up our tickets and found our way to our seats just in time for Grace Kelly, an energetic saxophone player who despite her petite size blew some big sounds on her sax. Accompanied by three backup musicians, Kelly's set was lively and a perfect way to open the concert.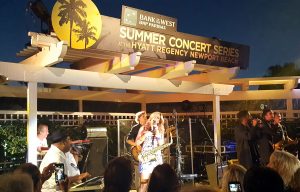 After a brief intermission, Candy Dulfer and her seven-piece backup band took the stage. Dulfer immediately set the tone with her dynamic playing and delightful stage presence. Her marvelous backup band contributed rich vocals and helped engage the audience with fun banter. By the end of her set, the audience was on its feet dancing and clapping along to the music.
The Hyatt has concerts nearly every Friday night through mid October, including Chris Botti, Herb Alpert, Chris Isaak, and many more.
For information, visit Series.HyattConcerts.com.